Events
John A. Rogers Speaks on the Future of Bio-integrated, Dissolvable Electronics
Packed house of McCormick students and faculty attend Rogers lecture on January 31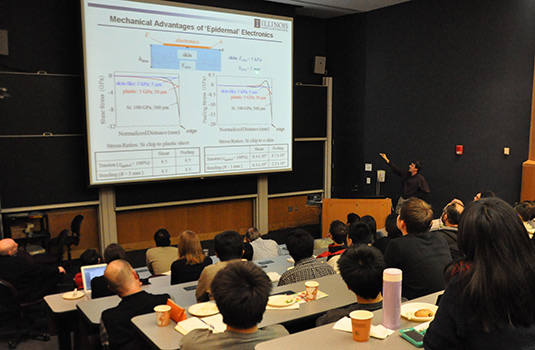 Watch a video of Rogers' talk.

Electronic technology has undergone dramatic changes in recent decades, from industrial computers that spanned full rooms (and later, full desktops), to personal devices that fit easily in the palm of your hand. 
Up next: extremely personal devices that fit inside your hand, or your arm, or your heart.
Bio-integrated devices — a new class of electronic systems that can integrate non-invasively with the body — are the wave of the future, John A. Rogers told a standing-room-only crowd of McCormick students and faculty on January 31. His talk, "Stretchy Electronics that Dissolve in Your Body," was presented as part of the McCormick Dean's Seminar Series.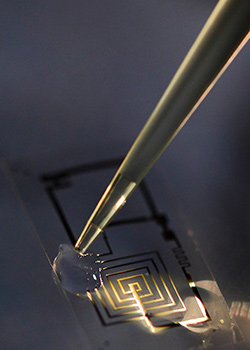 Until now, electronics have always been built on rigid silicon wafers, Rogers noted, but this is extremely limiting. "The iPhone is great, but what if I want to put it in my brain?" he asked. "What if I want to wrap it around my heart?"
Rogers, Swanlund Chair Professor at the University of Illinois at Urbana/Champaign and a frequent collaborator of Yonggang Huang, Joseph Cummings Professor of Civil and Environmental Engineering and Mechanical Engineering at McCormick, has found a way to do that — with methods that utilize the same rigid material found in electronics today. "It is possible today to make a silicon integrated circuit with the properties of a rubber band," Rogers said.
The resulting "tattoo electronics" mount directly onto the skin with the ease, flexibility, and comfort of a temporary tattoo — and while they're "body art for nerds" today, Rogers quipped, they're sure to be "ubiquitous technology for the future." The epidermal electronics could be used to wirelessly monitor body processes, such as temperature, hydration, and heartbeat; precisely measure brain activity during brain surgery; and even allow users to play video games using muscle contractions.
They could also be a game-changer in neonatal care. "(Today's) paste-on electrodes are a hassle for adults. For babies they're disastrous," Rogers said. 
Rogers also discussed a second class of ultra-thin and flexible "transient" electronics that can dissolve in the body or in the environment on a specified timetable. Applications could include post-surgery monitoring devices that could resorb into the body; environmental monitors or sensors that could monitor at the site of a toxic spill but disappear when the job is done; and zero e-waste consumer electronics. "People don't want to keep their devices more than two or three years anyway," Rogers said. "They could simply disappear."
Rogers, who also heads the Frederick Seitz Materials Research Laboratory at the University of Illinois, has published nearly 400 papers and is inventor on over 80 patents, more than 50 of which are licensed or in active use. His research has been recognized with numerous awards, including a MacArthur fellowship.
You can view John A. Roger's presentation in our video gallery.