Events
McCormick Office of Career Development Hosts Tech Expo 2013
Sixty companies will recruit at career fair January 31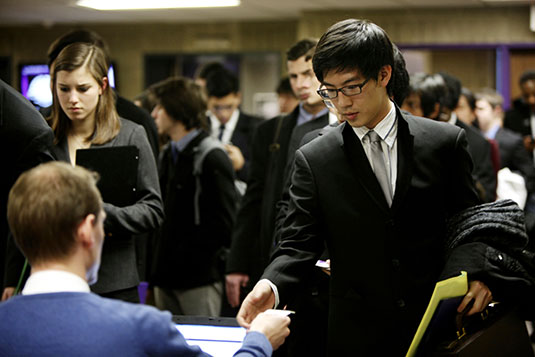 Recruiters from 60 companies are expected to attend the McCormick Tech Expo 2013, a career fair hosted by the McCormick Office of Career Development.
The event will be held from 4:30 to 8:30 p.m. on Thursday, January 31, at the Hilton Garden Inn, 1818 Maple Avenue, in downtown Evanston.
United Airlines, General Motors, PepsiCo, Groupon, and dozens of other companies will be in attendance.  The employers will be seeking interns, co-op employees, and full-time employees for engineering, science, and technology-related openings around the country.  (View a full list of employers and the positions they will be recruiting.)
"We are excited to have a completely full event this year," said Helen Oloroso, assistant dean of the Co-op and Internship Program and director of the McCormick Office of Career Development. "In fact, we have a long waiting list of companies who will be given other opportunities to recruit at McCormick, as the event is completely sold out."
The Tech Expo is open only to Northwestern students and alumni. Attendees should dress in business attire and bring copies of their resumes. WildCARDs will be required for entry to the event.
On Friday, February 1, 30 companies will return to Northwestern's Evanston campus for Co-op-Internship Interview Day.
The McCormick Office of Career Development offers a variety of programs throughout the year, including workshops on resumes, cover letters, interviewing, and one-on-one career development advice. An additional career fair, organized by the Society of Women Engineers, is held during the fall quarter.
Tech Expo 2013 is sponsored by ARPAC, General Motors, PepsiCo, and Siemens Medical Solutions, Inc.