Honors and Awards
Nathan Youngblood Named McCormick STAR Award Winner
Research administrator recognized for leadership and initiative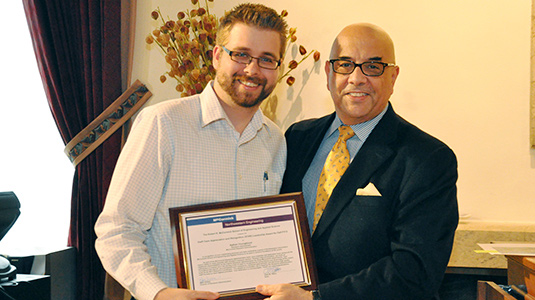 Nathan Youngblood, research administrator for the McCormick School of Engineering Office of Research Administration, has been recognized with the fall quarter's STAR award at a staff recognition event on January 24.
The STAR award — which stands for Staff Team Appreciation and Recognition — is given quarterly to a McCormick employee who demonstrates leadership and goes above and beyond his or her regular duties.
Youngblood, who was recently promoted from his previous position as research coordinator, was cited for outstanding leadership skills and a willingness to help others.
"As the research coordinator for McCormick Research Administration, you are recognized for your exceptional conduct and initiative," his award states. "Your team spirit, curiosity, professional conduct, and selflessness have made significant contributions to your McCormick community. Specifically, your willingness to work beyond the scope of your position makes you an extraordinary asset."
Winners of the STAR Award are nominated by fellow staff and faculty, and a selection committee recommends a finalist to the dean for selection.