Announcements
In Memoriam: James Farley, Successful Businessman and Generous Donor
James Farley, an electrical engineering alumnus who turned a small manufacturing company into an international corporation, then spent his retirement using his earnings to better the lives of McCormick students, passed away Wednesday, Aug. 22. He was 84.

His most generous donation to the school endowed the Farley Center for Entrepreneurship and Innovation at the McCormick School of Engineering and Applied Science, which, in the past five years, has helped educate hundreds of students and faculty members on the theory and practice of entrepreneurship.

"Jim and his wife Nancy have been continuous investors in innovation and education at McCormick," said Julio M. Ottino, dean of McCormick. "His contributions and advice have been transformative. He was an original and will be sorely missed."

Farley's generosity has helped to transform the McCormick school over the past 25 years. Supporting the school with nearly $22 million in donations, the Farleys provided the resources for several initiatives that have changed the culture of McCormick.

Farley was born in 1928 and grew up as a Kansas farm boy. His abilities in math and science got him a scholarship to Northwestern, which, at $75 a quarter, paid for half his tuition.

He graduated from McCormick in 1950 with a degree in electrical engineering. After serving in the Korean War at White Sands, he started out as a test engineer for General Electric. He then worked as a sales engineer for a Milwaukee motor control manufacturer. In 1960, when he sold a control to the inventor of a new lapping and polishing machine, he joined the inventor's company as a minority investor.

The business grew rapidly when Farley expanded it across the world. When the company reorganized in 1974, Farley took ownership of the machine-tool side of the business, then named SpeedFam Corporation and later SpeedFam International. In 1999 SpeedFam International merged with IPEC (Integrated Process Equipment Corporation) to become SpeedFam-IPEC, which Farley led until he retired in 2002.

"Northwestern gave me my start," Farley said in 2008. "They helped finance my education, so I owe a lot to the school."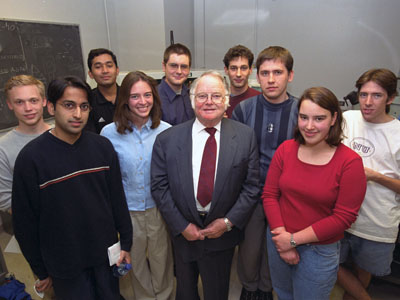 When he joined the McCormick Advisory Council in 1986, he noticed that the Technological Institute hadn't changed much since he had been there 40 years prior. He and Nancy donated money to name a wing of Tech and donated 10 machines to establish the Undergraduate Machining and Prototype Lab (now in the Ford Motor Company Engineering Design Center). They also endowed a professorship in manufacturing and entrepreneurship.

In 1998, Farley's five children endowed a scholarship in his name. "I was more than pleased," he said.

In 2008, Farley and his wife and Nancy endowed the Farley Center for Entrepreneurship and Innovation. Since then the Farley Center has provided several new courses and resources for students and faculty interested in entrepreneurship. Its flagship program, NUvention, brings together students from across the University and teaches them to work in teams and experience the entire innovation life cycle, from ideation to prototyping and business plan development. The center extends its learning opportunities beyond the classroom by offering student and faculty startups space at the Evanston Incubator, and through the annual Entrepreneur@NU Conference. The Farley Center has quickly become a focal point for entrepreneurship at Northwestern, particularly with its outreach to the undergraduate population.

"Jim's endowment of the Farley Center helped establish an entrepreneurial ecosystem here at Northwestern that led to Forbes ranking Northwestern as the most entrepreneurial college in the Midwest earlier this month," said Farley Center director Michael Marasco. "Jim took great pride in the fact that his entrepreneurial success could help future generations on Northwestern entrepreneurs. His legacy is realized in every student that participates in a Farley class or program."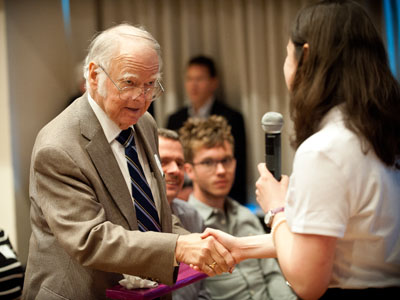 "I was an entrepreneur, and we built our company from a dry start," Farley said in 2008. "I've been an entrepreneur interested in entrepreneurship for a long time, so when I heard Northwestern was considering starting this center, I knew it was an area I wanted to support." All engineers have to be entrepreneurial, he said, even if they aren't interested in starting their own businesses. While he always relied on his engineering background, the classes that helped him the most involved business. "You have to speak the language of accounting, whether you're in business for somebody else or for yourself," he said. "If you don't talk their language, you won't get very far. The business side is very, very important."

Farley lived in Arizona with his wife Nancy. He is survived by five children and 16 grandchildren. His daughter Sarah earned a master's degree in audiology from Northwestern, and his granddaughter Meghan Farley graduated from Weinberg College in 2005. The Northwestern University Alumni Association honored Farley with its Alumni Merit Award in 1996.