Gov. Quinn, Science and Business Leaders Convene at Innovation Economy Conference
More than 200 influential business leaders, academics, and scientists convened at Northwestern University on June 28 and 29 for "Building the Illinois Innovation Economy," a two-day National Academy of Sciences conference that highlighted the state's innovation accomplishments and identified challenges faced by investigators, entrepreneurs, and universities.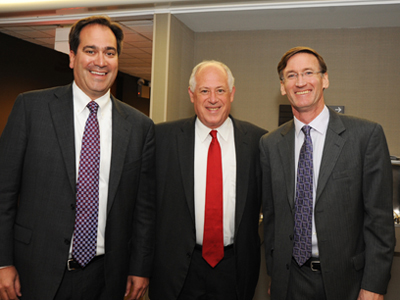 Illinois Governor Pat Quinn, a graduate of the Northwestern University School of Law, delivered the opening keynote address Thursday morning at Northwestern's James L. Allen Center. He noted that Illinois possesses great strengths that give it an edge in business and innovation, including its unmatched status as a transportation hub, research labs like Argonne National Laboratory, and a large number of colleges and universities. But many challenges remain, especially in the areas of sustainability, internet infrastructure, and education.

"If we don't invest in innovative opportunities, we'll never see them grow," Quinn told the audience. "Illinois is the middle of the country, the heart of the heartland… We have to embrace the people and the technology to make this happen."

Charles Wessner, director of the Program on Technology, Innovation, and Entrepreneurship at the National Academy of Sciences, provided a more sobering view of the United States' efforts in research and development.

While America has a reputation for its robust research universities, widely supported research and development, and vibrant entrepreneurship, Wessner said, the country is losing ground. He noted that the United States' share of global R&D dropped from 39 percent in 1999 to 34.4 percent in 2010; China, on the other hand, doubled its own R&D investment between 2004 and 2008. Government support for research — which has been on the decline — is a vital part of reversing this trend, he said.

"In the 21st century we have to work harder," Wessner said. "We're good, but we're not the best. Our current efforts are not enough."

In the panel, "Illinois Innovation Initiatives," Julio M. Ottino, dean of the McCormick School of Engineering and Applied Science, spoke on the role of universities in the broader innovation ecosystem. At McCormick, students learn both left-brain analytical thinking and right-brain creative thinking so they can thrive at the intersection of many different fields. They work in interdisciplinary groups through courses like NUvention (where students from across Northwestern develop businesses from idea to launch), and they learn design-thinking through courses in the Segal Design Institute.

"Chicago has the talent," he said. "My job is to produce the kind of talent that can join domains, the talent that operates at the intersection, and the talent that can drive innovation."

David Mosena, president and CEO of the Museum of Science and Industry, spoke of the museum's nanoscale science exhibition – the first of its kind in the country. Robert Wolcott, executive director of KIN Global, the Kellogg School of Management's platform for collaboration in business, spoke about changing the entrepreneurship ecosystem in Chicago. He recalled how 10 years ago, if he spoke about his start-up in San Francisco, people there got excited and offered connections and advice. If he did the same in Chicago, he got an awkward pause.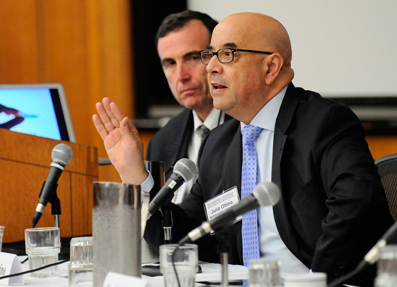 "That's starting to change," Wolcott said. Now, with initiatives like 1871, a downtown incubator sponsored by businesses and universities in the area, "the ecosystem is changing."

Other speakers included Eric Toone, principal deputy director of the Advanced Research Projects Agency – Energy, U.S. Department of Energy; Norbert Riedel, corporate vice president, chief science and innovation officer, Baxter International Inc.; Eric Isaacs, director, Argonne National Laboratory; and Thomas W. Peterson, assistant director for engineering at the National Science Foundation.

In addition to the National Academy of Sciences, the conference was sponsored by Northwestern University's International Institute for Nanotechnology, the National Cancer Institute, the Office of Naval Research, and the Department of Energy.