Class Notes
Coming Full Circle
As dean of Princeton University Graduate School and a nationally recognized researcher, Rodney Priestley is living life lessons learned at Northwestern.
Rodney Priestley (PhD '08) knows how challenging it can be for busy faculty members to stay fully present for the students they mentor. The Princeton University Graduate School dean is still impressed by the amount of time and effort John Torkelson and Linda Broadbelt, his Northwestern chemical and biological engineering professors, devoted to him as his PhD advisers.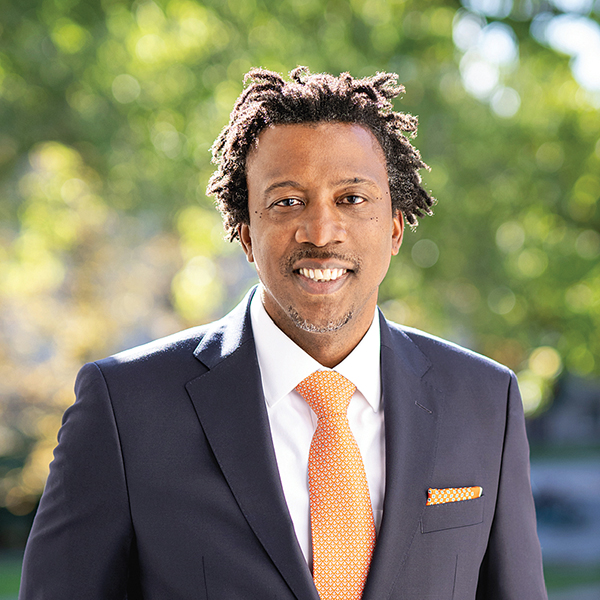 "I felt a lot of engagement and support from them," Priestley says. "Their tremendous dedication stands out in my memory."
Priestley remembers traveling to Italy with Torkelson to attend an international conference, where they had dinner with polymer scientists in a restaurant with a view of the Leaning Tower of Pisa. It was an impactful opportunity that showed him how academics collaborate and engage with colleagues all over the world.
As part of that trip, Broadbelt invited Priestley to visit her in England, where she was on sabbatical at Imperial College London. "I spent time with her and her family," he says. "I would meet with her during the day at the university, and we would talk about research. It was an amazing experience."
On the flight back, the idea that a career in academia could be exciting began to crystallize for Priestley. "Fast forward to 2017, and I also went on sabbatical at Imperial College London, so it all came full circle," he says.
A Disruptor with Impact
Priestley joined the Princeton faculty in 2009. As Pomeroy and Betty Perry Smith Professor of Chemical and Biological Engineering, he gives his students the same care and attention he received at Northwestern, sharing lessons learned about the importance of communication skills and building a respectful culture where everyone feels valued.
A love of creativity and discovery fuels Priestley's research, which applies principles of physics, chemistry, and engineering to nanoscale processing and characterization of polymers and soft matter, with a particular emphasis on thin films, colloids, and nanocomposites. His contributions to the field of polymer physics and chemistry earned him the 2023 Carl S. Marvel Award for Creative Polymer Chemistry, one of many awards he's received.
Priestley has also cofounded three companies to translate his research into real-world applications, which include AquaPao, a solar water purification technique developed with postdoctoral research associate Xiaohui Xu. That innovation earned the duo a spot on Newsweek's America's Greatest Disruptors list.
"A lot of the success I've had stems from my time at Northwestern, It's hard for me to imagine being where I am now without my Northwestern experience."
Rodney PriestleyDean, Princeton University Graduate School
Excited by the intersection of research, innovation, and entrepreneurship, Priestley expanded Princeton's ties with industry, venture capitalists, entrepreneurs, and alumni when he was the school's inaugural vice dean for innovation. "We endeavor to uncover new fundamental science and then try to push that science to have some type of impact on society," he says.
Serving on the Northwestern Alumni Association Board of Directors allows him to impact the university that gave him so much. He will speak at Northwestern Engineering's PhD Hooding and Master's Degree Recognition Ceremony in June. He also presents seminars on campus, including one planned for October 2023.