Faculty Directory

John M. Torkelson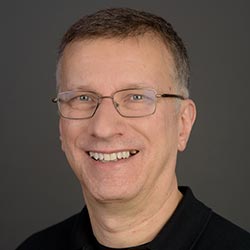 Walter P. Murphy Professor of Chemical and Biological Engineering and Materials Science and Engineering
Contact
2220 Campus Drive
Tech E172
Evanston, IL 60208
847-491-7449
Email

John Torkelson
Website
---
Departments
Chemical and Biological Engineering
Education
Ph.D., University of Minnesota
B.S., University of Wisconsin
Research Interests
Polymer science and engineering, nanoscience and nanotechnology, sustainability

We are using an environmentally benign pulverization process to achieve compatibilization of immiscible polymer blends and are investigating the molecular scale mechanisms of compatibilization. We have also shown that pulverization is useful in producing well-exfoliated polymer-clay nanocomposites.
We have developed optical sensors to characterize the glass transition temperature, gelation, and physical aging in polymers and have found great differences in behavior of nanoconfined, ultrathin films relative to bulk. We have also used single-molecule spectroscopy and simulation to follow probe diffusion in polymers, providing an explanation of how diffusion of small molecules whose motion is coupled to cooperative segmental mobility is affected by nanoscale dynamic heterogeneity. We are also developing optical sensors as pressure-sensitive paints and systems for cure monitoring.
We are achieving understanding of the role that oligomer and polymer radical diffusion plays in autoacceleration of free radical polymerization. This work, combining experiment with simulation, has also revealed the role of chain transfer reactions in mitigating reaction runaway. Controlled radical polymerization methods are also used to prepare and study a new class of polymers called gradient copolymers.
Significant Recognition
McCormick School of Engineering, Teacher of the Year, 2008
Associated Student Government Faculty Honor Roll, 2007
Polymer Physics Prize (awarded by the Journal of Polymer Science Part B: Polymer Physics), 2004
Best Paper Award, Polymer Analysis Division, Society of Plastics Engineers, 2004
Charles M.A. Stine Award from the Materials Engineering and Science Division of the American Institute of Chemical Engineering, 2004
Fellow, American Physical Society, 1999
Associated Student Government Faculty Honor Roll, 1995-96
McCormick School Advisor of the Year, 1993-94
NSF Presidential Young Investigator Award, 1987-92
Ralph A. Teetor Award (Society of Automotive Engineers), 1986
Lilly Foundation Teaching Fellowship, 1985-86
Tau Beta Pi Outstanding Teaching Award, 1984
Technological Institute (now McCormick School) Teacher of the Year, 1984-85
Significant Professional Service
Executive Committee of the Division of Polymer Physics of the American Physical Society, 2005-2008
Director, Materials Research Center, Northwestern University, 2003-2006
Caterpillar Distinguished Lecturer, Dept. of Chemical and Biochemical Engineering, University of Iowa, 2002
Chair, Materials Engineering and Science Division, American Institute of Chemical Engineers, 2001-02
Associate Dean for Graduate Studies and Research, McCormick School of Engineering, Northwestern University, 1997-2002
Bette and Neison Harris Professor of Teaching Excellence, 1995-98
Selected Publications
Soyoung Kim;John M. Torkelson, "Distribution of Glass Transition Temperatures in Free-Standing, Nanoconfined Polystyrene Films: A Test of de Gennes' Sliding Motion Mechanism", Macromolecules, (2011)
Ellison, C.J.; Torkelson, J.M.; Mok, M.M., "Effect of Gradient Sequencing on Copolymer Order?Disorder Transitions: Phase Behavior of Styrene/n-Butyl Acrylate Block and Gradient Copolymers", Macromolecules, (2011)
OC Compton;S Kim;C Pierre;JM Torkelson;ST Nguyen, "Crumpled Graphene Nanosheets as Highly Effective Barrier Property Enhancers", Advanced Materials, (2010)
S Pujari;T Ramanathan;K Kasimatis;J Masuda;R Andrews;JM Torkelson;LC Brinson;WR Burghardt, "Preparation and Characterization of Multiwalled Carbon Nanotube Dispersions in Polypropylene: Melt Mixing Versus Solid-State Shear Pulverization (vol 47, pg 1426, 2009)", Journal of Polymer Science Part B-Polymer Physics, (2010)
K Wakabayashi;PJ Brunner;J Masuda;SA Hewlett;JM Torkelson, "Polypropylene-graphite nanocomposites made by solid-state shear pulverization: Effects of significantly exfoliated, unmodified graphite content on physical, mechanical and electrical properties", Polymer, (2010)
MM MOK;J KIM;SR MARROU;JM TORKELSON, "Ellipsometry measurements of glass transition breadth in bulk films of random, block, and gradient copolymers", European Physical Journal E, (2010)
MM Mok;KA Masser;J Runt;JM Torkelson, "Dielectric Relaxation Spectroscopy of Gradient Copolymers and Block Copolymers: Comparison of Breadths in Relaxation Time for Systems with. Increasing Interphase", Macromolecules, (2010)
S KIM;MK MUNDRA;CB ROTH;JM TORKELSON, "Suppression of the T-g-Nanoconfinement Effect in Thin Poly(vinyl acetate) Films by Sorbed Water", Macromolecules, (2010)
S KIM;SA HEWLETT;CB ROTH;JM TORKELSON, "Confinement effects on glass transition temperature, transition breadth, and expansivity: Comparison of ellipsometry and fluorescence measurements on polystyrene films", European Physical Journal E, (2009)
MM MOK;J KIM;CLH WONG;SR MARROU;DJ WOO;CM DETTMER;ST NGUYEN;CJ ELLISON;KR SHULL;JM TORKELSON, "Glass Transition Breadths and Composition Profiles of Weakly, Moderately, and Strongly Segregating Gradient Copolymers: Experimental Results and Calculations from Self-Consistent Mean-Field Theory", Macromolecules, (2009)