Featured
A Community Focuses on Success
Northwestern's Women in Computing chapter offers academic, networking, and career support for young women interested in tech.
Alaina Kafkes came to Northwestern in fall 2013 intent on studying chemistry and with dreams of working in medicine or science. One year later, after taking Fundamentals of Computer Programming— and with a newly kindled interest in technology—she felt less certain about her future.
"I thought only guys coded," she says. "Even though I really was enjoying tech, I didn't feel confident about my ability to code or about changing my major."
Still, her curiosity led her to a meeting of Northwestern's student-run Women in Computing (WiC). Expecting a typical half-hour college club get together, she got a surprise. "This was three hours long," she recalls, "and I was energized. I talked with the more experienced members about being a woman in computer science. I heard the same uncertainties I felt, but I also saw that good things had happened after they committed to computer science."
Inspired by that one meeting, Kafkes applied for and was chosen to sit on WiC's executive board. Soon thereafter, she changed her major. "WiC is definitely why I did it so quickly," said Kafkes, now the group's co-president.
More Than a Club, a Community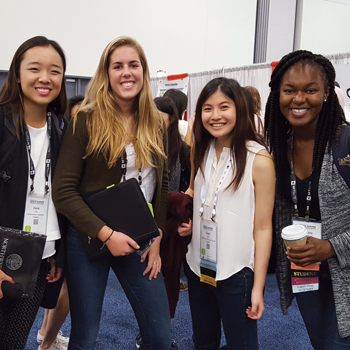 Northwestern's WiC chapter, launched in 2012, offers emotional, academic, and job search support for young women interested in tech. "Computer science is really hard," says Meg Grasse, WiC co-president. "It's easy to feel discouraged and not so smart. But if you belong to a community, you don't feel alone, and if you don't feel alone, you'll stay in tech."
Any woman with an interest in technology—regardless of her major—can become a WiC member. As more women enroll in and complete their computer science studies in the McCormick School of Engineering and the Weinberg College of Arts and Sciences, WiC gains prominence. At last count, the group had about 135 members on its Listserv.
"Due in part to organizations like WiC, we've seen a big change in the number of women interested in computer science in a short amount of time," says Anne Marie Piper, assistant professor of computer science in McCormick, communication studies in the School of Communication, and in Northwestern's Segal Design Institute. By all indications, the trend will continue. As of winter quarter 2017, women accounted for 126 of Northwestern's 489 computer science majors.
Industry Shifts
"Research shows that women tend to pursue careers that help others. Computer science can make the world a better place—you can build platforms that truly help people. That is attracting more women to computer science."
– Ellen Worsdall, Assistant Dean for Student Affairs at Northwestern Engineering
"Research shows that women tend to pursue careers that help others," says Ellen Worsdall, assistant dean for student affairs at Northwestern Engineering. "Computer science can make the world a better place—you can build platforms that truly help people. That is attracting more women to computer science."
"A lot of the women who come to me for job advice say they're thinking about computer science as a major but don't want to sit in a cubicle," says Sara Owsley Sood, clinical associate professor of computer science. "They absolutely can do more than that."
Still, women who want a career in technology must clear extra hurdles. "Stereotypes have a big impact. Historically, computer science was very male," Sood says. "It was a very geeky culture. We own that now, and women are part of it."
Role Models in the Classroom
Many male computer science majors become interested in coding early in their lives through video games and arrive on campus with some programming experience. Conversely, faculty have observed that many female engineering majors take their first steps into computer science only after they get to college.
Still, computer science classrooms at Northwestern—and most other engineering schools—remain dominated by men. "As a woman, I might think there are no other people like me in this class, so I must not belong,'" Piper says.
Kafkes adds, "In my first computer science class, some of the guys had been programming since middle school. A lot of them start out far ahead of the women. It was intimidating for me."
As more female computer scientists teach tech, more women will be drawn to the field. "It's no coincidence that our numbers for women started going up just after Sara Sood joined the Northwestern faculty," Dean Worsdall says. Kafkes concurs. "Having a woman as my first computer science professor made all the difference in my decision to go into computer science," she says. "She is a role model."
Sood, who often teaches the intro class, says she shuts down grandstanding by the more experienced students who ask questions well beyond the scope of the course, attempting to impress her and other students. "It's not tolerated," she says. "It doesn't mean those who haven't been coding since they were 14 are any less smart. They will accomplish more, and grow more."
Mentors in the Community
Within WiC, more experienced engineering students serve as mentors to those newer to computer science, helping them combat the feeling that they don't belong. "Being in WiC, you already know a lot of these women, so when you walk into a classroom, you think, 'Ahhh. I know her,'" says Jennie Werner, a junior computer science major in the BS/MS program. "It helps line up study groups."
Junior and senior WiC members often help first-year students and sophomores with homework. "If you're stuck on a problem, you can get on a group chat for WiC and say, 'SOS! Can anyone help me?'" says Aiqi Liu, a junior computer science major.
Celebration Delegation
To encourage women to network beyond Northwestern, McCormick sent a 55-member delegation of students and faculty to the 2016 Grace Hopper Celebration of Women in Computing, the world's largest annual gathering of women in technology. The delegation was supported by donations from Ben and Lisa Slivka and Bill and Jeanne Bliss.
The three-day October event, produced by the Anita Borg Institute, drew 15,000 women from 87 countries.
Attendees could choose from 270 sessions with more than 750 speakers, including Northwestern Engineering alumna Virginia Rometty ('79), president, chairwoman, and CEO of IBM; Megan Smith, chief technology officer of the United States; and Jeanette Epps, a NASA astronaut. "Grace Hopper really provided exposure to the whole industry," Liu says. "It showed me the kinds of roles and jobs there are in computer science—AI, machine learning, mobile apps, so many things."
The event also included a major career fair that drew some of the world's most prominent tech companies, including Google, Facebook, and Apple. More than half of Northwestern's students had two or more interviews during the conference, while a quarter scheduled interviews afterwards. Two students received job offers on the spot.
Inspiration on Campus
Back in Evanston, the Grace Hopper conference attendees shared their experiences with other WiC members. Liu, the group's corporate outreach chair, invited industry experts to speak at WiC on the wide-ranging opportunities in tech. For winter quarter, Liu set up a roundtable where eight professionals representing a variety of roles at Google, IMC, and Motorola Mobility met speed-dating style with members.
For a different take on coding, Liu brought in Braintree software developer Lauren Scott, who had studied poetry before going into tech. "Lauren talked about how poetry can make you better at coding," Liu says. "It was cool to see how coding relates in so many ways to the other things in the world."
Weekly Hack Nights
To help members gain practical skills outside of the classroom, WiC co-sponsors a weekly Hack Night open to anyone with a laptop and an interest in coding, regardless of their level of experience. "WiC is not anti-male," adds WiC co-president Grasse. "We want to be inclusive, not divisive. Allies are very important. We've allowed guys to join in our events when there were open seats."
One of the weekly sessions was designated HackThisSite night, where students practiced hacking legally and safely. "We were actually investigating security vulnerabilities," Liu says. "We don't learn things like that in class." Other weeks, the group learned how to make basic apps, and Grasse, who interned at Apple in summer 2016, taught a course on basic iOS.
Beyond Northwestern
WiC extends its efforts to encourage women to consider tech careers by going to local high schools and teaching girls how to code. "We expose them to computer science early. We serve as role models," Grasse says. "If they can gain exposure to tech early, they'll be ahead when they get to college."
Grasse and Kafkes have also launched a local event called BuildHer. "It's Chicago's first student-run, all-female hackathon," Grasse says. BuildHer brings women with various backgrounds and experience together for two purposes: to inspire those who want to get started in tech but don't know where to begin and to help those already involved in the tech community to network with other female thought leaders.
Launching Pad
With the skills and connections they make on campus, many WiC members have secured prestigious internships and promising jobs. Grasse, for example, will return to Apple for a second summer internship. Liu, an intern at Motorola Mobility in 2016, will intern at Google this summer. Kafkes, a senior, will head to San Francisco after graduation to become a software engineer at Medium, an online publishing platform.
Once in the workforce, WiC members know they will likely encounter gender-related issues. "There's whisper culture among women in tech, where we quietly let each other know where we've had a bad experience or discrimination," Kafkes says. "As more women get in the field, we want a culture shift so the industry is more inclusive, and the whisper network doesn't have to exist."
WiC members say they plan to stay connected beyond graduation, continuing to network and to help each other and future Wildcat WiC members in their careers. "The goal is for everyone to succeed," Kafkes says.