Featured
Lab Tour: Multi-Scale 3D Printing Infrastructure Laboratory
Northwestern Engineering's labs are as diverse as the research and teaching performed in them. Here, we spotlight the Multi-Scale 3D Printing Infrastructure Laboratory within the Department of Civil and Environmental Engineering.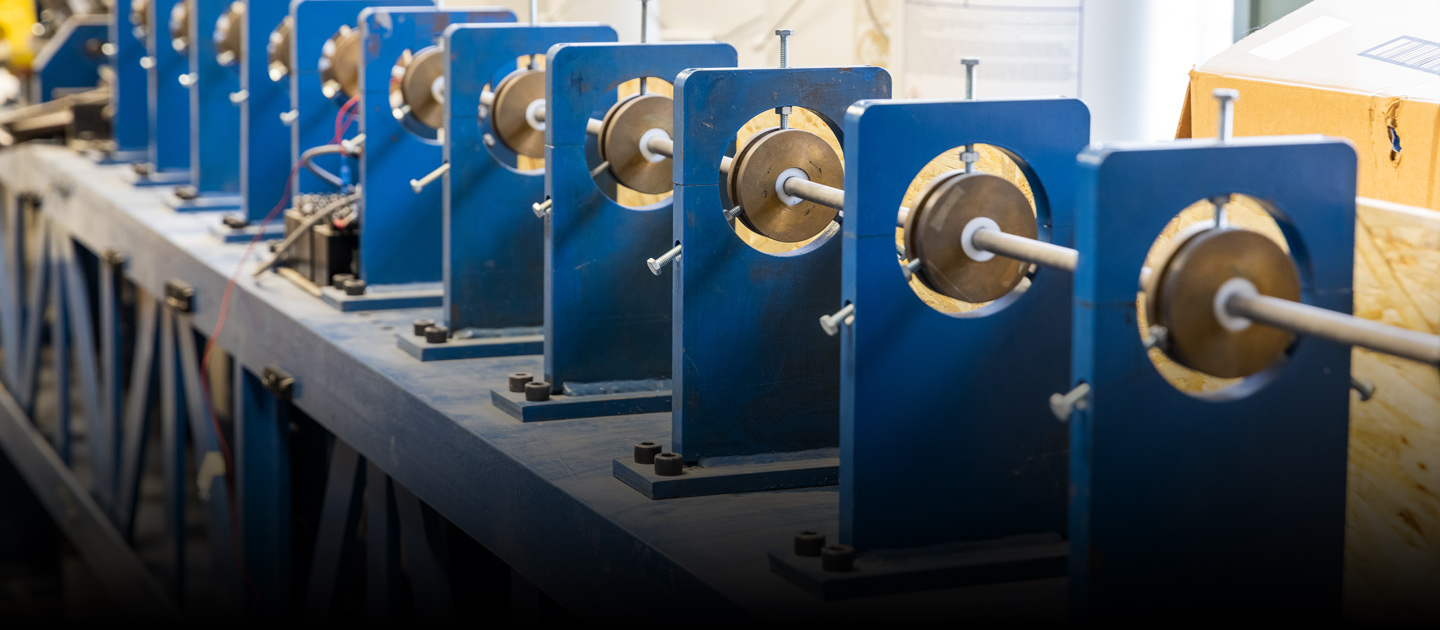 With an eye toward developing more stable structures capable of withstanding harsh environmental conditions—including those that future astronauts will find on Mars—researchers in Northwestern Engineering's Multi-scale 3D Printing Infrastructure Laboratory seek to understand, simulate, and predict the mechanical behavior of quasi-brittle materials, such as concrete, timber, rocks, and composites.
"With a host of innovative technologies, we're formulating and validating novel models and computational tools to help future generations of engineers design more resilient and sustainable civil infrastructures," says Gianluca Cusatis, professor of civil and environmental engineering, who leads the lab.
Located in the Technological Institute's A wing, the 3,200- square-foot facility's capabilities include an impressive array of advanced 3D printing and testing technologies.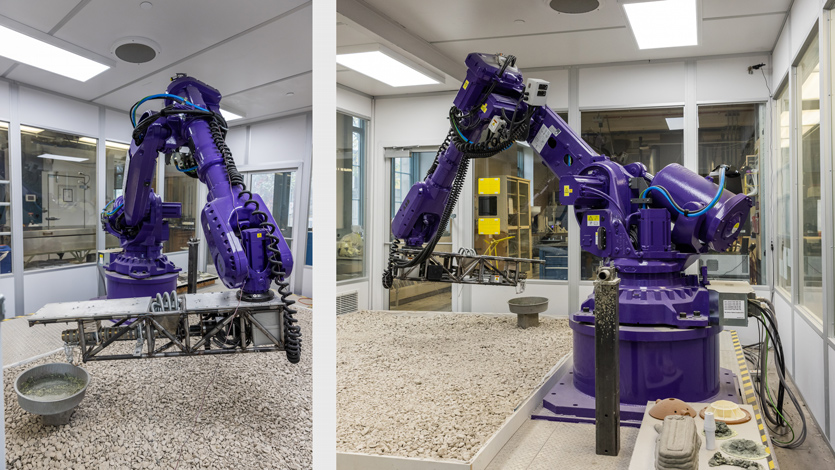 Concrete 3D Printer
The large-scale 3D printer features an ABB Robotics IRB 6700 series high-performance industrial robot within a 280-square-foot enclosure that provides atmospheric isolation. With six axes of rotation, the robot offers a large range of configurations and seamless transitions between points in space, allowing lab members to study samples—up to five meters in size—of mortar, sulfur concrete, and Marscrete, the group's self-designed building concrete composed entirely of materials found on Mars.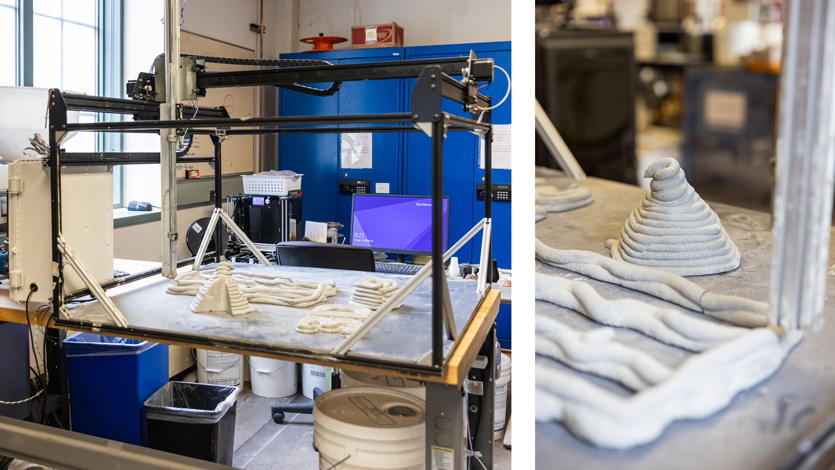 Cement 3D Printer
The custom-designed, midscale cement printer uses a compact progressive cavity pump to 3D-print structures with up to a one-square-meter footprint using cement, gypsum, and other cement-based materials. Used to study rheological behavior of materials in the ontext of 3D printing, the printer is controlled by micro- controllers and Repetier-Host, a highly flexible open-source software package.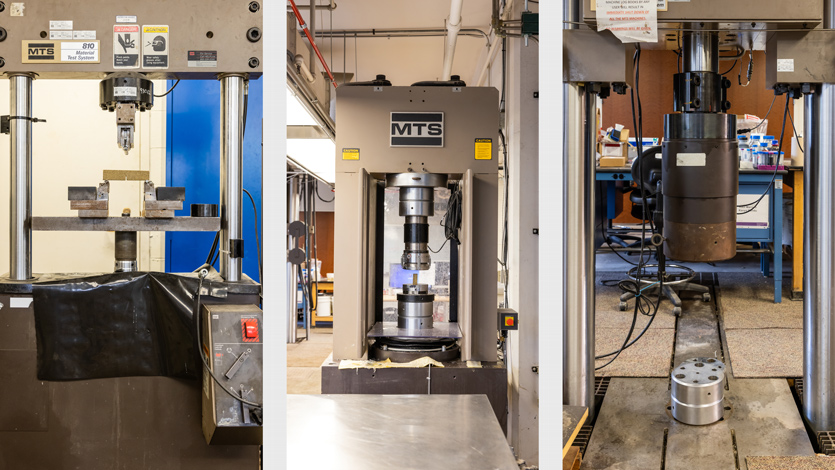 MTS Universal Testing Machines
Three machines and a closed-loop hydraulic system test construction materials and assemblies under pseudostatic and dynamic loading, with respective capacities of 20,000, 220,000, and 1 million pounds.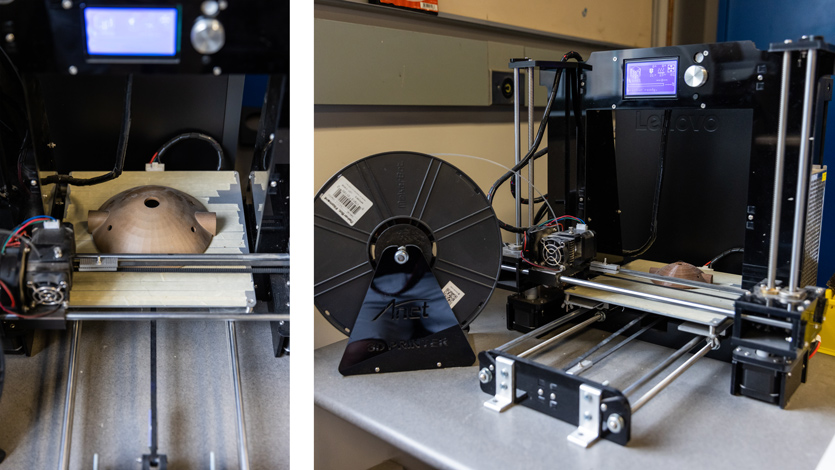 Plastics 3D Printer
An Anet A6 plastics 3D printer provides a 20-centimeter-square print area for developing mock- ups and equipment parts from a variety of plastic filaments.
Split Hopkinson Pressure Bar/Kolsky Bar
This equipment tests high-strain-rate properties of materials and imposes a dynamic load on material samples, similar to what the materials will experience in dynamic situations like blasts, impacts, or other high-energy events.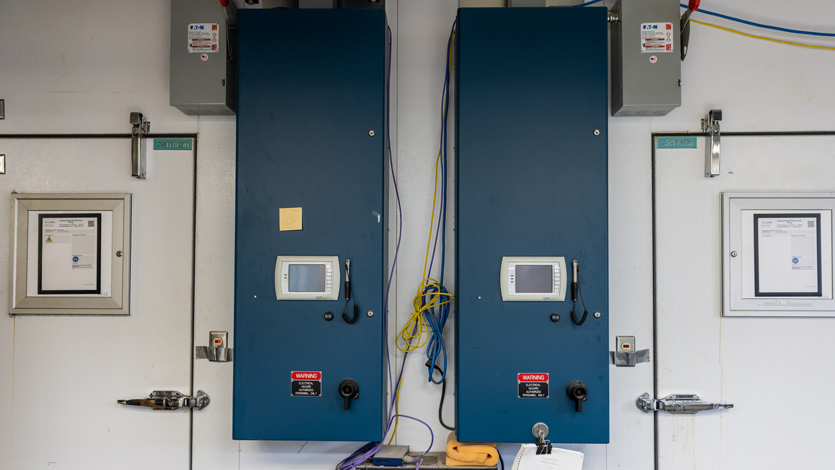 Hotpack Environmental Chambers
Cast and printed samples are cured up to 100 percent humidity in this curing room, used to test strength or replicate performance under specific environmental conditions.
Photography by Matthew Allen