Featured
Inspired Touch
Human-robot interaction expert J. Edward Colgate is revolutionizing the touchscreen experience.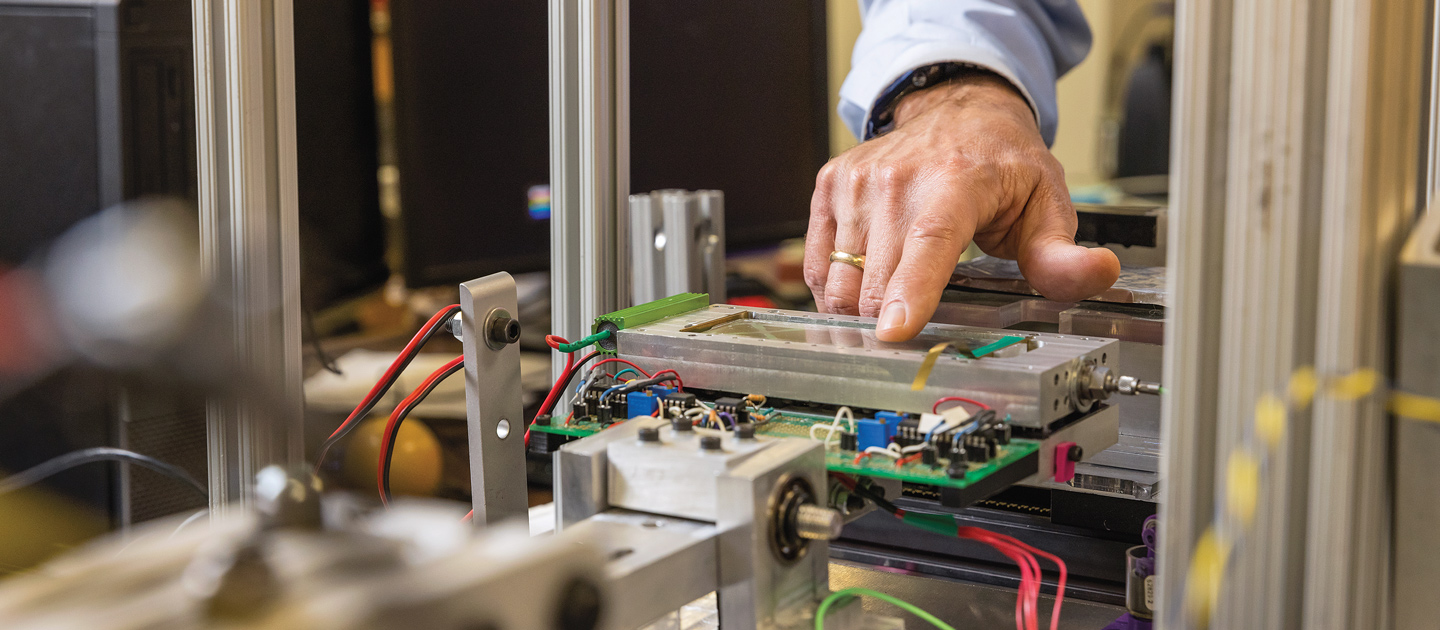 When Ed Colgate became interested in robotics as a graduate student in the 1980s, few could have imagined the lasting impact his work would have not only on human-robot interaction, but also on the thousands of individuals who have benefited from his life-changing innovations.
At the time, figuring out how to have a robot touch the world was a major challenge.
Simple jobs like spray-painting a car on an assembly line were possible. However, giving a robot a tool and asking it to put parts together or grind up metal was much more difficult. That's when Colgate began to look at the problem of robot interaction, first with the outside world and then as an intermediary between people and remote environments.
Today, the professor of mechanical engineering is a renowned leader in the field of human-robot interaction, particularly in haptic interfaces, cooperative robotics (cobots), remote manipulation, and advanced prosthetics. His pioneering work has earned numerous awards, including his recent election to the National Academy of Engineering, among the highest honors in the field.
Shaping an Engineering Community
Since he joined the Northwestern Engineering faculty in 1988, human-robot interaction has proven a rich vein of study for Colgate. He arrived just before the school received a $30 million grant from the Robert R. McCormick Foundation to rebuild the Technological Institute and develop new programs, ushering in an era of growth and change.
"I was extremely fortunate in my timing, because in the 30 years since I joined Northwestern, the institution, the faculty, and the students have just gotten stronger every year," he says.
It's a community Colgate has shaped in many ways, including helping to develop the Engineering First program, a visionary curriculum for first-year students that combines engineering analysis with design thinking and communication. He has provided mentorship and expertise as director of the Master of Science in Engineering Design Innovation degree program and founding co-director of the Segal Design Institute. His research also helped establish Northwestern's Center for Robotics and Biosystems.
Colgate collaborates on much of his work with mechanical engineering professor and Allen K. and Johnnie Cordell Breed Senior Professor of Design Michael Peshkin, with whom he shares a lab. Of their successful partnership, Peshkin says, "There's no one else I can so enjoyably and productively bounce ideas back and forth with. It's like we're on the same wavelength—we resonate."
Creating Richer Haptic Experiences
The duo's research has led to life-changing technologies, such as rehabilitation assistance for stroke survivors, interfaces for prosthetics, and haptics that help the blind interact with touchscreens. Tanvas, one of three successful companies they've launched, develops surface-haptic technology, which lets people feel what they see on a touchscreen.
Colgate is committed to haptics, a field he advanced by founding the Haptics Symposium, the discipline's oldest conference. In the future, he hopes to build richer, fuller-featured haptic interfaces that can convey broader and more realistic sensations through touch and manipulation. "I don't know exactly how far we'll get," Colgate says, "but I intend to give it a good go."
Photography by Matthew Allen