Contact Us
General Department Contact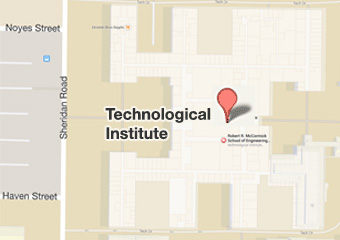 Department of Electrical and Computer Engineering
McCormick School of Engineering and Applied Science
Northwestern University
2145 Sheridan Road, Room L359
Evanston, IL 60208-3118
Phone: 847-491-5410
Fax: 847-491-4455
Tech Room Finder
Find the location and directions to a room or person in the Technological Institute ("Tech"), the main building for McCormick on the Northwestern Campus.
Undergraduate Programs
Do you have a specific question about one of our programs? Someone will look into your question and get back to you as soon as possible. We look forward to hearing from you!
Office of Undergraduate Engineering
Phone: 847-491-3451
Location: Tech L269
Email the Office of Undergraduate Engineering
Computer Engineering
Russell Joseph, Associate Professor
Electrical Engineering
Ying Wu, Professor
Graduate Programs
Graduate Student Affairs
Phone: 847-467-2165
Fax: 847-491-4455
Hours: 8:00-4, M-F
Location: Tech L359
Email Graduate Student Affairs
Computer Engineering
Hai Zhou, Associate Professor
Electrical Engineering
Randy Freeman, Professor
Master's Programs
David Zaretsky, Associate Professor of Instruction
Research
Computer Engineering
Seda Ogrenci, Professor
Electrical Engineering
Randy Berry, Professor