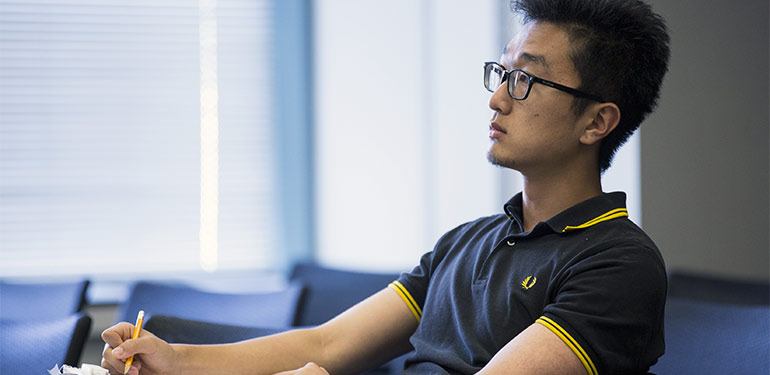 Academics

  /  

Graduate Study

  /  

PhD

Admissions
Admissions to the PhD program is competitive; approximately 10 students enter the PhD program each year.
Not all of our applicants have a math undergraduate degree; many have degrees in science, engineering, or other fields, prior to arriving at Northwestern.
Learn more about admissions process for the McCormick School of Engineering
Start the Online Application
Please note: Students are admitted to begin in Fall quarter only. Applications are due by December 31 for admission for the following Fall quarter. The application and all materials (including letters of recommendation, transcripts, scores, etc.) must be submitted by this date to be given full consideration.
Admissions Requirements
Successful applicants typically have good grades in relevant mathematics courses, and strong letters of recommendation.
Relevant courses that we look for are:
Advanced calculus
Partial differential equations
Linear algebra
Complex analysis
Numerical methods or their equivalent
Not all students admitted will have all these courses on their transcript. Sometimes the content is delivered in a course that is not officially listed as a mathematics course, neither of which will preclude an offer of admission. Undergraduate research experience in the topics above is certainly a plus, but not required.
Almost all students admitted to the PhD program are provided with financial assistance that covers the cost of tuition, books, and living expenses. For first-year students, most often the assistance is offered in the form of a fellowship grant that has no additional required duties. Thereafter, support is provided in the form of a combination of research and teaching assistantships.
Frequently Asked Questions
Jump to a Section
Application
What factors are taken into account when evaluating my application?
We consider prior academic performance, research and other professional experience, and overall potential to successfully pursue graduate study in our department.
Specific courses we look for on previous transcripts are advanced calculus, linear algebra, differential equations, complex variables, numerical methods, and mathematical modeling. The first three courses are essential, while the others are preferred for successful applicants.
Foreign students from non-English speaking countries must also take the Test of English as a Foreign Language (TOEFL) or the International English Language Testing System (IELTS) exam.
What are the important dates to remember?
Application forms and materials must be submitted online by 11:59 p.m., December 31st for admission the following Fall. Late January through March: General timeline for most offers of admission to be made. February-April: Group visits of accepted students to Northwestern. April 15: Deadline for students to accept offers of admission.
Can I apply electronically?
You must apply electronically. There is no paper application. Complete the online application. Letters of recommendation and transcripts from all schools attended after you complete high school must be submitted online.
Can you waive the application fee?
We cannot waive the application fee. The Graduate School offers a small number of fee waivers to qualified applicants. For more information, see The Graduate School website.
Do I need to submit a financial statement?
A financial statement is not necessary for the application process, but in some cases in may be requested before enrollment.
Does ESAM require a writing sample or a resume to be sent as part of the graduate application?
The department does not require a writing sample separate from the Statement of Purpose. Submission of a resume or CV is optional. 
Does an earlier application increase my chances of admission?  
All applications are evaluated the same way, as long as they reach us before the deadline. Applications after the deadline may be considered, but late applications will most likely not be considered for financial assistance.
What if I forget my PIN/password for the online application system?
Return to The Graduate School's Online Application website. Click on the search button in the User Login section. Still having problems? Contact The Graduate School.
Do you have rolling admissions?
No. With very few exceptions, we only admit students in the fall quarter due to the dependencies of courses during the year.
I would like to eventually get a PhD, but I might want to get a master's degree first. Should I apply to the MS program or the PhD program?
In this situation you should indicate your preference for the PhD program. The MS program refers to students who are interested only in that degree. An MS degree is not required for admission to the PhD program, and students who successfully complete the first year PhD program are awarded an MS degree upon request.
Does the department accept transfer students from other departments?
We strongly encourage students to finish their degrees from the department in which they originally enrolled. We generally do not accept students from other PhD programs.
Should I contact individual faculty members?
Not before you have been accepted. All decisions on admission and financial support are made by a committee, and a faculty member does not influence this process unless he or she writes a letter of recommendation. Those applicants who have been admitted are encouraged to email or telephone individual faculty members for information on research, etc.
Codes
What are the codes for the submission of TOEFL scores?
Northwestern University's school code for TOEFL is 1565. If you are taking the TOEFL be sure to include this number on your test form. 
Additionally, you should reference department code 01 when submitting TOEFL scores. IBT test takers should, when prompted, request that their scores be sent to the graduate office (versus undergraduate) and then select the program name that most closely matches their program of interest. If no match is available, the test taker may choose option 99.
Recommendation Letters
How many letters of recommendation should I submit?
The minimum is two, but you may submit three if you wish.
Can I use paper letters of recommendation?
No. The Graduate School's policy is to only accept letters of recommendation that are submitted electronically.
Is there a particular format for recommendation letters?
There is no particular format, and there is no form that needs to be filled out.
GRE and TOEFL Scores
Do I need to take the GRE?
For Fall 2022 admissions, we are not requiring the GRE exam.
Do I need to take the TOEFL?
All international students whose degrees are not from institutions where the language of instruction is English must take the TOEFL or IELTS exam.
I plan to take the TOEFL in late November so the score will only be available late December. May I apply before I have my official TOEFL score?
You may apply early. We will not render a decision until the file is complete. This includes having an official TOEFL score.
How do I know if my TOEFL scores have expired?
TOEFL must be taken no more than two years before the intended quarter of entry. However, your application will not be disqualified if your scores are a few months out of date.
Are my TOEFL/GPA scores sufficient? What are the minimum scores?
An applicant is evaluated on the basis of the total academic performance, which includes coursework, research experience, and evaluation by faculty members or applicant's supervisors.
The only minimum we set is for the TOEFL, on which an international applicant must score 600 or higher on the paper-based test, 250 or higher on the computer-based test, and 100 or higher on the Internet-based test. On the IELTS, an applicant must score 7.0 or higher. 
Can I upload unofficial copies of TOEFL to my application?
Yes, you are encouraged to upload copies of your TOEFL score reports along with your application. However, an official decision will not be made until the official scores are received.
I requested that ETS send my scores to a department at Northwestern other than applied mathematics. Should I ask them to send the scores again?
In most cases we will be able to locate your scores from the other department and it is not necessary to resend them.
Transcripts
Do I need to submit high school transcripts?
No.
My university doesn't offer electronic copies of official transcripts. May I submit a copy of my transcript?
Unofficial copies of transcripts are acceptable for the application. To be considered, all documents not in English must be accompanied by official English translations. All documents must be scanned and uploaded via the online application system.
Financial Aid
How much financial aid will I receive?
Most PhD students are admitted with university fellowships for the first year. Each research assistantship includes full tuition, a take-home stipend, and health insurance.
For how many years will I receive financial aid?
After the first year, most PhD students receive funding either through teaching and/or research assistantships that will continue as long as students are making satisfactory progress toward their degrees.
Is the financial aid enough to cover living expenses?
The current minimum stipend level for all fellowships and assistantships provided by Northwestern is $2,417 per month. Based on the experience of current PhD students, the financial aid is sufficient to cover reasonable living expenses. Additional information about funding is provided on the McCormick School website.
Visiting Northwestern
As a foreign student, I cannot visit Northwestern prior to making my decision. How can I learn more about the department?
Administrative questions should be directed to the graduate admissions director for the applied mathematics department.
Northwestern offers international students the opportunity to participate in a program called the International Summer Institute before beginning their graduate studies. For more information, please visit the International Summer Institute website.
Acceptance
What happens after I am accepted?
We encourage all accepted students to visit Northwestern before making a decision about the offer. Most students visit during one of two group visits in the spring. Northwestern will pay for most of the expenses associated with these visits.
During the visits, students speak with faculty who are of the most interest to them and learn more about our department and the Evanston/Chicago area. The purpose of these visits is not to arrange for a research adviser, but to get enough information so that you can make an informed choice about which graduate school to attend.
When do I need to formally accept or decline an offer of admission?
The deadline is April 15, but if you make your decision earlier than that, please let us know as it is helpful for us to fill out a quality incoming class.
How do I choose a research adviser?
New graduate students are encouraged to discuss potential research projects with faculty at any time during the first year. In addition, new graduate students will also hear research presentations from faculty members in the department by early spring quarter. Students are then given time to meet with faculty whose projects are of the most interest to them. Students then ask faculty to join their research groups before the end of that spring quarter.
How do I know which faculty members are taking new students?
Due to the nature of research funding, we cannot guarantee that all faculty members will indeed be taking students. The picture will be clearer as the year progresses.
For More Information
Additional questions may be answered on The Graduate School frequently asked questions page.
More in this section