Graduation
McCormick PhD Hooding and Master's Recognition Ceremony
Saturday, December 11, 4 P.M.
Location: Pick-Staiger Concert Hall (50 Arts Circle Drive, Evanston) map it
We are delighted to invite Summer and Fall 2021 master's and PhD graduates to celebrate in person. All Summer and Fall 2021 McCormick master's and PhD graduates will be honored at a single ceremony.
Jump to a Section
Graduation Address
Tim Stojka, CEO and Chairman, Agentis Energy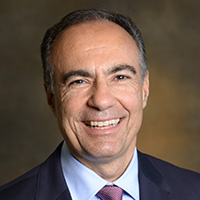 Tim Stojka ('89) is a technology CEO and entrepreneur. He is currently CEO and chairman of Agentis Energy, a leader in the smart grid technology industry by providing energy data analytics to more than 4 million business customers in North America in partnership with leading energy providers. He also cofounded and serves on the board of Sertifi Inc., a leading provider of signature and payment processing software for the hospitality industry serving more than 12,000 hotels in North America.
Stojka previously served as cofounder and CEO of Commerx. A pioneer in the development of internet marketplace and e-commerce systems, he was responsible for helping direct and communicate the vision and growth strategies of Commerx, successfully positioning the company as a leading provider of collaborative, webhosted e-procurement and supply chain solutions. In 2000, Stojka and Commerx were awarded the Smithsonian/Computerworld technology award for innovation.
A frequent guest speaker at technology industry conferences, Stojka has appeared in a variety of top business publications, including Business Week, Fortune, Forbes, Crain's Chicago Business, and Business 2.0. In 2000, he was named one of 25 "E-Champions" by BtoB magazine and was a top 10 finalist for EY's Entrepreneur of the Year Award.
Stojka serves in leadership roles across many business and civic organizations, including the Young Presidents Organization, Executives' Club of Chicago, Northwestern Engineering's McCormick Advisory Council, 1871, ChicagoNEXT, Vistage International, The Economic Club of Chicago, and Clean Energy Trust. He is also a member of the board of trustees at the Illinois Institute of Technology.
Stojka holds a BS in industrial engineering from Northwestern and attended both Stanford Graduate School of Business and Harvard Business School's executive MBA programs.
Personalized Webpage and Event Streaming
Prior to graduation, you will receive a link to a personalized webpage to connect you to a host of online materials recognizing your accomplishments. This webpage will include a live video feed of the ceremony, which you can share with family and friends who are not able to attend.
Department and Program Celebrations
Electrical and Computer Engineering PhD Reception
Date: Tue. December 7, 1pm
Location: Willen's Wing Atrium, Technological Institute
Contact: Catherine Healey
MEM and MSIT Post-Graduation Reception
Date: Sat. December 11, 6:30 – 8:30pm
Location: Cohen Commons, Technological Institute, L482
Contact: Stephen Dowling
MSAI Graduation Dinner
Date: Fri. December 3, 6:30pm
Location: Five & Dime, 1026 Davis Street, Evanston
Contact: Krzysztof Kozubski
MSiA Post-Graduation Reception
Date: Sat. December 11, 6:30 – 8:30pm
Location: Global Hub, White Auditorium
Contact: Stephen Dowling
MSR Graduation Lunch
Date: Sat. December 11, 11:30am
Location: Five & Dime, 1026 Davis Street, Evanston
Contact: Krzysztof Kozubski