Pioneering Truck Automation
Rikki Valverde (MSR '16) talks about the complexities of developing an autonomous vehicle and how she applies lessons learned in Northwestern Engineering's Master of Science in Robotics (MSR) program to her work at Daimler Trucks North America.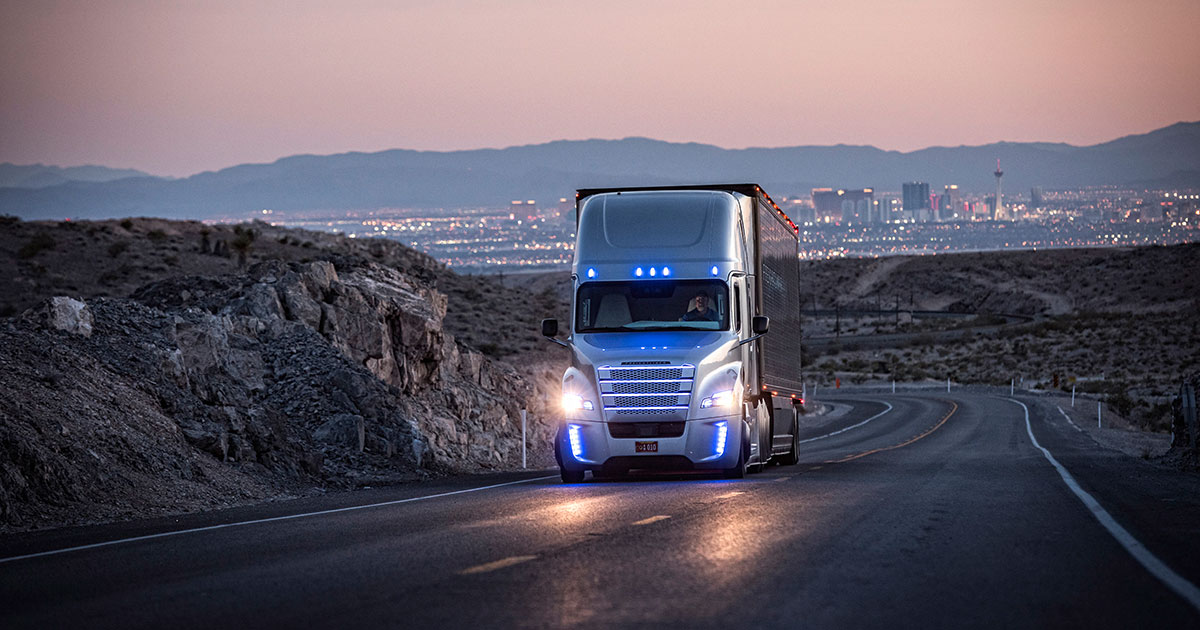 The idea that autonomous vehicles are not as safe as ones with human drivers is a common misconception, according to Rikki Valverde (MSR '16).
"Autonomous vehicles never get drowsy or distracted, they have better night vision, and they benefit from the analysis and planning of teams of engineers instead of relying on one human in a possible moment of stress," Valverde said.
She should know. Valverde has spent the past three years as a senior engineer in the autonomous driving group at Daimler Trucks North America (DTNA), a pioneer of truck automation. In 2015, DTNA's Freightliner Inspiration Truck obtained the first road license for a partially automated commercial vehicle, and today the company has partially automated driving features in three different truck models.  
There are six levels of automation as defined by SAE International and used by the US Department of Transportation. SAE Levels 0-2 include vehicles that have driving support features, such as providing warnings to drivers or lane centering capabilities. Humans are still driving when these autonomous features are in use. SAE Levels 3-5 include automated driving features that can actually operate the vehicle.  
The features in DTNA's current truck models are SAE Level 2. Valverde has spent her time at DTNA contributing to the advancement of the company's SAE Level 4 automated tractor trailer for commercial use. At that level, automated driving features will not require human drivers to take over the vehicle.
Valverde leads the development of lateral control for the truck, which includes enhancing motion control algorithms to account for dynamics, disturbances, safety, and stability. She also is responsible for defining and analyzing system performance metrics, detailing test cases, and ensuring the team has an appropriate simulation environment.  
Lateral control is just one of many components needed to bring the truck together. 
"It takes a massive effort to develop an autonomous vehicle," Valverde said. "Having started my position at DTNA as the Autonomous Technology Group at Daimler was being established, I have had a chance to be involved in many different parts of the development as the department grew." 
The biggest challenge Valverde faces is that since each of the components of the autonomous software stack rely on each other's performance, it's hard to define and measure the success  of each component. What that means is improvements in one area can unexpectedly change the behavior of another component. It's the reality of working with complex systems, one she first learned during her time in Northwestern Engineering's Master of Science in Robotics (MSR) program.
Valverde was initially drawn to MSR because of the program's focus on hands-on projects, plus a small class size so she could get individualized attention. "An added bonus that I didn't know about was access to so many cool robots," she said.  
Valverde was able to take multiple classes in control theory that broadened her perspective on what a controller can do for a system. She applies that knowledge, as well as lessons she learned in problem solving, to her work on a daily basis.
"I learned new ways to approach problems that I thought I already knew how to solve," she said. "The specific instances were helpful, but it was also a broader lesson in keeping an open mind about there being many ways to tackle any issue."