Applying Machine Learning to Robotics
Sofya Akhmametyeva (MSR '17) shares how her time at Northwestern Engineering helped her become Head Machine Learning Engineer at Nousot.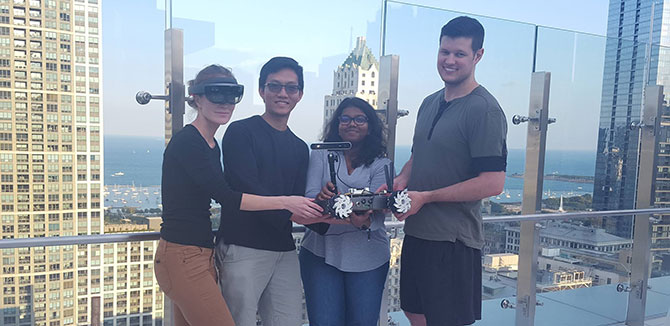 When Sofya Akhmametyeva (MSR '17) arrived at Northwestern Engineering's Master of Science in Robotics (MSR) program in 2015, her goal was straightforward. She wanted to apply machine learning to robotics.
During her time at Northwestern, she was able to do that and a lot more, including launching a startup that went on to win first place in a university-wide pitch competition.
Today, Akhmametyeva is the Head Machine Learning Engineer at Nousot in Chicago. She took a few minutes to talk about her time in the MSR program and how it helped her get where she is today.
What aspect of the MSR program was most appealing to you?
I think the project portfolio requirement instead of a thesis. The best way to reinforce the knowledge one acquires is through hands-on experience
What were two or three highlights from your time in MSR?
Learning from the top minds in machine learning and robotics, and programming the Baxter robot was an experience I couldn't get outside of MSR. Also, I co-founded a startup called Augmented Intelligence Resource (AIR) during a Wildfire program at The Garage. Our team developed a holographic staging app for Microsoft's HoloLens and placed first in the program's pitch competition.
What happened with the startup?
During the Garage Wildfire program, we made a staging app. After the Wildfire program and after graduating from MSR, we created a new project aimed at robotic manipulation with mixed reality. We have built our own robot and a new app for Hololens with the help of NVIDIA and Microsoft. NVIDIA helped us with purchasing a Jetson TX2 controller for the robot. Microsoft invited us to their headquarters in Redmond to feature our prototype and participate in a mixed reality hacking event.
What are your roles and responsibilities at Nousot?
As Head Machine Learning Engineer, I develop and implement algorithms and leading machine learning projects.
In what ways are you able to incorporate lessons you learned in MSR into your day-to-day job at Nousot?
At Nousot, I leverage the base knowledge in machine learning and data manipulation acquired during the MSR program. At AIR, I leverage the robotics skills in addition to the machine learning skills. Our second project involved building and programming a robot controlled by voice and gesture commands registered by Microsoft's Hololens.
What advice would you give to a prospective student considering the MSR program?
Prior to joining the program, brush up on linear algebra, be comfortable with at least one programming language (Python or C++), and look into ROS (Robot Operating System). During your time in the program, take full advantage of the resources provided by the MSR program as well as Northwestern University in general (entrepreneurial programs, machine shops, lab equipment, robots, etc.) And grow your network!