Faculty Directory

Hooman Mohseni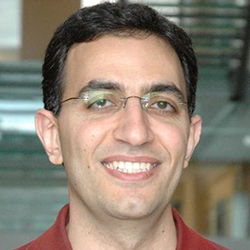 Professor of Electrical and Computer Engineering
AT&T Professor of Information Technology
Contact
2145 Sheridan Road
Tech Room M250
Evanston, IL 60208-3109
847-491-7108
Email

Hooman Mohseni
Website
Bio-Inspired Sensors and Optoelectronics Laboratory
---
Departments
Electrical and Computer Engineering
Affiliations
PhD Program in Applied Physics
---
Education
Ph.D. Electrical Engineering, Northwestern Univeristy, Evanston, IL
M.S. Electrical Engineering, Sharif University of Technology, Tehran, Iran
B.S. Electrical Engineering, Amirkabir University of Technology, Tehran, Iran
Research Interests
Research at Mohseni' Group covers the entire gamut of building new quantum optoelectronic sensors with breakthrough performance. Our research includes developing advanced simulations, novel materials, advanced devices, novel nano-fabrication, and breakthrough systems. We tackle real world problems and advance technologies that show promise for making orders-of-magnitude performance improvements. Our research has made impacts in many fields spanning from Biology to Astronomy.
Selected Publications
A New Approach to Designing High-Sensitivity Low-Dimensional Photodetectors
M Rezaei, S Bianconi, LJ Lauhon, H Mohseni
Nano letters (2021)
Photonic Jet Writing of Quantum Dots Self‐Aligned to Dielectric Microspheres
ARistori, T Hamilton, D Toliopoulos, M Felici, G Pettinari, S Sanguinetti, M Gurioli, H Mohseni, F Biccari.
Advanced Quantum Technologies 4 (9), 2100045 (2021)
Exaggerated sensitivity in photodetectors with internal gain
S Bianconi, LJ Lauhon, H Mohseni
Nature Photonics, 1-1 (2021)
A 3 pJ/bit free space optical interlink platform for self-powered tetherless sensing and opto-spintronic RF-to-optical transduction
S Wheaton, V Lopez-Dominguez, H Almasi, J Cai, Z Zeng, PK Amiri, H Mohseni
Scientific reports 11 (1), 1-9 (2021)
Highly sensitive SWIR detector array based on nanoscale phototransistors integrated on CMOS readout
L Liu, J Rabinowitz, S Bianconi, MS Park, H Mohseni
Applied Physics Letters 117 (19), 191102 (2020)
When shot-noise-limited photodetectors disobey Poisson statistics
J Rabinowitz, M Rezaei, MS Park, CL Tan, M Ulmer, H Mohseni
Optics Letters 45 (11), 3009-3012 (2020)
Recent advances in infrared imagers: toward thermodynamic and quantum limits of photon sensitivity
S Bianconi, H Mohseni
Reports on Progress in Physics 83 (4), 044101 (2020)
Dynamically Reconfigurable Data Readout of Pixel Detectors for Automatic Synchronization with Data Acquisition Systems
F Fahim, S Bianconi, J Rabinowitz, S Joshi, H Mohseni
Sensors 20 (9), 2560 (2020)
Quantum dots luminescence collection enhancement and nanoscopy by dielectric microspheres
F Biccari, T Hamilton, A Ristori, S Sanguinetti, S Bietti, M Gurioli, H Mohseni
Particle & Particle Systems Characterization 37 (1), 1900431 (2020)