Faculty Directory

Bin Jiang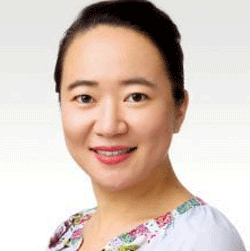 Assistant Professor of Biomedical Engineering
Assistant Professor of Surgery
Contact
303 E. Superior St
SQBRC 11-526
Chicago, IL 60611
312-503-6937
Email

Bin Jiang
Website
---
Centers
Center for Advanced Regenerative Engineering
---
Departments
Education
Ph.D. Biomedical Engineering, Illinois Institute of Technology, Chicago, IL; B.S. Bioengineering, Southeast University, Nanjing, China.
Research Interests
The Jiang research group is a joint research program of vascular surgery and biomedical engineering. Our research focuses on vascular regenerative engineering, where advanced engineering technologies converge with clinical research for autologous vascular tissue regeneration. We use a combination of biomaterials, stem cells, non-invasive imaging, and animal models to develop innovative solutions for a number of vascular complications, including peripheral artery disease, abdominal aortic aneurysm, vascular calcification, and diabetic vascular complications. 
Selected Publications
Petty, Anthony J.; Keate, Rebecca L.; Jiang, Bin; Ameer, Guillermo A.; Rivnay, Jonathan, Conducting Polymers for Tissue Regeneration in Vivo †, Chemistry of Materials 32(10):4095-4115 (2020).
Jiang, Bin; Zhu, Yunxiao; Wang, Xinlong; Bolanos, Nancy Rivera; Duan, Chongwen; Zhang, Xiaomin; Ameer, Guillermo, Autologous vascular regeneration for peripheral artery disease with induced pluripotent stem cells, Society for Biomaterials:446 (2019).
Li, Wuwei; Fu, Yuqian; Jiang, Bin; Lo, Aaron Y.; Ameer, Guillermo A.; Barnett, Cleon; Wang, Bo, Polymer-integrated amnion scaffold significantly improves cleft palate repair, Acta Biomaterialia 92:104-114 (2019).
Wang, Xinlong; Rivera-Bolanos, Nancy; Jiang, Bin; Ameer, Guillermo A., Advanced Functional Biomaterials for Stem Cell Delivery in Regenerative Engineering and Medicine, Advanced Functional Materials 29(23) (2019).