Faculty Directory

Matthew R. Glucksberg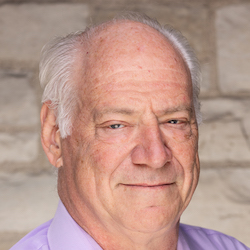 Professor of Biomedical Engineering
Contact
2145 Sheridan Road
Tech E344
Evanston, IL 60208-3107
Email

Matthew Glucksberg
Website
Center for Innovation in Global Health Technologies
---
Departments
---
---
Education
Ph.D. Engineering Mechanics, Columbia University, New York, NY
M.S. Engineering Mechanics, Columbia University, New York, NY
B.S. Flight Sciences, Columbia University, New York, NY
Research Interests
Matt Glucksberg is a Professor of Biomedical Engineering at Northwestern University, and the Director of the Center for Innovation in Global Health Technologies. His technical expertise is in tissue mechanics, microcirculation, and optical instrumentation. His laboratory has developed photonics-based instrumentation to measure pressure and flow in the circulation of the eye, instruments to measure the response of pulmonary alveolar epithelial cells to their immediate mechanical environment, and is currently involved in developing minimally invasive optical biosensors for monitoring glucose, lactate, and other measures of metabolic function. He is a co-Founder of Northwestern's Global Healthcare Technologies Program in Cape Town South Africa, co-director of an MS certificate program in Global and Ecological Health, and is working with the Center for Global Health at Feinberg to develop BME degree programs at three Universities in Nigeria.
Dr. Glucksberg is a member of the College of Fellows of the American Institute of Medical and Biological Engineering, a Fellow of the Biomedical Engineering Society, and serves as a founding board member for the Northwestern Global Health Foundation. 
Selected Publications
Ige, Ebenezer Olubunmi; Adetunla, Adedotun; Amudipe, Samuel Olufemi; Adeoye, Adeyinka; Glucksberg, Matthew, An archetypal model of a breathable air-circuit in an electro-pneumatic ventilator device, Heliyon (2022).
Ige, Ebenezer Olubunmi; Dare, Ademola Adebukola; Adeniyi, Kayode Anthony; Coker, Akinwale Oladotun; Murphy, Robert L.; Glucksberg, Matthew; Gatchell, David, Suitability of Hood Geometry for Design of a PCM Neonate Incubator for Resource-Limited Clinical Applications, Journal of Medical Systems 45(3) (2021).
Gatchell, David W.; Osuntoki, Akinniyi Adediran; Coker, Akinwale Oladotun; Glucksberg, Matthew R.; Douglas, Tania; Palamountain, Kara M., Deliverables from international cooperation on an NIH-funded biomedical engineering project in Africa, ASEE Annual Conference and Exposition, Conference Proceedings 2018-June (2018).
Tworkoski, Ellen; Glucksberg, Matthew R.; Johnson, Mark, The effect of the rate of hydrostatic pressure depressurization on cells in culture, PloS one 13(1) (2018).
Ploss, Brittany; Douglas, Tania S.; Glucksberg, Matthew; Kaufmann, Elsie Effah; Malkin, Robert A.; McGrath, Janet; Mkandawire, Theresa; Oden, Maria; Osuntoki, Akinniyi; Rollins, Andrew; Sienko, Kathleen; Ssekitoleko, Robert T.; Reichert, William, Part II, Annals of Biomedical Engineering 45(11):2489-2493 (2017).