Faculty Directory

Sandip Ghosal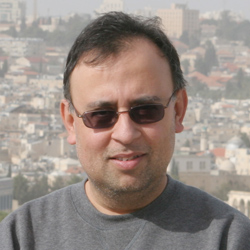 Associate Professor of Mechanical Engineering and (by courtesy) Engineering Sciences and Applied Mathematics
Contact
2145 Sheridan Road
Tech L495
Evanston, IL 60208-3109
847-467-5990
Email

Sandip Ghosal
Website
---
Departments
Affiliations
Theoretical and Applied Mechanics Graduate Program
---
Education
M.Phil & Ph.D. Physics, Columbia University, New York, NY
B.S. Physics, Presidency College, Calcutta, India
Research Interests
Fluid mechanics; micro-scale flows, biological and soft systems, turbulence

Research webpage:  http://ghosal.mech.northwestern.edu/
Reearch Blog:   http://s-ghosal.blogspot.com
Significant Recognition
Fellow of the American Physical Society
Leverhulme Trust Visiting Professor, Cambridge University (UK)
Visiting Fellow, Clare Hall, Cambridge University (UK)
NASA ASEE Faculty Fellowship
Fellow of the Searle Center for Teaching Excellence, Northwestern University
CTR Summer research fellow, Stanford University
GFD fellow, Woods Hole Oceanographic Institution
Fellow of the faculty (Physics), Columbia University
J. Bose National Science Talent Search Award, India
Significant Professional Service
Chair of Acrivos dissertation award committee, American Physical Society (Division of Fluid Dynamics)
Editorial Advisory Board Member, The Open Mechanics Journal
Organizing Committee Member & Workshop Chair: IMA Thematic Year on Complex Fluids & Complex Flows
Selected Publications
Sherwood, J. D.; Ghosal, Sandip, Nonlinear electrophoresis of a tightly fitting sphere in a cylindrical tube, Journal of Fluid Mechanics 843:847-871.
Bell, Nicholas A.W.; Chen, Kaikai; Ghosal, Sandip; Ricci, Maria; Keyser, Ulrich F., Asymmetric dynamics of DNA entering and exiting a strongly confining nanopore, Nature communications 8(1).
Ghosal, Sandip; Sherwood, John D., Screened Coulomb interactions with non-uniform surface charge, Proceedings of the Royal Society A: Mathematical, Physical and Engineering Sciences 473(2199).
Ghosal, Sandip; Sherwood, John D., Repulsion between Finite Charged Plates with Strongly Overlapped Electric Double Layers, Langmuir 32(37):9445-9450.
In the Classroom
Professor Ghosal has taught Fluid Mechanics and various topics in Engineering Mathematics for graduate and undergraduate students.