Faculty Directory

Ludmilla Aristilde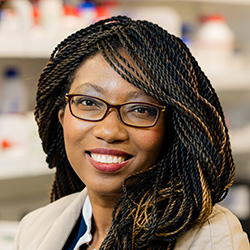 Associate Professor of Civil and Environmental Engineering and (by courtesy) Chemical and Biological Engineering
Contact
2145 Sheridan Road
Tech A316
Evanston, IL 60208-3109
847-491-2999
Email

Ludmilla Aristilde
Website
---
Departments
Civil and Environmental Engineering
Education
Postdoc, Geosciences and Metabolomics, Princeton University
Ph.D., Molecular Toxicology, University of California-Berkeley
M.S., Civil and Environmental Engineering, University of California-Berkeley
B.S., Science of Earth Systems, Cornell University
B.F.A., Fine Arts, Cornell University
Research Interests
Dr Aristilde's areas of expertise are in the combined application of experimental and computational tools in chemistry and biochemistry to gain novel molecular insights underlying the dynamics of organics in environmental processes. The goal of the Aristilde Group is to obtain a fundamental understanding of the "why" and "how" of the environmental behavior of organics, with implications for nutrient cycling, ecosystem health, agricultural productivity, and environmental biotechnology. Her group seeks to figure out the mechanisms responsible for the physical and biological fates. The current research activities of her group are focused on (i) cellular carbon metabolism of organic substrates in environmental bacteria, (ii) catalytic dynamics of nutrient-cycling extracellular enzymes, (iii) the physical chemistry of biomolecules and organic contaminants in environmental matrices, (iv) molecular ecotoxicological targets of organic contaminants.
Aristilde grew up in Port-Au-Prince, Haiti. After emigrating to the U.S., Aristilde enjoyed studying her two passions, art and environmental science, at Cornell University where she completed a dual-degree program with a B.F.A. in Fine Arts and a B.S. in Science of Earth Systems. During her doctoral studies at the University of California-Berkeley, Aristilde worked on the environmental chemistry and toxicology of veterinary antibiotics under the supervision of Dr. Garrison Sposito. Following the completion of her PhD, Aristilde went to Grenoble (France) as an American Fulbright scholar to study different spectroscopic techniques to investigate organo-mineral interactions. She spent three years as a NSF postdoctoral fellow at Princeton University learning how to use molecular biology tools to tackle problems at the interface of environmental chemistry and biological processes. Prof. Aristilde started her faculty career at Cornell University (Department of Biological and Environmental Engineering) as an Assistant Professor in  2012 and promoted to Associate Professor with tenure in 2018. Prof. Aristilde joined the Northwestern Faculty in 2019.
Selected Publications
*Solhtalab M., *Klein A.R., Aristilde L. (2021) Hierarchical reactivity in enzyme-mediated phosphorus recycling from organic mixture by Aspergillus niger phytase. Journal of Agricultural and Food Chemistry, 69, 2295-2305.

*Guilvaiee B.H., Aristilde L. (2021) Redox-related metabolic dynamics imprinted on short-chain carboxylic acids in soil water extracts: A 13C exometabolomics Analysis. Environmental Science and Technology Letters, 8, 183-191.

*Mendonca C.M., *Yoshitake S., *Wei H., *Werner A., *Sasnow S.S., Thannhauser T., Aristilde L. (2020) Hierarchical routing in carbon metabolism favors iron-scavenging strategy in iron-deficient soil Pseudomonas species. Proceedings of the National Academy of Sciences, 117, 32358-32369.

Cyle K.T., *Klein A.R., Aristilde L., Martinez C.E. (2020) Ecophysiological study of Paraburkholderia sp. 1N under soil solution conditions: Dynamic substrate preferences and characterization of carbon use efficiency. Applied and Environmental Microbiology, 86, e01851-20.

Ankrah N.Y.D., *Wilkes R.A., Zhang F.Q., Zhu D., Kaweesi T., Aristilde L., Douglas A.E. (2020) The metabolome of associations between xylem-feeding insects and their bacterial symbionts.  Journal of Chemical Ecology, 46, 735-744.

Ankrah N.Y.D., *Wilkes R.A., Zhang F.Q., Zhu D., Kaweesi T., Aristilde L., Douglas A.E. (2020) Syntrophic splitting of central carbon metabolism in host cells bearing functionally-different symbiotic bacteria. The ISME Journal, 14, 1982–1993.

*Klein A.R., *Barzen-Hanson K.A., Aristilde L. (2020) A non-derivatized method for simultaneous quantitation of proteinogenic, urea-cycle, and acetylated amino acids by liquid chromatography-high-resolution mass spectrometry. Environmental Chemistry Letters, 18, 229-235.

*Kelch S.E., Ferrage E., Lanson B., Charlet L. Aristilde L. (2019) Water trapping dynamics in carbohydrate-populated smectite interlayer nanopores. Journal of Physical Chemistry C, 123, 28816-28827.

McBride M.B., *Kelch S.E., Schmidt M., Zhou Y., Aristilde L., Martinez CE (2019) Lead solubility and mineral structures of co-precipitated lead-calcium oxalates. Environmental Science and Technology, 53, 13794-13801.

*Mendonca C.M., *Reed M.L., *Kukurugya M.A., Aristilde L. (2019) Adverse metabolic outcomes in soil Pseudomonas species exposed to polyethoxylated tallow amine and glyphosate. Environmental Science and Technology Letters, 6, 448-455.

*Kukurugya M.A., *Mendonca C., *Solhtalab M., *Wilkes R.A., Thannhauser T., Aristilde L. (2019) Multi-omics analysis unravels a segregated metabolic network that tunes co-utilization in Pseudomonas putida efficiently tunes concurrent usage of sugar and aromatic carbons. Journal of Biological Chemistry, 294: 8464-8479.

*Klein A. R., Bone S.E.; *Bakker E., *Chang Z., Aristilde L. (2019) Abiotic phosphorus recycling of adsorbed ribonucleotides on a ferrihydrite-type mineral: Probing solution and surface species. Journal of Colloid and Interface Science, 547, 171-182.