Faculty Directory

David Mahvi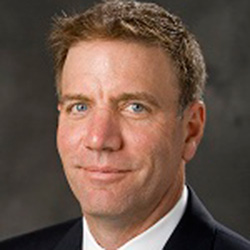 Professor of Surgery
Professor of Biomedical Engineering
Contact
NMH/Arkes Family Pavilion Suite 650
676 N Saint Clair
Chicago, IL 60611
Email

David Mahvi
Website
---
Departments
Education
MD: Medical University Of South Carolina (1981)
Residency: Duke University Medical Center, General Surgery (1989)
Postdoctoral Fellowship: Duke University, Tumor Immunology (1985)
Residency: Duke University Medical Center (1983)
Board Certification: Surgery
Research Interests
The long term goal of my research activity is to develop new treatments for metastatic colorectal cancer. This has lead to several clinical trials of biologics and more recently to several trials of new devices. We have developed models that have led to a better understanding of the conversion of energy into heat. These models have resulted in our development of several devices that we have patented and tested in animal and human models. The current appendix will allow the further development of a device for bloodless liver resection.
Selected Publications
An Electrode Array for Limiting Blood Loss During Liver Resection: Optimization via Mathematical Modeling.
Strigel RM, Schutt DJ, Webster JG, Mahvi DM, Haemmerich D
The open biomedical engineering journal 2010; 4:39-46
An optimal sliding choke antenna for hepatic microwave ablation.
Prakash P, Converse MC, Webster JG, Mahvi DM
IEEE transactions on bio-medical engineering 2009 Oct; 56(10):2470-6
Electrical conductivity measurement of excised human metastatic liver tumours before and after thermal ablation.
Haemmerich D, Schutt DJ, Wright AW, Webster JG, Mahvi DM
Physiological measurement 2009 Apr 6; 30(5):459-466
Finite-element analysis of hepatic cryoablation around a large blood vessel.
Kim C, O'Rourke AP, Will JA, Mahvi DM, Webster JG
IEEE transactions on bio-medical engineering 2008 Aug; 55(8):2087-93