Engineering Students Build Off-Grid 'Tiny House'
How much space does one person need? A one-bedroom apartment? A small studio?

How about 128 square feet? That is the size of the so-named Tiny House that McCormick students have designed and built over the last two years. The 8x16–square-foot house, which sits on the back of the trailer, comes equipped with a bed, a kitchen, and a bathroom – and can function completely off the grid.

"It's an idea that really resonates with people," said William Fan, a recent mechanical engineering graduate who was co-project manager. "Especially after the recession. It's about trying to simplify your life so you have full control of your space and living only with what you need."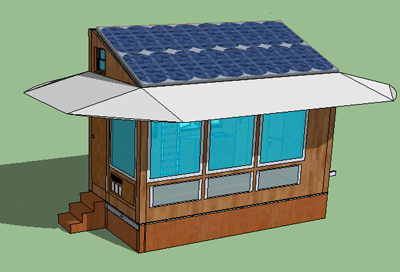 The project started after Fan attended a workshop given by Jay Schafer, founder of the Tumbleweed Tiny House Company, which creates pre-made homes and building plans for houses ranging from 65 to 837 square feet. Schafer's Tiny Houses are built for resource-minded consumers who don't want to take up more space than they need. That philosophy resonated with Fan.

"I don't see myself living in a big house," he said. "It doesn't feel right. I just like compactness and simplicity."

So he brought the idea back to the Segal Design Institute as a proposed project for the 298-398 Interdisciplinary Design Project course sequence.  Several other students joined the project, including Kaycee Overcash, a recent manufacturing and design engineering graduate who went on to become co-project manager.

"I had never heard of a Tiny House," she said. "But we designed the house with the motto that the greenest square foot is the one you don't build. Now I hate those big houses."

The team set about designing not just a Tiny House but one that could be sustainable off the grid. The team separated into three subgroups – materials and structure, plumbing, and electricity – and aimed to design the house the first quarter, and build it the second.

It didn't exactly work that way.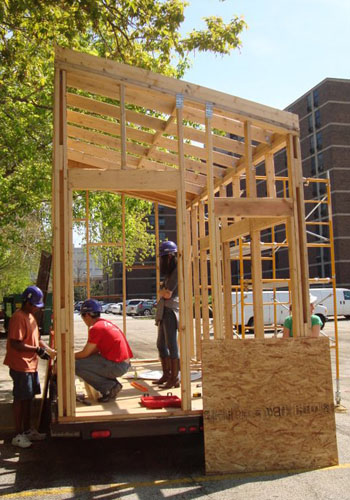 "It was three times the size of a project that is normally done in two quarters," Overcash said. "We needed to nail down specs, vendors, budgets, and then we had to raise the money to build it." The total cost of the house stood at about $50,000.

The team ended the class with an initial design that included solar panels to generate electricity, a rainwater catchment and filtration system for potable water, a composting toilet, a shower with an extremely efficient showerhead, a small fireplace, and a kitchen complete with sink, refrigerator, and one burner. They made the house compatible with DC electricity (which comes from the solar panels) and designed it so that even in the Chicago climate, the house would gather enough water for a person to use 8.6 gallons a day. They wanted to make the space not only efficient but comfortable – they even designed a diagram of where the group's core members could lay down during a Tiny House sleepover.

The project was transferred to Engineers for a Sustainable World, a Northwestern student group that focuses on sustainable projects and education, and a few of the original team members stayed on. Ultimately, they raised enough money through myriad sponsors, including Abbott Labs, Initiative for Sustainability and Energy at Northwestern, a Northwestern Alumnae Grant, and others. This spring began constructing the house in the Engelhart parking lot on campus. It was a slow start.

"None of us had ever built a house," Overcash said. "Our first day was, 'This is how you hammer.'" The team has had to continually tweak their design as they build: structurally insulated panels (which they hoped to use to frame the house) are much harder to come by than a regular 2x4 from a local hardware store. A bamboo front door was too expensive; it will be steel, instead. Where should they put the bolts? Better consult a professor.

By the end of May the team had framed the house on the trailer (which they will use to transport the house for exhibitions) and was close to beginning plumbing and electrical work. They hoped to finish by September -- the team is in talks to exhibit their house at a Chicago museum.

"Our real goal is to show it off and talk to people about the Tiny House movement," Overcash said.

Over the past two years, the project has had its share of starts and stops. But even as the early proponents graduate and leave the project to underclassmen, they can reflect on how their struggles have taught them the nature of project design.

"Even at the worst of times, if you believe in the nature of your design, trust yourself and your teammates, you can make it happen," Fan said.

Visit the Tiny House project website to learn more about the design and all of their sponsors.