Ryan Brock Wins Gotaas Award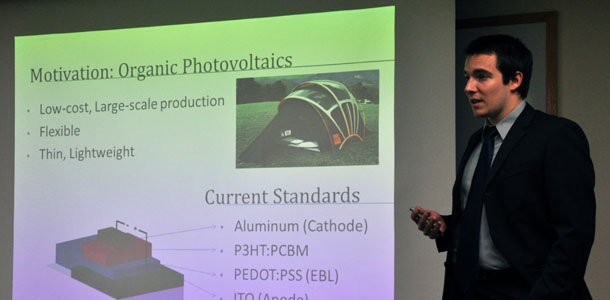 Ryan Brock, a BS/MS materials science and engineering student who will receive both degrees after just four years, has won the 2011 Harold B. Gotaas Undergraduate Research Award.

The award, named in honor of the third dean of the McCormick school, is given to the senior who presents the best research paper in the competition.

Brock's presentation was titled, "Electronically Monodisperse Single-Walled Carbon Nanotube Thin Films as Transparent Conducting Anodes in Organic Photovoltaic Devices." He developed transparent conductive electrodes based on carbon nanotubes and graphene, and his research has shown that metallic single-walled carbon nanotube (SWCNT) anodes possess higher performance and stability than semiconducting SWCNTs in a certain type of device.

Brock conducted his research in the lab of Mark Hersam, professor of materials science and engineering and chemistry, who said in his letter of support, "From undergraduate research to academics to leadership in extracurricular activities, Ryan is the complete package… Through this project, Ryan has demonstrated all of the attributes that are required in research including persistence, diligence, creativity, and leadership."

In the fall, Brock will begin a PhD program in materials science at Stanford University.

Other finalists for the award include:

Tejas Shastry, materials science and engineering, who worked in the lab of Mark Hersam, designed, fabricated, and tested high performance carbon nanotube field-effect transistors.

Samantha Strasser, biomedical engineering and applied mathematics, who worked with Allen Taflove and Vadim Backman, developed a novel technique to measure intracellular macromolecular concentration with nanoscale sensitivity based on near-field scanning optical microscopy.

Alvin Tan, materials science and engineering, who worked in the lab of Jiaxing Huang, fabricated composites for carbon solar cells and characterized them using scanning electron microscopy and atomic force microscopy.

Anthony Tan, materials science and engineering, who worked in the lab of Katherine Faber, performed mass spectrometry and microstructural analysis to understand the role of additives in the electroplating process of copper on graphite.

Gracie Wittman, mechanical engineering, who worked in the lab of Peter Voorhees, calculated the effect of microgravity accelerations on particle sedimentation.