Beer + Fish + Oil = Science Cafes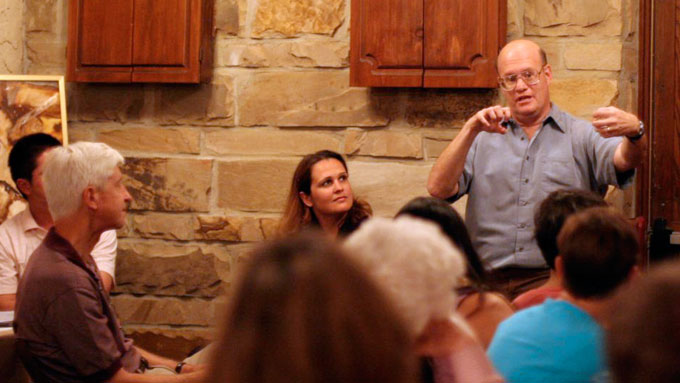 The science of beer, rating World Cup soccer stars, the lessons of the Gulf of Mexico oil spill, the wacky world of physicist Richard Feynman and getting invasive species to go home. These topics and many more will be featured in the upcoming season of Northwestern University's popular science cafés.

The free cafés, held throughout the academic year in various Evanston locations, attract crowds of people young and old, eager to meet scientists face to face and engage in dialogue. Science Café Evanston is held monthly and geared toward adults; Junior Science Café is held twice a month for middle and high school students and their parents.

The season begins not with a bang but a rumble Friday, Sept. 17, with Northwestern seismologist Suzan van der Lee discussing "Earthscope and Earthphones: What Seismic Waves Tell Us About Our Continent." This Junior Science Café will be held from 4 to 5:15 p.m. at the Evanston Public Library (third floor), 1703 Orrington Ave.

The following day, Saturday, Sept. 18, Northwestern professor Matthew Grayson will introduce his Junior Science Café audience to the late Richard Feynman, an eccentric particle physicist who played the bongo drums, won a Nobel Prize, was the first to introduce the concept of nanotechnology and loved to tell stories. "Richard Feynman and the World of Small" will be held from 11 a.m. to 12:30 p.m. at Boocoo, 1823 Church St.

(The café about Feynman is related to the Northwestern production of "QED," a play about a day in the life of the physicist that will run from Sept. 23 through Oct. 10 at the University. All performances are free. For details, visit http://etopia.northwestern.edu/.)

The first Science Café Evanston, "Beer Science! Beer Scientist!" with Goose Island Beer Company's Jason Karras, will be held from 6:30 to 8 p.m. Wednesday, Sept. 22, at the Firehouse Grill, 750 Chicago Ave. Karras will discuss the basics of processing and fermentation, the production differences between lager and ale and what it takes to keep a beer "in spec."

Other scheduled cafés include "World Cup Soccer 2010: Giving Credit Where Credit is Due" (Friday, Oct. 15), "The Deep Water Horizon Oil Spill: Lessons from a Disaster" (Wednesday, Nov. 17), "Plant Fossils and Climate Change" (Saturday, Nov. 20) and "Asian Carp and Other Great Lakes Invasive Species: How Do We Get Them to Go Home?" (Wednesday, Jan. 19).

For the Junior Science Cafés (at which snacks are provided), all Friday cafés will be held from 4 to 5:15 p.m. at the Evanston Public Library, 1703 Orrington Ave., and all Saturday cafés will be held from 11 a.m. to 12:30 p.m. at Boocoo, 1823 Church St. All Science Café Evanston events will be held from 6:30 to 8 p.m. Wednesdays at the Firehouse Grill, 750 Chicago Ave. Food and beverages may be purchased.

The cafés, now in their fourth year, provide a casual forum for the general public to explore and debate the latest ideas in science and technology. A scientist -- using plain and accessible language -- delivers a short presentation on a topic, followed by plenty of time for questions and answers and general discussion. Speakers include Northwestern faculty members as well as scientists from the Chicago metropolitan area.

The science cafés are organized and sponsored by Northwestern's chapter of Sigma Xi, the scientific research society. The University's Office of Information Technology and Office for Research also are sponsors.

For more information, visit http://www.sciencecafe.northwestern.edu/.
- Megan Fellman