Joshua Leonard Testifies About Synthetic Biology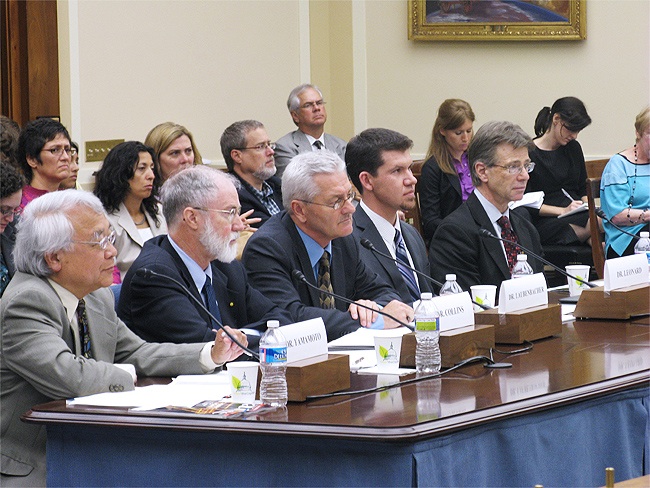 Subcommittee on Research & Science Education Witness Panel: (From L to R: Dr. Keith Yamamoto, Dr. James Collins, Dr. Reinhard Laubenbacher, Dr. Joshua Leonard, Dr. Karl Sanford). Source: http://science.house.gov/
Joshua Leonard, assistant professor of chemical and biological engineering at the McCormick School of Engineering and Applied Science, testified on June 29 to the House Committee on Science and Technology's Subcommittee on Research and Science Education at a hearing designed to examine the future of the biological sciences.  
Leonard was one of five people who testified at the hearing. Other members of the panel included Keith Yamamoto, chair of the National Academy of Sciences' Board on Life Science and professor of cellular and molecular pharmacology at the University of California San Francisco, and James Collins, assistant director for biological sciences at the National Science Foundation. The hearing explored the potential that the new biology holds for addressing fundamental problems in energy, the environment, agriculture, materials, and manufacturing.
Watch a webcast of the hearing here.
Leonard, whose research falls under the category of synthetic biology - biology by design - spoke about how the new discipline could help solve grand challenges in energy, the environment, materials and health.
Synthetic biology involves constructing and characterizing basic biological parts (such as a genes that encode enzymes or other proteins), which can be interconnected and assembled into novel configurations, Leonard said. Computational tools can help design configurations, he said, and new technological advances are also required to provide reliable, affordable, and accessible assembly of large biological components.
"Synthetic biology will enable us to move from what does exist, to what can exist," he said.
Leonard called on funding agencies like the National Science Foundation to invest in high-risk, high-reward research. A recent NSF-funded event produced projects that could transform the way researchers engineer microorganisms for biotechnology. Leonard and his collaborators are building a new engineering technology inspired by a set of natural mechanisms by which communities of bacteria modify and optimize their own biology. 
Leonard also said that Northwestern provides a model of interdisciplinary research needed to address biological challenges. The school's interdisciplinary biological sciences PhD program draws faculty from engineering, chemistry, and physical sciences, which allows students to bridge gaps and carry out innovative research projects. The country should follow this lead and develop interdisciplinary centers throughout the research infrastructure and build a national synthetic biology community that is integrated with other facets of new biology.
"Our adaptable and entrepreneurial culture, in both the private sector and in our academic research institutions, positions the U.S. to continue to lead this next revolution in biological technology," Leonard said. "Through capitalizing upon our intellectual resources and rededicating ourselves to training the next generation of biologists, engineers, and scientists to take on these challenges, we can realize the benefits of achieving biology by design."