Alumni Profile: Five Friends Stay in Touch 15 Years Later
It started with proximity: When Jim Steger arrived at McCormick as a freshman in 1991, he was in the Lindgren dorm with Ellen Halleran, who met her future husband Daryl Morey the first week of school and began dating him a few weeks later. The three soon met Wendy Trickey (nee Jones), who was in the dorms at 600 Lincoln, and they soon began hanging out with her dormmate Brad McGill.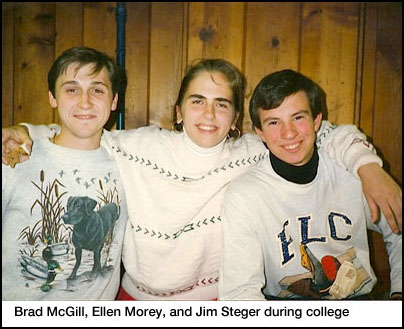 Confused yet? The beginning doesn't matter. What matters is that Steger, Halleran, Morey, Trickey, and McGill began to have engineering classes together. They studied together, and played on intramural teams together. Eventually, they got an apartment together.

Now, fifteen years later, they are scattered across the country and have found success in their fields as entrepreneurs, professional basketball managers, research analysts, and homemakers.

And best of all, they still stay in touch.

"We were such a tight group of friends," Steger says. "It never ceases to amaze me how successful they've all been in their industries."

Before they were successful, they were engineering undergraduates who couldn't resist a good intramural competition, whether it be floor hockey (where they won a championship) or basketball (where they lost in the semifinals.) Morey and Trickey even won the bridge tournament one year – "Our claim to fame," Trickey jokes.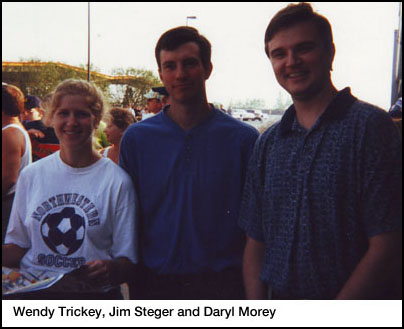 They designed robots for Design Competition, went out to eat at Clarke's, played lots of cards, and traveled each year to Cedar Point amusement park in Ohio.

Then, when it was time to graduate, they went their separate ways.

Brad McGill went into the family business: United McGill Corporation, which specializes in engineering, manufacturing, and field installation of construction products and industrial systems.

Trickey went on to get her PhD at Duke University before becoming a research analyst with the Center for Naval Analyses. There she analyzes tactics and strategies for the Navy and Marine Corps, sometimes getting out in the field to test systems and operating concepts. 

"I get to do a lot of cool things," she says. "How many people can say they've run around with Marines and dropped a mortar?"

H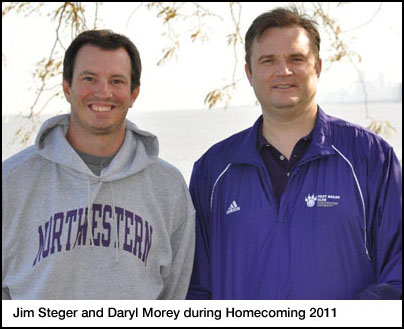 er engineering courses at McCormick helped prepare her for success, she says.

"Every class I took taught me how to understand problems and think more independently," she says.

Morey and Halleran married soon after college, and after Morey earned his MBA at the Massachusetts Institute of Technology he embarked on a career of sports statistical analysis, first at the Boston Celtics and then at the Houston Rockets, where he is now general manager. Halleran (now a Morey herself) worked for 10 years as the web developer for CIO Magazine and has raised their two children and volunteers at their children's school.

Morey still uses his engineering skills on a daily basis when he uses statistics, probability, and software engineering to help forecast which players will perform best on the court.

"I did always like to get to know the teachers at Northwestern," he says. "They were all pretty reputable folks in their field and I felt like I learned a lot from them. Both my kids want to go to Northwestern now, but I think it's because they like purple."


Steger started out his career at Motorola before starting a dot-com business that he sold in 2000. He then founded Sonoma Partners, his current company, which provides technology and business process consulting services to enterprise and mid-sized companies. They now employ over 70 people and with annual revenue of $16 million.

One of the company's first projects was with the Boston Celtics, when Morey was manager.

"We've done some fun projects," he says. "Daryl has been a great advocate for our company and I love each opportunity we get to collaborate with each other.

As principal for the company, Steger says he uses what he learned at McCormick "all the time."

"I learned to solve problems," he says. "I also find that my colleagues who have an engineering background tend to be more successful in our line of work."

Now that many of the group have children, it's tougher to get together – though a reunion trip to Cedar Point seems imminent. They still manage to stay in touch and cheer each other on in their separate careers.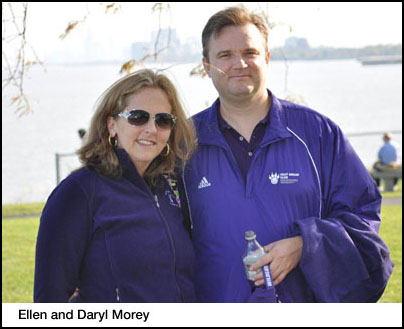 "Each little experience just left us an opportunity to respect and be amazed at what everyone's doing," Steger says. "I think when you look at the five of us, and see where we've gone, it's really remarkable."