Undergraduate
Trek to Chile Widens Northwestern Students' Perspective
The cohort learned how the country is building more sustainable mining operations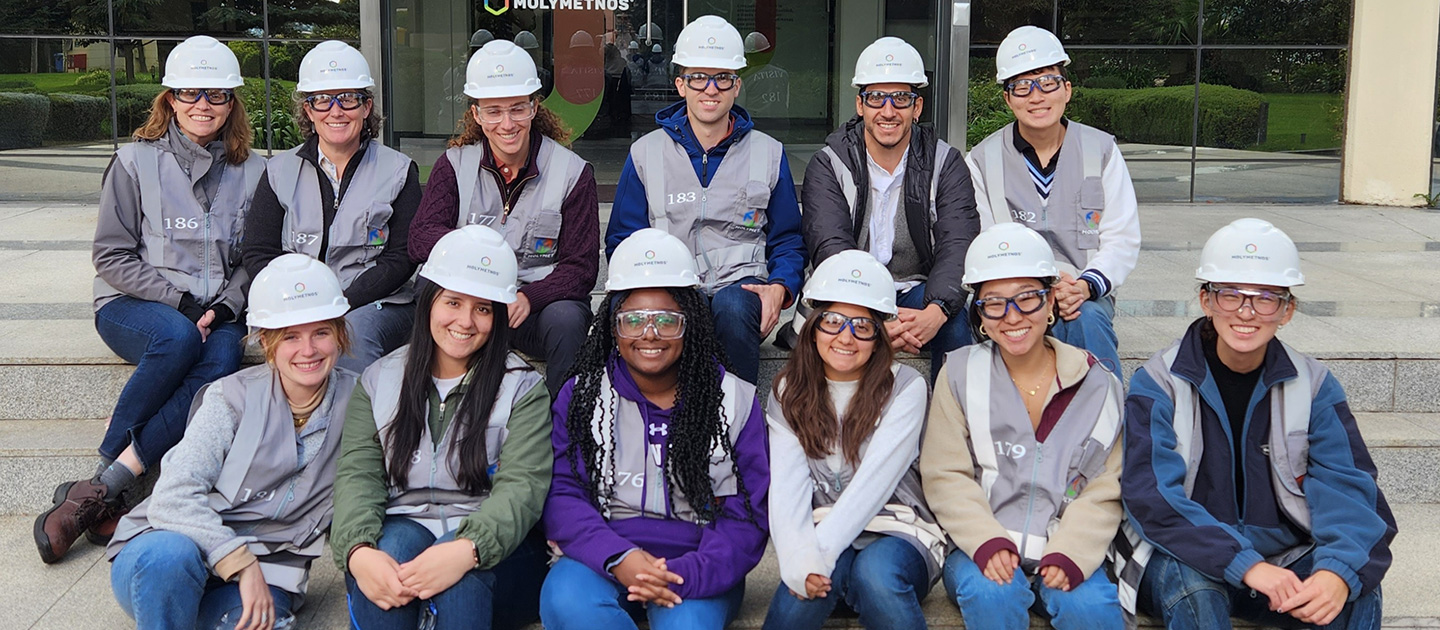 Abundant in mineral resources, Chile is one of the world's largest lithium and copper producers. The country is also a leader in global efforts to build green energy generation and storage systems, accelerating decarbonization initiatives, and investing in renewable resources such as wind and solar to power its energy-intensive mining operations.
To provide Northwestern Engineering undergraduate students with the opportunity to learn first-hand about Chile's innovative energy storage technologies for minerals mining, as well as the environmental and social effects of mining operations, nine Northwestern undergraduate students traveled to Chile from September 7-15, where they visited museums and historical sites, mining facilities, government offices, and more.
The trip was the first for the new Global Engineering Trek in Energy Storage & Critical Minerals. Developed through the Center for Engineering Sustainability and Resilience (CESR), this immersive Global Engineering Treks Initiative was offered through McCormick Global Initiatives (MGI) in partnership with the Paula M. Trienens Institute for Sustainability and Energy and the Northwestern Buffett Institute for Global Affairs.
The cohort was led by Jennifer Dunn, professor of chemical and biological engineering and (by courtesy) mechanical engineering at the McCormick School of Engineering; Kimberly Marion Suiseeya, associate professor of political science at Northwestern's Weinberg School of Arts and Sciences; and Rafael Urbana Casanova, a PhD candidate in plant biology and conservation through Weinberg and the Chicago Botanic Garden.
"Co-leading this trek was an amazing experience because we met many long-term collaborators in Chile in person, saw first-hand Chilean natural environments and mining sites, and met engineers in academia and industry who are working to usher in new generations of sustainable mining equipment, processes, and human talent. It was also fantastic to get to know the wonderful students who joined us," said Dunn, who directs CESR and is an associate director of the Northwestern-Argonne Institute of Science and Engineering.
The trip provided students with a holistic perspective that intersected the natural, cultural, social, and built environments.
"Wherever we went, we would first tour the area and see what background the industrialization was being put on top of before we started learning about the industrial practice and how it's either protecting that environment or not," said Ezra Danzig, an undergraduate student in environmental engineering focused on energy and water infrastructure. "I don't think there's a way to do real environmental work that actually addresses the problem without also addressing those social aspects of whatever work you're doing."
In Santiago, the group explored the Human Rights Museum, the Plaza de Armas historical city center, the Palacia de La Moneda presidential offices, and artisan markets. They also toured the Pontificia Universidad Católica de Chile (PUC), guided by students from the PUC engineering school.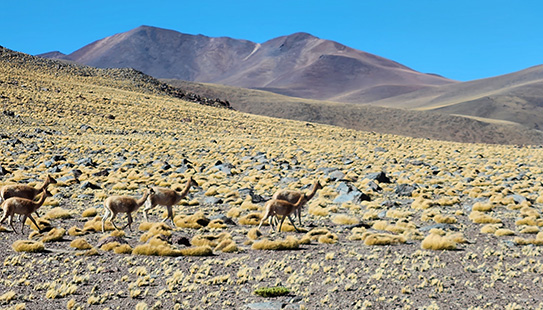 Prior to visiting the SQM Lithium extraction facility in the Salar de Atacama, the largest salt flat in Chile, an ecotourism guide brought the group to the Los Flamencos National Reserve in San Pedro de Atacama to learn about the biodiversity of the Atacama Desert, including three species of flamingo.
Katy Meston-Ward, an undergraduate student in industrial engineering, appreciated the opportunity to better understand the ecosystems in the region.
"I was shocked by the amount of wildlife throughout the desert," Meston-Ward wrote on the trek blog. "Although it may seem empty, we quickly learned that the Atacama region is rich in life and beauty."
At SQM, vast quantities of lithium-containing brine are pumped to the surface and then evaporated in a series of five shallow pools to precipitate the mineral salts. This process yields a 5-6 percent lithium solution that is first shipped to a chemical processing facility and then transferred to refinement facilities abroad to use in the production of lubricants, batteries, and pharmaceutical products.
The group also visited the Sustainable Minerals Institute International Centre of Excellence, an interdisciplinary institute run by the University of Queensland which seeks to improve the productivity, community stakeholder relationships, and environmental management of Chilean mining operations. Their conversation with executive director Doug Aitken inspired Danzig's new goal to secure an internship abroad.
"The work that they're doing is really interesting and definitely in the area of engineering that I'm excited about — it's hands-on and in the field, but also very environmentally-related and ecological," Danzig said.
At El Teniente, an underground copper mine run by the government-owned company CODELCO, the group donned safety equipment and explored the long tunnels. The students also learned of recent efforts by copper, iron, and nickel mining company Anglo American, to study, protect, and preserve the natural environment and climate.
"I was, frankly, surprised by all the company's efforts to care for the environment," wrote Nathan Rockafellow, an undergraduate student in mechanical engineering at Northwestern Engineering. "Typically, when I think of mining companies, I have a stereotypical picture of a company that tears apart the earth without any regard for the environment's well-being."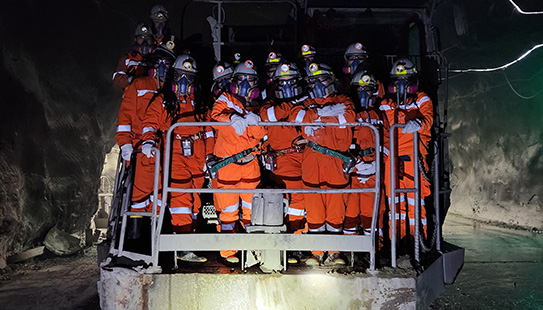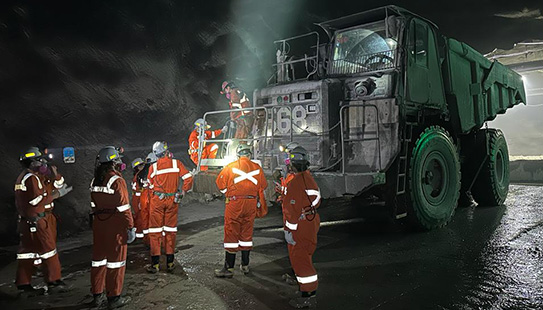 The trek left a lasting impact on the travelers.
"My concentration is manufacturing, which is dependent on the materials that are mined in Chile and other places across the globe," mechanical engineering student Penelope De La Torre said. "The trek gave me a greater appreciation for the way we get the materials that we use in our daily lives and made me want to dive deeper into both manufacturing more sustainably and also how we can use products in a more sustainable way and create less waste."
For Danzig, who is currently enrolled in the Environmental Policy and Culture (EPC) minor program through Weinberg, the trek made him rethink his academic path. He now plans to pursue the adjunct major in EPC.
"I wanted to meet other engineers as interested in the environment, these minerals, infrastructure, and supply chains as I am," Danzig said. "And I thought it was a really good opportunity to develop relationships with faculty, as I'm looking toward starting research this year. And it definitely was. The experience paid off."
Other students that participated in the Chile trek included Kalaiya Corbin (psychology/sociology), Lily Liu (electrical engineering), Alicia Malek (integrated science program/economics), Ella Shin (computer science), and Jun Park (political science/international studies).
More information about the Global Engineering Trek program and upcoming application deadlines can be found on the Global Initiatives website.