Events
Building STEAM Knowledge at Northwestern CS Summer Camp
Third grade through high school students explored hands-on activities in July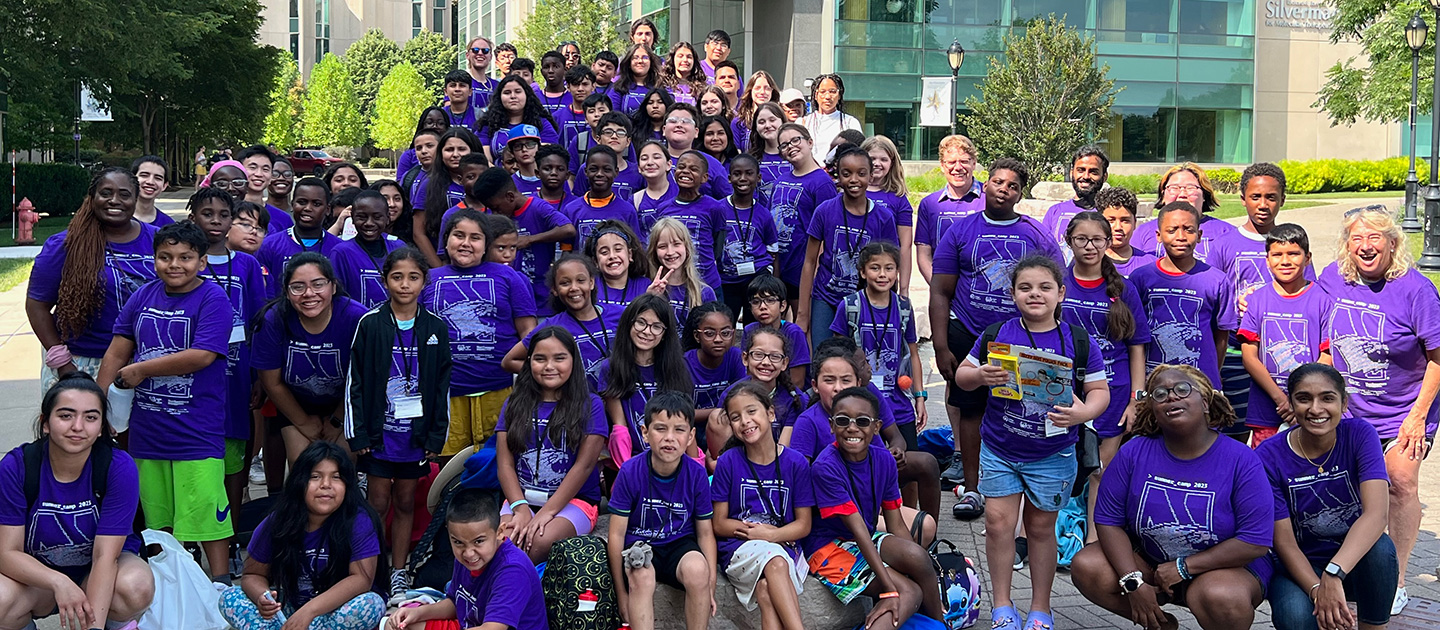 The start of the academic year is weeks away, but Annenberg Hall and Mudd Hall echoed on July 27 and 28 with the sounds of talking, learning, and laughing. Camp was in session.
"We are college-bound!" cheered the young students.
Ninety-three STEAM Scholars2 students — ranging from third grade to high school — participated in computer science project workshops, toured the Segal Design Institute's Ford Prototyping Lab, and played a chess tournament during the third-annual Northwestern Computer Science (CS) Summer Camp.
The STEAM Scholars2 are a combined group of DuPage National Association for the Advancement of Colored People (NAACP) Scholars — experiential education program students from DuPage, Kane, Kendall, suburban Cook, and Will counties in Illinois — and the Center for Success for High Needs Schools Junior/Senior Scholars from the west side of Chicago and Aurora, Illinois.
The Northwestern CS Summer Camp was organized by Michael Horn, professor of computer science at Northwestern Engineering and professor of learning sciences at Northwestern's School of Education and Social Policy (SESP), in partnership with Kijuana Boulrece (MA '18), chair of the DuPage County Branch of the NAACP Education Committee, and Jan Fitzsimmons, president and CEO of the Center for Success.
"Through our collaboration, the NAACP believes that we empower every child with an opportunity to reach their full potential. We bridge gaps of inequities and ensure that all children get a real chance to engage in fun experiences," Boulrece said. "This is the highlight of our year. There is nothing more fulfilling than the investment in the life of a child."
Horn's work aligns with the goals of the DuPage County NAACP and the Center for Success to make coding both engaging and accessible to encourage the next generation of programmers and computer scientists.
"Emerging technologies like artificial intelligence and social media algorithms are changing our society in real time," Horn said. "We have to work toward a future in which coding is a foundational literacy available to everyone. Summer camps can give kids an exciting and joyful experience with coding that might encourage future interest in school and beyond."
Summer camps can give kids an exciting and joyful experience with coding that might encourage future interest in school and beyond.
Michael HornProfessor of Computer Science, Professor of Education and Social Policy
Horn is a codirector of Northwestern's joint PhD program in Computer Science and Learning Sciences (CS + LS), and the director of the Tangible Interaction Design and Learning (TIDAL) Lab, a team of Northwestern designers, artists, learning scientists, and computer scientists that studies and creates innovative, technology-based learning experiences.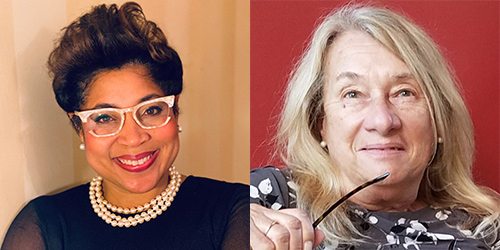 "It is important to make wonderful learning opportunities in computer science and technology accessible to African American, Latinx, and other marginalized students. We must hold fast to our truths that education and exposure to joyful experiences are the keys that open doors," Boulrece said. "Our partnership with Dr. Horn, the Center for Success, and others are meaningful and intentional because we believe that students can harness these experiences and learn skills that will cultivate a rich pipeline of representation." 
Students explored one of four workshops during the week-long camp, which was co-hosted by North Central College in Naperville, Illinois:
Game Design: Students learned about game design fundamentals including narrative elements, artwork, and game mechanics and coded prototypes using OpenAI's ChatGPT and the Scratch platform.
Mindful Code: Third- and fourth-grade students learned the basics of coding using the Code.org platform.
SportSense: Students explored sports technology using balls embedded with kinetic sensors, and used the micro:bit platform to code games.
TunePad: Students composed original music using Python programming and the TunePad.com platform.
"We are honored to partner with Northwestern and the DuPage NAACP Education Committee to provide hands-on experiences with technology and the computer sciences that both nurture curiosity and build problem-solving skills integral to the growth of youth who are college-bound," Fitzsimmons said. "Without this partnership, many of our youth would miss the opportunity to code and learn first-hand about artificial intelligence and the many applications of coding."
The Center for Success Promise Teacher Corps instructors — pre-service college students training in education who will be teaching in high-need schools — also led breakout sessions of interactive skill-building in language arts, math, and science.
Vann Harris, a high school language arts teacher, worked with the students throughout the week to produce a literary magazine. They reflected on the importance of the camp experience.
"The lack of accessibility, particularly for certain demographics of students, is a big problem. Having access to these spaces and being able to talk to people that look like them and have the same goals really proves that the students can do what they want to do," Vann said. "Partnerships like this are important not only to broaden their horizons, but also to let them know that they are allowed to occupy spaces."
In addition, Northwestern faculty and students presented talks on interdisciplinary research topics:
Emma Alexander, assistant professor of computer science at Northwestern Engineering, discussed how her Bio Inspired Vision Lab reverse engineers principles of natural vision — such as the anatomy of the jumping spider — to develop the next generation of cameras and displays. 
"It was a treat to engage with these bright and curious elementary school students. We were able to connect my work on bio-inspired cameras to their own experience of vision and their knowledge about their favorite animals," Alexander said. "They were eager to share their questions and ideas, and we even came up with some cool experiments to try at home. I hope that in ten years I hear back from some of these students to start their PhDs."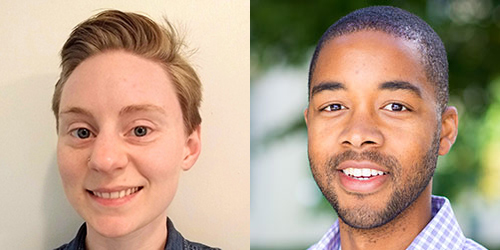 Undergraduate student Jannah Issa and Marcelo Worsley, Karr Family Professor and associate professor of computer science at Northwestern Engineering and associate professor of learning sciences at SESP, demonstrated an inclusive learning, multimodal interface that allows individuals to play and create in the popular video game Minecraft using webcam-detectable hand motions. Issa is a research fellow with Worsley's Technological Innovations for Inclusive Learning and Teaching (tiilt) Lab. She is pursuing a bachelor's degree in cognitive science at Northwestern's Weinberg College of Arts and Sciences, a Segal Design Certificate, and a Human-Computer Interaction Certificate.
Jingxian Wang, a PhD student in mechanical engineering at the McCormick School of Engineering, gave a tour of the Center for Robotics and Biosystems and demonstrated his work on single-rotor drone swarm robotics. Wang is advised by Michael Rubenstein, associate professor of computer science and mechanical engineering at Northwestern Engineering.
During the coding showcase event on July 28, the technology project group facilitators presented the students' work in a celebratory and encouraging environment.
Bridging sports and technology
Worsley and members of the tiilt Lab guided students through SportSense activities at the intersection of sports and technology. Merging physical activity with physical computing, the SportSense project demonstrates how computer science is applied to study and improve athletic performance, and how sports can be used to help students better understand STEM concepts. 
SportSense activity leaders included postdoctoral researcher Vishesh Kumar and Rina Dema, an undergraduate student in computer science at Weinberg.
Students then used the pocket-sized, programmable motion tracker BBC micro:bit computer to code a simulation of the Shake Challenge game and other movement and balance challenges using Python or block-based coding on Microsoft's MakeCode platform.The group played games with the Play Impossible Gameball, which is equipped with motion sensors and a Bluetooth connection to measure metrics such as acceleration, speed, and height. In one game, called "Shake," competitors shook the ball back and forth as fast as possible to accumulate points.
"After playing with the ball and their self-made versions of the same games, we also had engineering-based conversations around how different sensors measure similar activities differently, such as how the shake on a micro:bit is calculated and looks different than a shake from the Gameball," Kumar said.
Teams also coded micro:bit step counters, a "Hot Potato" speed pass game with a timer function, and recreated a micro:bit version of Spaulding's Smart Shot basketball mechanics training wearable.
"The students were incredibly energetic, engaged, and creative throughout the week. When we asked the students to brainstorm their own sports technology inventions and technology enhanced movement games and sports, I was blown away by how they quickly grasped how these advanced physical computing concepts worked, as well as how to use them to create novel fun games as well as meaningful enhancements for sports play and training," Kumar said. "I'm optimistic for any venture these students pursue in the future and would be thrilled to see how the SportSense program nudges them to think of athletics and computing in creative ways across their lives."
Programming original music
The experience-level and background of the students varied widely. Camp activities were designed to engage both beginners and more advanced coders. 
Undergraduate students Ebube Okonji and Nathan Pruyne introduced the music and code campers to TunePad, a platform for creating and sharing musical compositions using the Python programming language. Four teams of students created original beats and melodies by choosing from a library of bass, keyboard and drum sounds, instrumental riffs, and hip-hop samples and adjusting the tempo, volume, and arrangement. 
Okonji is pursuing a bachelor's degree in computer engineering at Northwestern Engineering and a Managerial Analytics Certificate from Northwestern's Kellogg School of Management. Pruyne is earning a bachelor's degree in computer science at Northwestern Engineering and a second major in music technology through Northwestern's Bienen School of Music.
"I definitely enjoyed teaching the campers Python through TunePad. I've always loved creating music, and I could see my younger self being really engaged with creating tunes through this platform and learning a bunch of programming concepts along the way," Pruyne said. "I was impressed by how quickly the students picked up Python and the super fun and creative projects they made, and I'm grateful that I was able to be a part of hopefully kindling a joy of both making music and writing code for these kids."
TunePad was developed by the TIDAL Lab with funding from the National Science Foundation.
Designing games
The game design workshop led by Darryl Hughes, CEO and creative director of the not-for-profit Hughes Who Technologies Studio, focused on developing creative ideas using core game mechanics.
Prompted with three action verbs and a location, five teams of students brainstormed game descriptions and designed concept art. One group applied the verbs "slide," "toss," and "vibrate" to develop the "Zoo Run" game premise, in which an antagonist opens all the zoo gates and the hero, Selia, goes on an adventure to rescue the animals. 
Students also explored coding in Scratch, a block-based programming language designed for children with a simple interface for creating interactive stories, games, and animations. They learned how ChatGPT can aid in game design by providing programming instructions.

After experimenting with ChatGPT prompts, the students used Scratch to build self-playing games, such as Arthur's Goofy Dino Game, in which a teal T-Rex wearing sunglasses chases a bowl of cheese puff snacks around the screen, or Izabella's Cat Chase, in which a cat hunts a purple ball.
Coding mindfully
Led by Donnell P. Layne (MS '12), director of STEM innovation at the iMake Innovation Center MakerSpace of Moreno Valley College in Moreno Valley, California, the group of third and fourth grade campers discussed issues of computing in society and explored a variety of topics and activities through Code.org lessons. Students also explored generative AI-created images and voiced animations using Adobe Express.
"Mindful Coding is a fun way to learn programming and develop problem-solving and critical thinking skills," Layne said. "We foster STEM identity which has been shown to have a powerful role in an individual's success in educational environments, as well as on their career goals and trajectories."
Additional Northwestern student volunteers that helped run the summer camp included:
Timothy Fu, an undergraduate researcher in the tiilt lab pursuing dual bachelor's degrees in computer science at Northwestern Engineering and in clarinet performance at Northwestern's Bienen School of Music.
Alison Levin ('23), who earned a bachelor's degree in computer science at Weinberg.
Lucas Oktay, an undergraduate student in the TIDAL Lab pursuing dual bachelor's degrees in computer science at Northwestern Engineering and theater at Northwestern's School of Communication.
The Northwestern CS summer camp was supported by an anonymous donation from a Northwestern family. The DuPage County NAACP and the Center of Success received assistance for the camp from a variety of donors, including the Driskill Foundation; Nicor Gas; Raymond James Financial Services Fountain Wealth Management; Rhea of Hope Foundation; Schmidgall Family Foundation; The Links, Incorporated; and Travelers Insurance. Through the generous support of the camp donors, students were given swag bags, which included a t-shirt, water bottle, wristbands, books, and stickers. In addition, the camp's chess tournament facilitator, Elite Chess, provided all the students with an official club chess set and a complimentary membership to ChessKid.com.