Research
Using MRAM to Improve Chip Security
The emerging memory technology could improve digital security
The recent semiconductor shortage impacted numerous facets of life, with the effects felt by consumers looking to buy cars, electronics, video game consoles, and cameras. The microelectronic chips also play a key role in many devices that are crucial for national security and intelligence. Those concerns were a catalyst for the 2022 CHIPS and Science Act, which provided $50 billion to ramp up US research and manufacturing of semiconductors.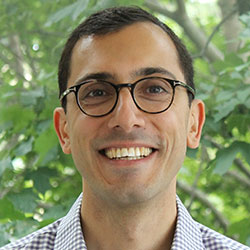 While the CHIPS and Science Act received plenty of coverage when it passed, there isn't as much awareness around how reliant semiconductor production is on just a few companies, most of which are not in the United States. Taiwan Semiconductor Manufacturing Company (TSMC) has approximately 60 percent market share of the semiconductor foundry industry, and the top four manufacturers combined hold more than 80 percent of the market. Digging deeper, the most advanced chips are produced by just three companies: TSMC, Samsung, and Intel.
As the semiconductor crisis showed, this centralization is an issue. New research from Northwestern Engineering's Pedram Khalili could help alleviate some of these problems with a method that could allow for design and production of more secure semiconductor chips. 
"There are significant security challenges resulting from the consolidation of the semiconductor manufacturing supply chain," said Khalili, who is an associate professor of electrical and computer engineering at the McCormick School of Engineering.
Using their recently developed voltage-controlled magnetic random-access memory (MRAM) technology, Khalili and his collaborators demonstrated special electronic features that provide a unique fingerprint for each device and can be dynamically changed or adjusted to enhance security and protect against unauthorized cloning or copying. These reconfigurable, physically unclonable functions (PUFs) promise to be valuable in the coming years, as within the next decade the number of worldwide interconnected electronic devices is expected to surpass one trillion. This presents unprecedented security challenges in terms of device-level authentication and manufacturing supply chains.
Simultaneously, the transformative advances in classical, unconventional, and quantum computing are expected to make conventional software-based encryption methods increasingly vulnerable to attack.
Our results provide a reliable and compact solution for hardware authentication in advanced integrated circuits with embedded MRAM, with applications in virtually all areas where hardware authentication matters, including automotive, aerospace, and financial infrastructure, among many others. Pedram Khalili Associate Professor of Electrical and Computer Engineering
"As a result, cryptographic technology based on hardware-level security primitives is emerging as an appealing option, with a key example being physically unclonable functions," Khalili said.
Khalili and his team presented this work in the paper "Reconfigurable Physically Unclonable Functions Based on Nanoscale Voltage-Controlled Magnetic Tunnel Junctions," published June 25 in the journal Advanced Electronic Materials. Yixin Shao, a PhD student in Khalili's lab, was the first author.
Having a PUF that can be reconfigured by the chip's end-user is beneficial because it allows the user to generate a new set of unclonable challenge-response pairs (CRPs) even if the initial CRPs have been fully or partially discovered. Khalili and his colleagues showed that the reconfiguration of their MRAM-based PUF can be realized quickly by very brief voltage pulses, representing a breakthrough for MRAM that could potentially make it more suitable to fill the need.
"The performance of the proposed PUF was evaluated in terms of uniformity, uniqueness, reconfigurability, and reliability, achieving the required metrics in all areas," Khalili said. "Our results provide a reliable and compact solution for hardware authentication in advanced integrated circuits with embedded MRAM, with applications in virtually all areas where hardware authentication matters, including automotive, aerospace, and financial infrastructure, among many others."