Undergraduate
Cue the Curves, Founded by McCormick Student, Wins VentureCat Grand Prize
Charlotte Oxnam earned the $150,000 prize for her company's plus-size shopping app
Cue the Curves, a startup plus-size shopping app founded by Northwestern Engineering student Charlotte Oxnam, has won the $150,000 VentureCat grand prize.
Held May 31 in the Kellogg Global Hub's White Auditorium, VentureCat is an annual University-wide pitch competition and collaborative program supported by the Farley Center for Entrepreneurship and Innovation, Kellogg School of Management, the Donald Pritzker Entrepreneurship Law Center, and The Garage at Northwestern. Northwestern student-founded ventures compete across five industry tracks for a non-dilutive prize pool of more than $325,000.
Oxnam, Cue the Curves' CEO and a fourth-year student pursuing a degree in industrial engineering, has been part of The Garage's Residency Program and participated in the Propel Program. She's also taken multiple entrepreneurship courses in the Farley Center, including ENTREP 473: NUvention: Media and ENTREP 330: Startup Accounting and Finance.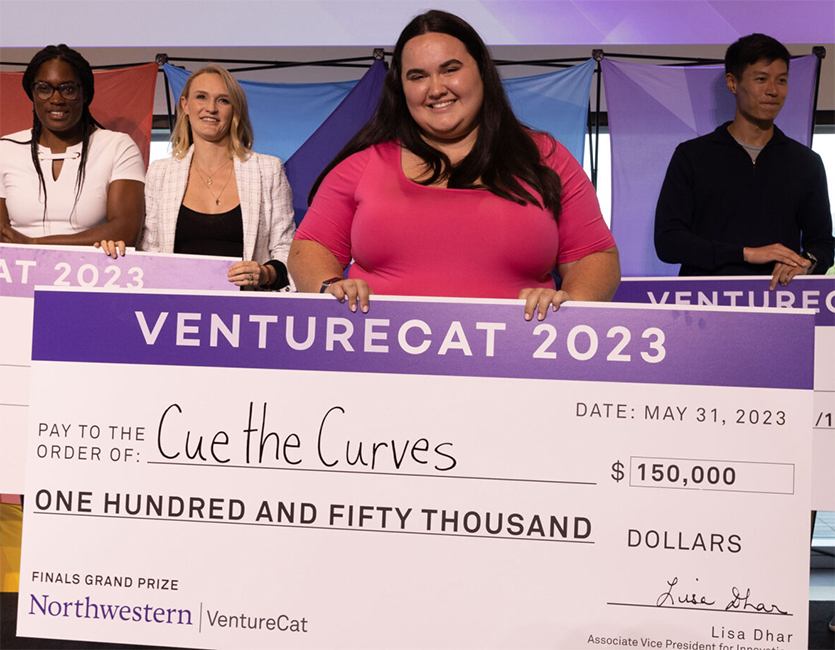 Cue the Curves is an online platform designed to support and build a community for young plus-size women and clothing brands. Oxnam's startup aims to help make the shopping experience for plus-size women feel less isolating.
"I founded Cue the Curves because of my own struggles with fashion as a plus-size girl," Oxnam wrote on her company website. "I know first-hand how much clothing can affect self-confidence and have made it my mission to help every plus-size girl and woman love themselves and their body, no matter their size."
After earning second-place honors in the Consumer Products and Services category at last year's VentureCat, Oxnam relished her experience in this year's competition.
"VentureCat was such an amazing experience," Oxnam said. "It's so great to get to work with other founders, to be able to support one another and get that recognition in front of potential investors and users, and be honored for the work we've done while being full-time students. It's definitely a lot of work, and it feels really rewarding to go through the program."
Vaulterra, a carbon offset project developer dedicated to the removal of atmospheric CO2 through enhanced rock weathering techniques in agriculture, earned second place in VentureCat's Energy and Sustainability track. The team includes Northwestern Engineering's Patrick Giavelli ('24), a student in the MS in Engineering Design Innovation program; Elliott Woodward ('23), a student in the Master of Engineering Management program; and Aino Alkio ('24), an undergraduate student majoring in industrial engineering.
Oxnam's win marks the second straight year a McCormick School of Engineering student has taken home VentureCat's grand prize. In 2022, InfernoGuard, a startup wildfire detection and notification platform cofounded by Kevin Kaspar, earned the top honors. Kaspar is now a third-year student majoring in manufacturing and design engineering (MaDE) within the Segal Design Institute and minoring in entrepreneurship within the Farley Center.
The VentureCat Public Showcase was hosted by Mike Raab, executive director of The Garage at Northwestern; and Hayes Ferguson, director of the Farley Center for Entrepreneurship and Innovation.