Undergraduate
How a McCormick Student Combines Passions for Engineering and News
Max Rothfeder applies logistics and energy to NNN broadcasts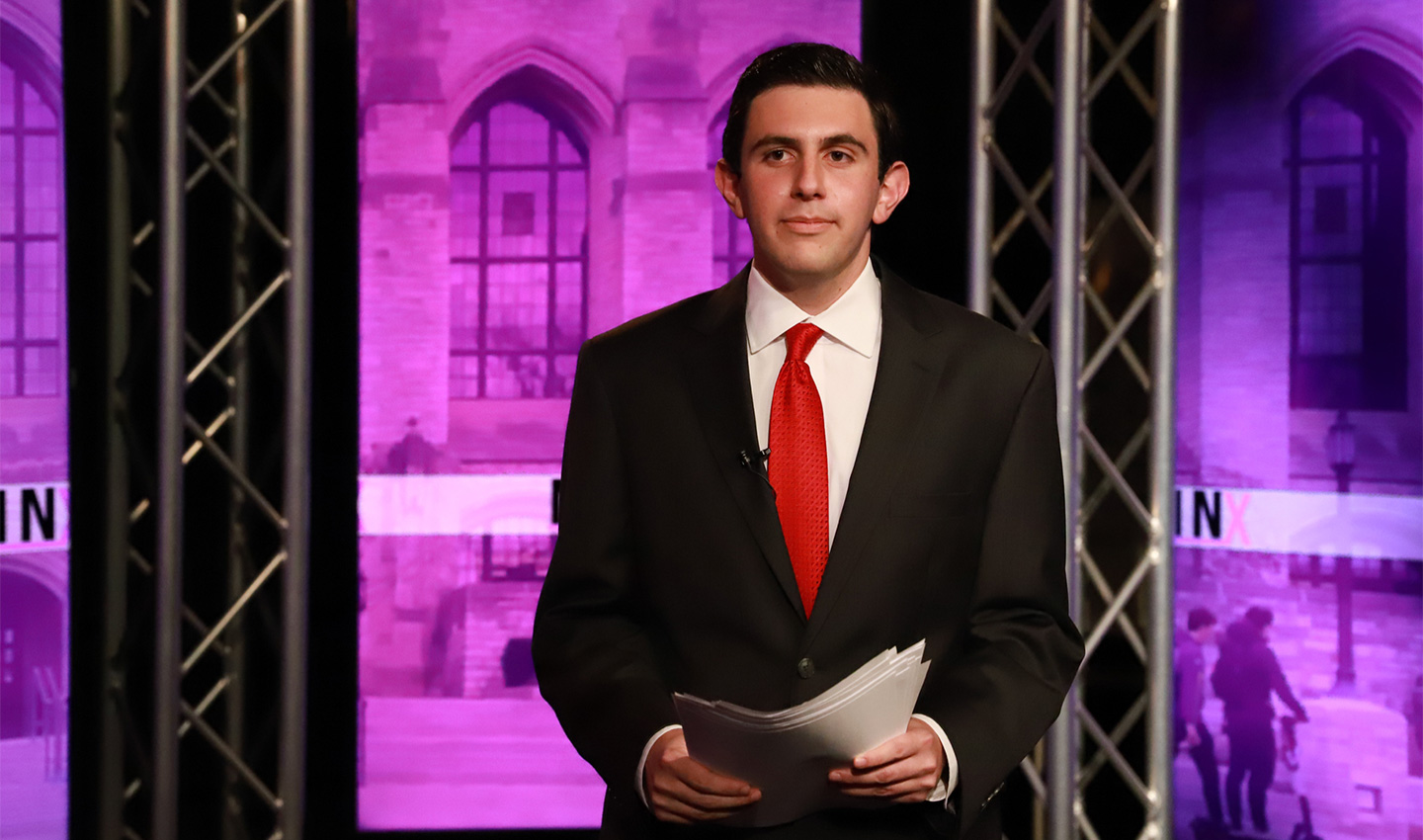 Max Rothfeder has a plan.
A second-year student studying industrial engineering and management sciences at Northwestern Engineering, Rothfeder wants to work at a Disney theme park as an industrial engineer. Whether it's Walt Disney World in Florida or Disneyland in California, Rothfeder strives to manage the property's transportation logistics to help guests have as smooth an experience as possible.
But that's only part of his vision.
Rothfeder hopes to supplement his engineering career with contributing guest analysis on broadcast news, delivering an expert's perspective on the day's logistical challenges. And even though he's an industrial engineering and economics double major with a minor in transportation and logistics who's worked as an intern at Federal Express, Rothfeder also carves out time in his schedule to work at Northwestern News Network (NNN) as both a show producer and anchor/reporter.
"My time at Northwestern Engineering is all math and science all day, and I love it. I would not trade it for the world," Rothfeder said. "People say McCormick is so hard, and it's not easy, but I care about it. I have fun doing it, and so it doesn't bother me.
"Journalism is the break from engineering. It's using my brain in a different way. It's writing, and it's storytelling, and it's putting information into context. [Journalism] feels like it uses muscles I don't use in class. In terms of balancing the two in terms of time, it's also balancing the two in terms of energy and effort. I think they complement each other." 
Rothfeder is right about that.
When he serves as an executive producer for an NNN show – whether it's their weekly half-hour flagship Northwestern News Report or the 10-minute NNX – Rothfeder has to make sure every segment runs smoothly and in the space allotted. Nothing can run over, or else the show will run out of time or look sloppy to viewers. Working with student journalists and their demanding class loads adds another challenge, making scheduling to fill a broadcast even tougher.
Another aspect of journalism is conveying sometimes-complex information to a wide audience. In broadcast news, when there's only a finite amount of time and words available, that can be tricky and requires a deft touch and way with language. As a producer, Rothfeder smooths out scripts. One example of Rothfeder's on-air contributions is his work as NNN's election analyst during the 2022 midterms to break down the voting numbers, the way Steve Kornacki does on NBC News or John King does on CNN. Rothfeder went on live and unscripted, figuring out what returns meant as they came in and what each candidate needed to win their races. 
Both talents have obvious relationships to engineering. 
Engineering, and Rothfeder's interest in logistics, both rely on precision. One issue can derail an entire project, and avoiding that requires painstaking planning and expertise. The field of engineering also works with very complicated material, making the ability to convey that information to people without that expertise crucial.
"He's definitely very inquisitive. He is always trying to understand what the expectations are, whether it's from an assignment in a class or the engineering curriculum and degree requirements, and why and when he should take different classes," said Janice Mejia, Rothfeder's adviser and associate professor of instruction of industrial engineering and management sciences. "One element that we've talked about, but he also understands, is communicating with multiple stakeholders to incorporate their needs and their requirements into a final product."
Rothfeder has honed the understanding of knowledge since he was a young kid. And a world event when he was a seventh-grader growing up near Houston showed him the importance of news.
In November 2015, Paris and suburb Saint-Denis were the victim of coordinated terrorist attacks, killing 130 people and injuring over 400 more. The moment was tragic and left a mark on Rothfeder, who was aware of the incident but gained a greater understanding of its context after watching ABC's World News Tonight with David Muir. There were live segments from France, speaking with those affected by the attack.
The way ABC covered the story with its vivid images helped Rothfeder comprehend the gravity of the moment. The video of ambulances and footage of the scene painted a picture in a way other forms of media could not, and Rothfeder recognized the value of the coverage.
That inspired Rothfeder, who started a broadcast news club in high school and strived to add context to stories so his classmates could better understand the world. When it came time to look at colleges, Rothfeder knew he wanted to pursue industrial engineering and logistics but also dabble in broadcast journalism.
Northwestern, because of its quarter system and NNN not requiring students to be journalism majors, was the right fit. His colleagues at NNN appreciate his contributions, whether it's producing a tight 30-minute broadcast, sitting in the anchor's chair, or reporting segments on issues ranging from sports to politics to science.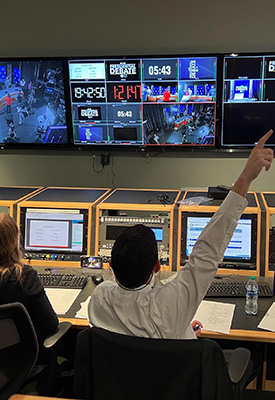 Gabrielle Khoriaty, news director at NNN, said she often has Rothfeder make an additional round of edits on some stories that involve math or science. And thanks to his interest in logistics, Khoriaty knows that Rothfeder will make sure broadcasts run efficiently and that his segments will be clear and concise.
She also appreciates Rothfeder's passion for journalism.
"To have someone who is not interested in pursuing journalism as a career but is still so passionate about it shows there are people who are not journalists who do understand the importance of journalism and recognize the work we're doing," Khoriaty said. "I think that brings a fun energy to the team."
Energy is just one of Rothfeder's attributes. Mejia sees that, Khoriaty sees that, and it seems like Rothfeder has plenty of energy to spare.
Then again, he is doing two things he loves: engineering and journalism.
"I don't think there's a lot of crossover in interest between the two [fields]," Rothfeder said. "But I think when people, if they're kind enough to watch our shows or talk to me about it, they see it's not as far of a gap as it might sound."