Education
Building a More Inclusive Tech Ecosystem
Emma Alexander, Sarah Van Wart, and student tutors are supporting efforts towards more equitable communities
A partnership between YWCA Evanston/North Shore and Northwestern Engineering's Emma Alexander and Sarah Van Wart aims to remove racial barriers preventing the equitable representation of women of color in the technology field.
Through a Racial Equity and Community Partnership grant awarded last year through Northwestern's Office of Neighborhood and Community Relations, the collaboration is advancing and refining the YW Tech Lab economic empowerment training program.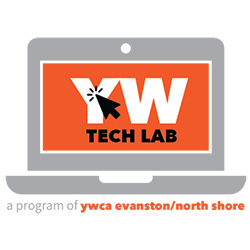 Part of a national alliance with Google.org, YWCA USA, and YWCA Madison, the YW Tech Lab is run locally by YWCA Evanston/North Shore and Oakton Community College. The free, 16-week, virtual coding class provides intensive technical training in web development fundamentals and is structured to prepare graduates for entry-level employment as front-end user interface developers. YW Tech Lab students also gain interpersonal workplace skills, including decision-making, communication, and problem-solving.
Alexander is an assistant professor of computer science at the McCormick School of Engineering. Van Wart is an adjunct assistant professor of computer science at Northwestern Engineering; last summer she joined the University of North Carolina at Asheville as an assistant professor.
Launched in 2021, the Racial Equity and Community Partnership Grant program is designed to help sustain existing, mutually beneficial collaborations between Northwestern faculty, staff, and students and community-based organizations that address the root causes of racial inequities and work toward structural change. The current grant period runs from July 2022 to June 2023.
"We want to do everything we can to help the YW Tech Lab students by helping them build skills, confidence, a portfolio of work, and a professional network that will enable them to access high-opportunity tech careers," said Van Wart, who has worked with YWCA since 2019 as a member of their Women in Tech Council.
The YWCA Evanston/North Shore team dedicated to the YW Tech Lab program includes
Kristin Drake, the economic advancement program director; Emily McDonald, the workforce student support specialist; workforce development manager Juan Fuentes; and teaching assistant Maiya Johnson, who is a YW Tech Lab graduate.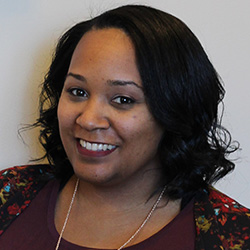 "I'm so grateful for both Emma and Sarah. They are very focused on making change and open to meeting people where they're at in a judgment-free zone," Drake said. "Their drive and passion help make this program a success. They have the same vision as us, they want to see change in the industry, and they're using their skills and talents to make that happen."
The YW Tech Lab collaboration includes three components.
Tutoring Program
Alexander coordinates a group of Northwestern student tutors who support the YW Tech Lab participants as they progress through the Oakton Community College courses.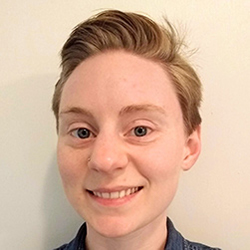 "We're working hard to adjust our support in response to changing needs from students over time," said Alexander, who is also a YWCA Evanston/North Shore Women in Tech Council member.
Modeled after the Peer Mentor program, Northwestern computer science students offer guidance, explain technical concepts, and encourage perseverance through one-on-one tutoring sessions and an email-based Q&A system. Through this experience, they're learning how to play a supporting role in other people's learning journey, while at the same time broadening their perspectives regarding what software development can look like and who can do it.
"These kinds of experiences and perspectives are difficult to replicate within the classroom but are so important to creating a more inclusive tech ecosystem," Van Wart said. "Our hope is that Northwestern students who participate in the program will carry what they have learned from the Racial Equity Partnership into their future lives and careers and continue to ask whether and how they can be allies for racial justice in the tech industry."
Program tutors include head tutor Xiaowei Chen, who is pursuing a master's degree in computer science; Rina Dema, a second-year computer science student at Northwestern's Weinberg College of Arts and Sciences; Jason Huang, a computer science student at Weinberg; Mame Coumba Ka, a third-year computer science student at Weinberg; Rutuja Kajave, a master's degree student in computer science; Edward Lee, a second-year computer science student at Northwestern Engineering; and Sarah Tani ('22), who graduated with a bachelor's degree in computer science with a minor in linguistics from Weinberg.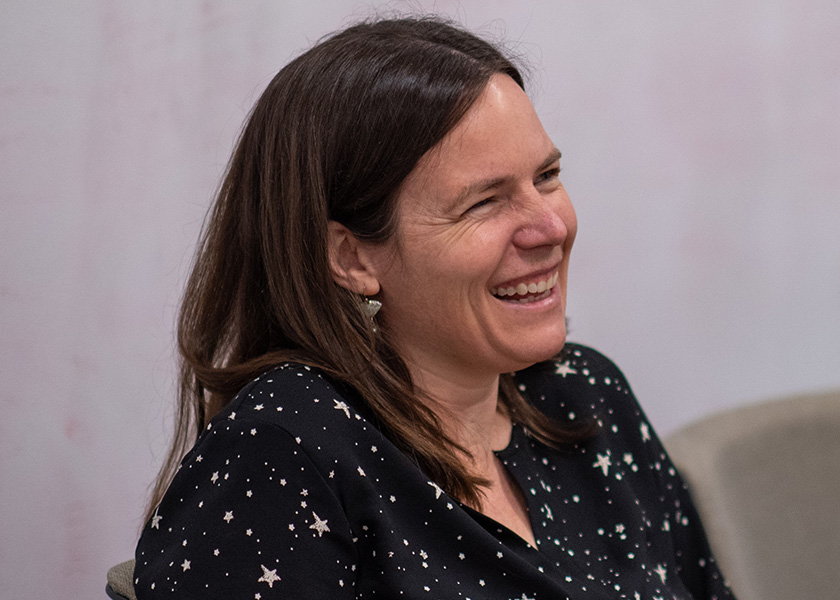 Tani, currently a software developer at the trading firm DRW, joined the tutor team last fall and has met with a YW Tech Lab student on a few occasions.
"The student asked me a lot of great questions about how I knew I wanted to study computer science and what it's like to start a new job in software development — what you're expected to know and what you're expected to learn once you get there," Tani said.
While at Northwestern, Tani served as a peer mentor and participated in the department's "buddy program" as both a mentee and a mentor. Her approach to mentorship centers around, first, meeting the student where they are and not assuming any prior knowledge and, second, building up a rapport to determine how the student learns most effectively.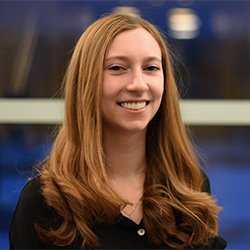 "I have always found mentorship and tutoring to be meaningful uses of my time that bring me a lot of fulfillment," said Tani, who also coaches apprentices at DRW and is involved with the alumni mentorship program through Women in Computing. "I do this because it is a way to give back, but it's not entirely altruistic. The tutors get a lot out of this program. I am also learning and processing. Being a tutor not only builds the skills that you're teaching, but also builds the softer skills like communication that will make you more effective no matter what you're doing."
Portfolio Group
After the inaugural YW Tech Lab class graduated in fall 2021, Van Wart, Esther Whang ('21) and Beck Mallwitz ('22), launched the Portfolio Group as an opportunity for YW Tech Lab graduates to continue skill-building.
Whang started as a volunteer tutor for the Oakton College students in 2020 and has since become a member of the YW Tech Lab staff team. Last year, she completely redeveloped the curriculum to implement an innovative learning progression tailored to guide YW Tech Lab graduates through the process of building and deploying a mock website for a fictitious animal shelter.
Thirteen Portfolio Group members met weekly for 10 weeks, from September to December 2022. Participants reviewed HTML, CSS, and JavaScript concepts through various hands-on coding and design activities, and explored software development tools like VS Code, Figma, GitHub, Slack, and WordPress.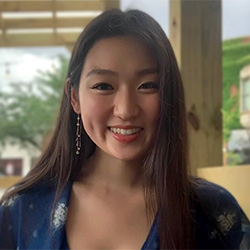 "For responsive design week, students learned and implemented at least three responsive design elements they had never implemented before," Whang said. "They used online resources to learn how to technically implement the designs. I encouraged them to go through sample code line by line and to experiment with the in-built code editor to understand how the code works, before figuring out how to incorporate the code into their website."
Whang aims to help guide students to become more independent and resourceful learners by helping them navigate the accessible resources and tools available online, such as W3Schools.
"As a mentor, I feel that it is crucial to help people to access the world of infinite learning within the web by helping them feel empowered to take initiative to learn beyond the scope of classes," Whang said.
The Northwestern CS team hosted office hours to support Portfolio Group members while they worked through coding and design exercises.
"As an undergraduate student, I saw how prevalent imposter syndrome can be in the tech field and wanted to be a part of making code and technology more accessible. I volunteered because I wanted to foster an environment in which everyone can feel comfortable and confident they can learn, regardless of how little or no prior experience they have," Whang said. "Every week, I feel so proud of the sheer amount of progress every single person has made in this YW Tech Lab journey. I love that everyone has not only grown in their skills, but also in their confidence and the initiative they take to continue learning and creating newer and better things."
Web Development Apprenticeship Program
Portfolio Group members can opt to continue their practical learning through participation in the Web Development Apprenticeship Program. Apprentices work with a local, minority-owned business client on the entire lifecycle of designing and building a website — conceptualizing the project, assessing client needs, iteratively refining the website, responding to feedback, and deploying the website.
In August 2022, the Web Development Apprenticeship team — which currently includes Van Wart, Dema, Ka, and Whang — launched their first website for the diversity, equity, and inclusion consulting company Answer the Moment.
In January, 11 apprentices began working with two new clients – The Aux, a commercial hub dedicated to healing, wellness, and racial equity; and Embrace Your Crown, a beauty services salon and tenant of The Aux. The team meets regularly to complete deliverables and anticipate launching the websites in late June.
YW Tech Lab graduate Anita Perkins, now an associate in the CI Business/Digital Unit at Bosch, joined the Web Development Apprenticeship Program for a second year to continue skill-building in front-end and back-end development. Van Wart noted how Perkins and other returning students bring insights to the group and make it a point to connect what they are learning in the YW Tech Lab to the daily work they are tackling in tech jobs.
"This is exactly what we hoped would happen – that our program would become a community of people who would support each other and offer advice and tips for navigating the current market," Van Wart said.
Impact and future plans
Since the YW Tech Lab launched in 2020, 45 students have successfully completed the program — within 12 months of graduating, 70 percent of the participants continued their education, changed careers, or reported improvements in their current position.
"We've had success in metrics like job placements and increase in income, but what's most important is that we've had success in helping people in the community feel empowered. We've seen people go from coming in and not feeling empowered enough to even speak to being leaders in their communities," Drake said.
YW Tech Lab
Students
Successfully completed the YW Tech Lab since the program launched in 2020
Percent
Within 12 months of graduating, 70 percent of the participants continued their education, changed careers, or reported improvements in their current position
The YW Tech Lab program has also created a gateway for participants to access social justice support services, including YWCA Evanston/North Shore's extensive domestic violence program.
The Racial Equity and Community Partnership grant supplemented the support services provided to help YW Tech Lab students overcome barriers that may prevent them from completing the program, including provisioning personal laptops, assistance with childcare, and affordable housing resources. The funding also allowed YWCA Evanston/North Shore to both expand the number of students in the apprenticeship program, and to increase the stipend provided to each apprentice.
"The heart of the program is to make systematic changes and change the outlook of the tech industry in the Chicagoland area," Drake said. "I'm excited about the changes that we'll continue to make as our partnership continues to develop and grow, and our students continue to enter into the industry and develop their skills."
The program continues to evolve and grow each year. YWCA Evanston/North Shore recently received access to a subset of Coursera's Google Professional Certificates through YWCA USA and is engaging the Northwestern team and Women in Tech Council to launch academic support and wraparound services for students pursuing the data analytics, project management, and UX design certificates.
"The Racial Equity and Community Partnership grant has helped us to formalize this multifaceted partnership into an integrative, innovating program, and we all hope that it continues for many years to come – until the time comes when such a program is no longer needed," Van Wart said.