Honors and Awards
Teri Odom Named Fellow of the American Association for the Advancement of Science
Odom will be honored this summer in Washington, D.C.
Teri W. Odom has been selected a 2022 fellow of the American Association for the Advancement of Science (AAAS), the largest general scientific society in the world.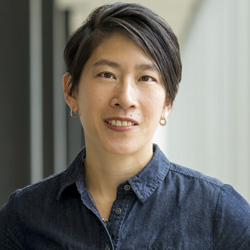 The 2022 class of AAAS Fellows includes 508 scientists, engineers, and innovators spanning 24 scientific disciplines, recognized for their scientifically and socially distinguished achievements.
AAAS Fellows will be celebrated in Washington, D.C., in summer 2023.
"AAAS is proud to elevate these standout individuals and recognize the many ways in which they've advanced scientific excellence, tackled complex societal challenges and pushed boundaries that will reap benefits for years to come," said Sudip S. Parikh, CEO of AAAS, and executive publisher of the Science family of journals.
Odom was selected along with fellow Northwestern professors Luisa Iruela-Arispe, the chair of Cell and Developmental Biology and the Stephen Walter Ranson Professor of Cell Biology at Northwestern University Feinberg School of Medicine; Murali Prakriya, the Magerstadt Professor of Pharmacology and Medicine at Feinberg; and Linda Teplin, the vice chair for research in the Department of Psychiatry and Behavioral Sciences, the Owen L. Coon Professor of Psychiatry and Behavioral Sciences, and professor of medicine in the division of infectious diseases at Feinberg.
Odom is the chair of Northwestern's chemistry department and the Joan Husting Madden and William H. Madden Jr. Professor of Chemistry in the Weinberg College of Arts and Sciences, and (by courtesy) a professor of materials science and engineering at Northwestern Engineering. She also is a member of Northwestern's International Institute for Nanotechnology and the Chemistry of Life Processes Institute.
Odom is an expert in designing structured nanoscale materials with exceptional optical and physical properties. She and her research group have made precious metals more precious by tuning the size and shape of noble metals at the nanoscale; the group also has been able to transform ordinary materials into extraordinary ones by controlling their architectures over multiple length scales.
Odom has pioneered a suite of multiscale nanofabrication tools that can produce functional nanostructures with applications in photonics, sensing, and nanomedicine. Examples include nanoparticle lattices that can manipulate light at the nanoscale and facilitate the design of plasmon-based nanoscale lasers and smart hybrid materials as well as hierarchical wrinkles that can control wetting. Odom also has designed nanoconstructs for single-particle imaging and whose shape can influence biological interactions. She is currently the editor-in-chief of Nano Letters, one of the first journals dedicated to nanotechnology.