Honors and Awards
Michael Horn Receives Daniel I. Linzer Award
Award recognizes excellence in diversity, inclusivity and equity at Northwestern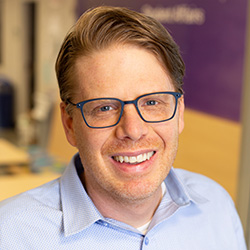 Northwestern Engineering's Michael Horn received a 2023 Daniel I. Linzer Award for Faculty Excellence in Diversity and Equity.
Given annually by Northwestern's Office of the Provost, the award celebrates individuals or groups who work collectively to build a more diverse, inclusive and equitable climate on campus and enhance diversity across the spectrum, including race, gender, religion, socioeconomic status, age and political affiliation. Elizabeth Addington, an assistant professor of medical social sciences (MSS) in Northwestern University Feinberg School of Medicine, also received the honor.
Horn and Addington will be recognized at a reception in the spring. The recognition comes with a $5,000 award.
Horn is a professor of computer science at the McCormick School of Engineering and a professor of learning sciences at Northwestern's School of Education and Social Policy. He directs the Tangible Interaction Design and Learning (TIDAL) Laboratory, a team of designers, artists, learning scientists, and computer scientists aiming to study and create innovative technology-based learning experiences.
He is recognized for his innovative work to diversify computing fields through educational programming, engagement with community partners and work with undergraduate students.
Horn created a computer science summer camp program for K-12 students and developed TunePad, a technology and curriculum that combines Python computer programming and digital music production. TunePad has been incorporated into numerous youth programs in Evanston and Chicago, welcoming underrepresented students into computer science.
Horn's impact is deeply felt by Northwestern undergraduates who are hired and trained to work as mentors with local students, amplifying Northwestern's community engagement in diversity and inclusion.