Events
Sharmila Mulligan Stresses Curiosity During Commencement Remarks
Mulligan spoke at the Saturday, December 10 PhD Hooding and Master's Recognition Ceremony
During her address to Northwestern Engineering's accomplished master's and PhD students, Sharmila Mulligan ('88, WCAS '88, KSM '94) emphasized a simple but profound point. 
Stay curious. 
"Keep moving forward, opening new doors, and exploring new things because curiosity will lead you to the right place," Mulligan said. "Curiosity is, after all, the very basis of education. It is the fuel for discovery. It is what makes us innovate. It is what drove you to achieve what you've just achieved."  
Mulligan spoke to graduates and their families and friends during the McCormick School of Engineering's PhD Hooding and Master's Recognition Ceremony on Saturday, December 10. Held in a packed Pick-Staiger Concert Hall, the event recognized 302 master's and 10 PhD candidates. In total, 480 master's students and 96 PhD candidates graduated during the summer and fall of 2022. 
Mulligan has cultivated curiosity her entire adult life, and it's served her well. 
Thirty-eight years ago, Mulligan set foot on US soil and went straight to Northwestern after growing up in India and Hong Kong. Mulligan planned to major in astrophysics and eventually become a NASA astronaut. Other than a recent thrilling experience thanks to cinematic virtual reality, Mulligan never got into space.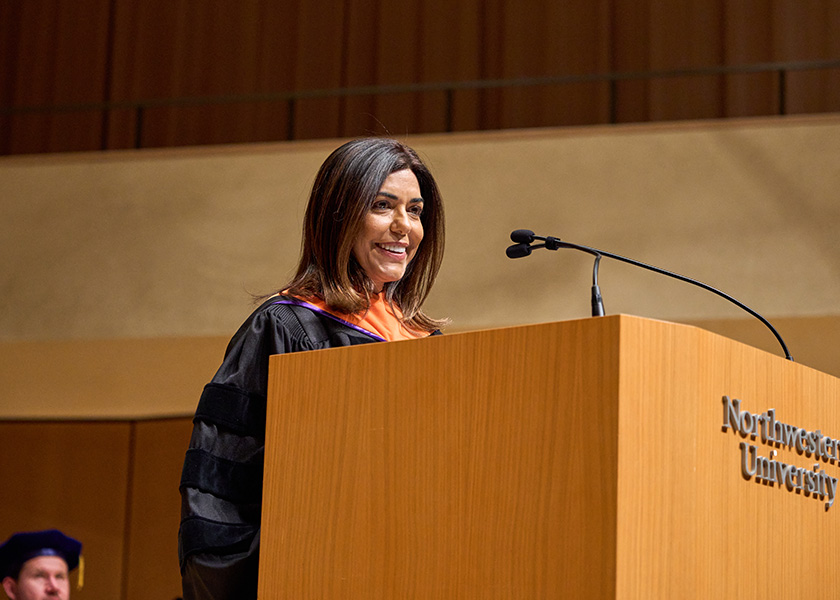 Instead of astronomy, Mulligan became fascinated with computer science, data, and business. Mulligan realized there were plenty of earthbound challenges for her, and Northwestern allowed her to find her calling, where she double-majored in computer science at Northwestern Engineering and economics at the Weinberg College of Arts and Sciences. 
Clearly, her curiosity has taken her far. 
Mulligan serves on the board of directors for several Fortune 1000 technology companies. Most recently, she served as chief strategy officer at Alteryx. Mulligan is also a strategic adviser to several high-growth technology companies that are on IPO trajectories, and an active investor in numerous enterprise software and consumer technology companies. She is also on the advisory board of the Farley Center for Entrepreneurship and Innovation, and Weinberg's Board of Visitors. 
"The change in majors led me to a journey in technology I could have never imagined," Mulligan said. "As I look back, two things stand out that shaped my life; my intense [drive] to pursue where my curiosity led me, and Northwestern — [which] opened doors for me back when I sat where you sit today."  
Following her own graduation from Northwestern Engineering, Mulligan landed her first tech job in Silicon Valley. After her first few years, Mulligan was hooked on innovation and entrepreneurship and returned to Northwestern to earn her MBA from the Kellogg School of Management, where she also met her future husband. Upon leaving Kellogg, Mulligan took a job that played a major role in where she is now. Hanging out in a student lounge during her time at Kellogg, Mulligan read a newspaper article about a startup founded by PhDs and engineers who had previously created the Apple Macintosh and wanted to build a handheld device where you could write notes, make calls, balance your checkbook, keep your calendar, create applications, and connect to information.  
Mulligan was curious and eager to join, cold-calling the company and begging to send her resume. She was invited out to Palo Alto for an informal interview and said she'd work for no money. 
Mulligan laments her willingness at the time to be paid "next to nothing," but she took away two other important lessons from her experience with a company that enjoyed success before eventually failing: curiosity and perseverance pay off, and don't let a shattered dream stop you from pursuing what you believe in. 
"One member of the team many years later went back to Apple and pursued the same dream, only this time, timed it right and that little device now fits in your hand, is beautifully slim, and goes with you everywhere," Mulligan said. "It's called the iPhone. My curiosity led me to the right place. We were just 13 years ahead of our time, but even today, many call it 'Silicon Valley's most important failure.' 
"From there, I did my next startup and the next and the next. My endless curiosity led me to shape more companies from inception to acquisition to IPOs across internet infrastructure, data platforms, IT automation, data analytics, AI, and cloud applications. Everyday I'm exposed to new innovations, or I apply innovation and the learning and curiosity never stops."  
That curiosity boosts Mulligan, and figures to do the same for the graduates. During his remarks, Northwestern Engineering Dean Julio M. Ottino said the honored graduates have learned not only deep technical skills but also timeless skills that resist obsolescence.  
Whether you are starting new careers or moving up in current ones, whether you will go on to positions in academia or industry, you now hold the advantage of knowing how to solve the right problem behind the perceived problem. Julio M. Ottino Dean, Northwestern Engineering
"Maybe it is to learn how to think in terms of systems and interrelations and how to make sense of data, or maybe it is design thinking skills that help you to frame problems," Ottino said. "Whether you are starting new careers or moving up in current ones, whether you will go on to positions in academia or industry, you now hold the advantage of knowing how to solve the right problem behind the perceived problem."  
Ottino continued by saying finding the right question is sometimes more important than jumping into finding the right answer.  
"You will take these skills with you wherever you go," Ottino said. "It is clear that this group will drive the technology of the future." 
One way to assure that is to stay curious. To stress that message, Mulligan reminded the audience of the Steve Jobs quote, "Much of what I stumbled into by following my curiosity and intuition, turned out to be priceless later on." 
"Learning and being curious is a way of saying 'yes' to the world," Mulligan said. "Most of the time when you do, the world rewards you." 
Watch the ceremony