Honors and Awards
Barry Nelson Receives INFORMS Lifetime Professional Achievement Award
The award recognizes Nelson's major contributions to the field of simulation during his professional career
Northwestern Engineering's Barry Nelson, Walter P. Murphy Professor of Industrial Engineering and Management Sciences, has received the Lifetime Professional Achievement Award from the Institute for Operations Research and the Management Sciences (INFORMS) Simulation Society.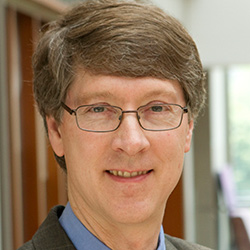 The award, the highest honor given by the Society, recognize major contributions to the field of simulation that are sustained over a professional career, with the critical consideration given to the impact of contributions on computer simulation. Nelson was formally honored during the INFORMS Winter Simulation Conference, held December 11-14 in Singapore.
Throughout his career, Nelson has studied the design and analysis of computer simulation experiments, particularly issues of statistical efficiency, multivariate output analysis, model risk, multivariate input modeling, and simulation analytics. His research has reached such wide-ranging fields as financial engineering, computer performance modeling, quality control, manufacturing, and transportation systems.
Last year, Nelson released the second edition of his textbook, Foundations and Methods of Stochastic Simulation (Springer, 2021). Written for graduate-level industrial engineering students, the book explores simulation through modern research and theory while also providing hands-on, Python-based modeling, programming, and analysis of experiments.
A fellow of INFORMS and the Institute of Industrial and Systems Engineers (IISE), Nelson's other honors include receiving Northwestern Engineering's 2022 Cole-Higgins Award for Excellence in Teaching, the IISE's David F. Baker Distinguished Research Award (2019), and twice being named the McCormick School of Engineering Teacher of the Year (1988, 2007). He's also received the IISE Operations Research Division Award for Excellence in the Teaching of Operations Research, the Northwestern Alumni Association's Excellence in Teaching Award, and was named to Northwestern's Associated Student Government Faculty Honor Roll three times (2002, 2003, 2007). He served as chair of the Department of Industrial Engineering and Management Sciences from 2008-2013.