Events
Why the World is Entering a 'Phase Change'
Mark Mills presented at the October 6 Dean's Seminar Series event
It's a cliché, but change is part of life. Individuals get new jobs, move to different homes, add to their families, and must be prepared to deal with alterations to their status quo.
The same goes for society and the world as a whole. For most of history, 70-80 percent of the world's economies were committed to fueling and feeding the planet. But the dawn of the hydrocarbon age and industrial revolution changed that. By 1920, that share had dropped to about one-third, and today just 15 percent of wealthy economies are devoted to providing food and fuel, allowing for more productivity and wealth, and providing greater capital to be allocated for health, entertainment, environmental protection, and education.
How society deals with a phase of mass change is crucial, though as Mark Mills showed during his October 6 Dean's Seminar Series lecture, "The Grand Nexus: Information, Materials, Energy" held at the Ford Engineering Design Center, what we're experiencing now is mimicking the past.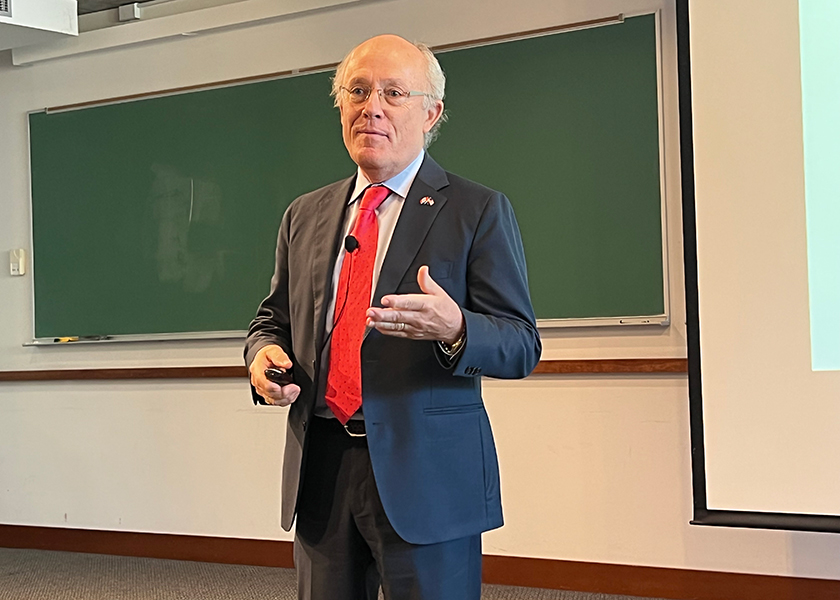 "What I contend is happening in the 2020s is exactly the same phenomenon (as the 1920s)," Mills said.
Mills is a cofounder of the software-centric venture fund Montrose Lane, a senior fellow at the Manhattan Institute, and a faculty fellow at Northwestern Engineering. A trained physicist and development engineer, Mills served as a staff consultant to the White House Science Office under President Ronald Reagan, a number of federal research laboratories, and the US Department of Energy.
After being introduced by McCormick School of Engineering Dean Julio M. Ottino, Mills drew from his book, The Cloud Revolution: How the Convergence of New Technologies Will Unleash the Next Economic Boom and a Roaring 2020s (2021, Encounter Books), to explain why he believed society was on the cusp of a new era of prosperity. He credited this radical phase change to converging revolutions in information, materials, and machines, which could produce a new kind of economy depending on novel products and ideas. 
 "I think we're at the end of the beginning of another phase change that will propel economies," Mills said.
In the 1920s, the planet was emerging from the wreckage of The Great War. The 1918 influenza epidemic had just started to wane, there was racial and labor strife, prohibition was taking hold, income equality was stark, and many people didn't trust the journalism that was being produced.
There are obvious differences between then and now, but the parallels are easy to see. Instead of influenza, we've battled COVID-19. Racial inequality remains a challenge to be addressed. The gap between the rich and underprivileged is gaping. And post-WWI yellow journalism has been replaced by partisan reporting and claims of fake news.
"History doesn't repeat. It rhymes," Mills said. "We're rhyming."
The rhyme goes beyond just the conflict.
History doesn't repeat. It rhymes. We're rhyming. Mark Mills
Mills said it takes around a century for the adoption, maturation, and proliferation of technology. Today, autonomous machines and 3D printers are revolutionizing manufacturing, bioelectronics are changing the face of medicine, and the information domain is moving rapidly thanks to cloud storage and the rampant availability of data.
Yes, the breakthroughs are different than they were 100 years ago, but the impact could be the same.
"If you create tools and machines that allow you to acquire information that's not constrained anymore by the ability of the machines, but constrained by your appetite to think about what you want to measure, that's a phase change," Mills said. "When they all come together, it's consequential."
The 1920s phase change, catalyzed by the rapid adoption of telephony, cars, power plants, plastics, and pharmaceuticals, led to two major changes between then and 2000. The average lifespan increased by 30 years (representing the biggest gain in human history), and the average wealth jumped an unprecedented 700 percent.
"It happened because of the confluence of that constellation," Mills said. "It wasn't just the car, it wasn't just power plants. I think we're there again today."