Events
Annette Rippert Encourages Graduating Seniors to Use Power of Change
Rippert and Dean Julio M. Ottino spoke at the 2022 Undergraduate Convocation on June 12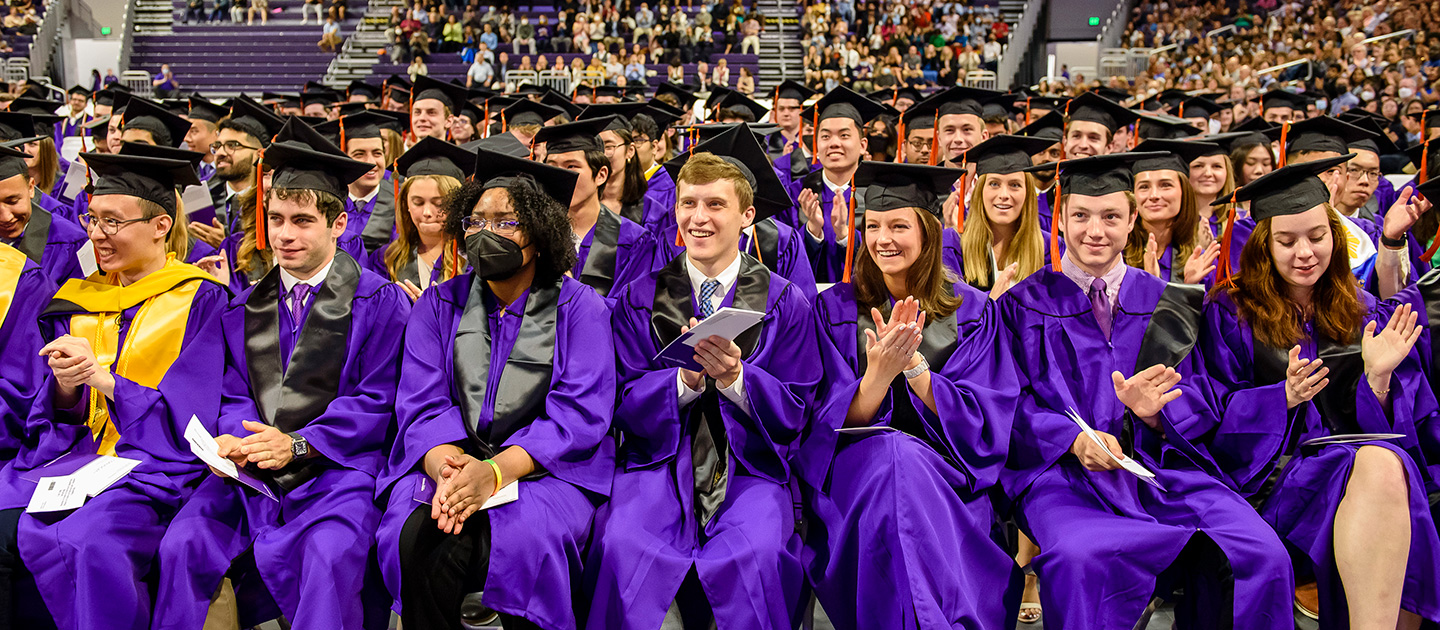 Change is a defining part of life. How somebody handles upheaval can determine their success both professionally and personally. Change can either derail your journey or be a catalyst for better.
For Annette Rippert ('86), it's the latter.
"I know firsthand that change is powerful. It can also be unnerving," said Rippert, group chief executive, strategy and consulting, at Accenture. "Using the power of change to shape your future, to shape our shared future — now that's a powerful idea."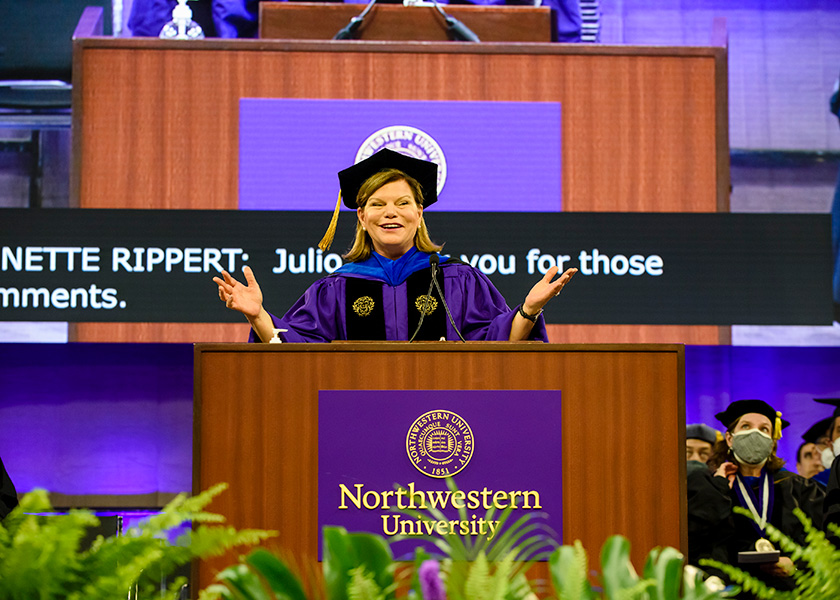 Speaking at the Northwestern Engineering's 2022 Undergraduate Convocation held June 12 at Welsh-Ryan Arena, part of the University's 164th Commencement, Rippert and Dean Julio M. Ottino implored graduating seniors and their families and friends to use change as the impetus for growth. Over the four years the graduates spent at the McCormick School of Engineering, the world changed rapidly, whether due to the COVID-19 pandemic, the urgent push for social justice, political and economic upheaval, and continued rapid technological advances. 
In the face of those obstacles, Ottino said, the newly minted graduates "persevered and showed us grit and determination."
"Change brings challenges, but challenges bring opportunities," Ottino said. "As engineers and designers, this must be our time."
Three important lessons
Rippert's message was similar.
At Accenture, Rippert led the reorganization and reinvention of the company's strategy and consulting business, generating significant growth and returns. Sharing stories from her professional career and own education journey, Rippert's carried weight as she shared three lessons to guide graduates' futures:
Aspire to do work you love
Let whatever transpires be the catalyst for growth
Choose to inspire
Rippert recalled how in first grade she aspired to be an astronaut after Eugene Cernan visited her school. When Rippert arrived at Northwestern, her aspirations changed to becoming a doctor. There was just one small problem: she struggled in biochemistry. Rippert said her professor told her she'd be miserable in medical school if she didn't like the class. Crucially, the professor told her to find her passion.
Watch the entire 2022 Undergraduate Convocation
For Rippert that was easy: computer science and electrical engineering.
"From that day on, I never looked back," Rippert said. "In the end, I indeed got a D in that biochemistry class. But my failure led me to a career that I love. Today, I'm a world-class engineer and business leader because I'm passionate about my work. It's impossible to hide. All thanks to my wise professor.
"So, be honest with yourself. Do what you love. If you haven't found it, keep searching until you do. Don't settle."
Rippert wouldn't have reached her career heights if she ever settled, and her ability to handle curveballs has allowed her to prosper. In 2019, Rippert was asked to take on restructuring a key business unit at work, Accenture's strategy and consulting arm.
She was tasked to consolidate 11 global business units comprising 45,000 employees from around the world, and enact a new business strategy. This group would need new technology skills, a new data centric culture, and powerful new tools to serve today's hyper-digital global world.
Instead of hiding from the moment, Rippert attacked the job and plotted a strategy. The COVID-19 pandemic may have added a degree of difficulty to the task, but Rippert loved her work and persevered, reaching back to her Northwestern education to successfully modernize the operation.
"So, remember this: It's in challenging, unsettling times that you grow the most," said Rippert, who recently announced her retirement from Accenture after 28 years with the company. "You can turn crisis into opportunity not only by embracing change, but by using your unique education to shape change. To change the world for the better."
Paying it forward
Rippert's success has led to numerous accolades, including being named the No. 1 leadership executive by Women in Technology. While she was honored by the award, she wanted to be recognized as a leader in tech, not a woman in tech.
Choose to inspire. That's how change happens. Annette Rippert
The importance of that mission became clearer at a cloud computing convention in Las Vegas. As she walked around the hall, Rippert had to search to find another woman. The experience motivated her to contact female counterparts at other companies to cosponsor events to bring women into high-tech fields. Rippert also got involved with the Grace Hopper Celebration of Women in Computing, including connecting with Northwestern engineers who attended.
"This story is not just about women — it's about each of you. You each have a story, a journey. You are each an inspiration to others coming up behind you. You can make a difference," Rippert said. "So, be like that astronaut, Eugene Cernan, who inspired me. Pay it forward — whether that's participating in a Day of Code back at your grade school, or volunteering to talk to students at your high school. Choose to inspire. That's how change happens."
Ottino's sentiments were similar.
"Throughout your time at Northwestern, I hope that you have learned to collaborate, to trust others, and to bring different and diverse ideas into everything that you do," Ottino said. "In doing so, I know that we can continue to ensure that times of change become times of opportunity, and that we can use the thinking skills of engineering to make lives better for people around the world."
University Celebrates 164th Commencement 
Graduates from across campus gathered at Ryan Field on Monday morning for the University's 164th Commencement, which featured a speech by Isabel Wilkerson, author, Pulitzer Prize winner, and National Humanities Medal recipient.
During her remarks, Wilkerson congratulated graduates for everything they overcame during their four years at Northwestern, and recalled the 15 years of obstacles she scaled to write The Warmth of Other Suns: The Epic Story of America's Great Migration (Vintage, 2011).
"I think about what I had to go through, what I went through working on what would become The Warmth of Other Suns and then I think about what you have been through as a class, what we have been through as a country," Wilkerson said. "I'm here to say that we are proof that we in fact can do what might seem at the start impossible."