Undergraduate
Undergraduate Launches Course Planning Web Application
Dilan Nair developed the open-source, online tool Plan Northwestern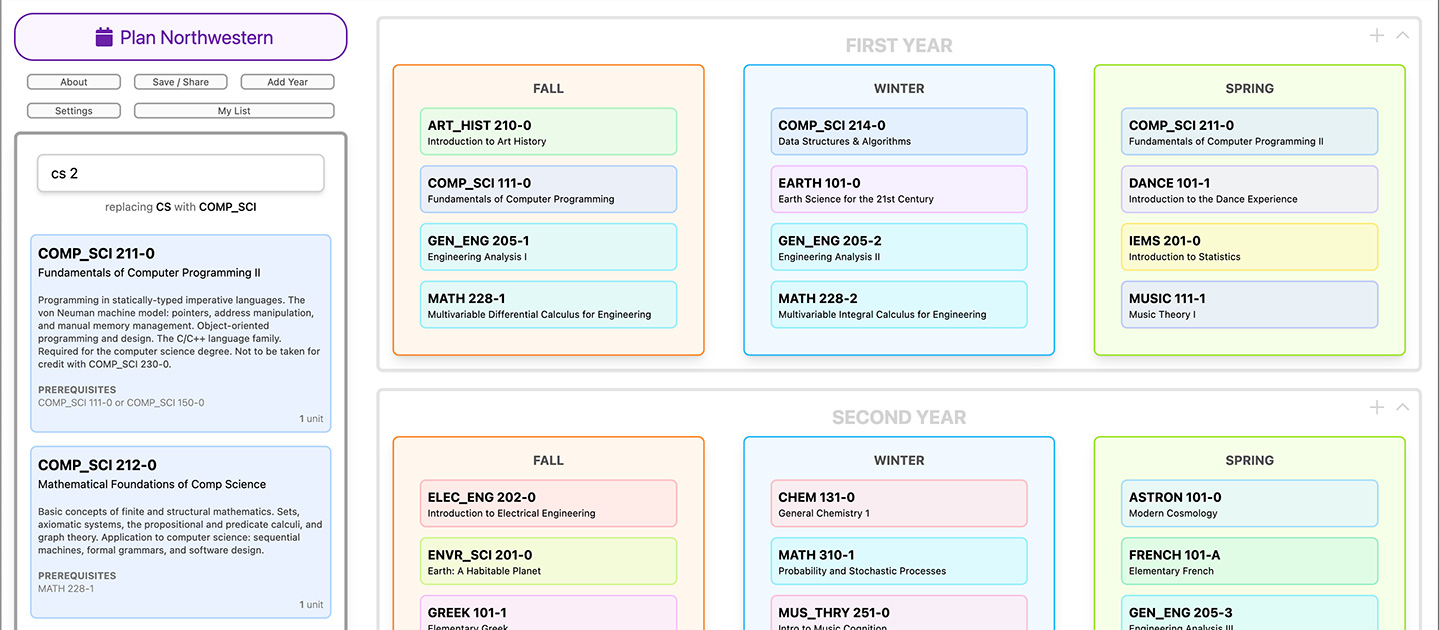 Navigating a collegiate course load isn't easy. With dozens of major and minor requirements and general electives to take, students spend hours mapping out their four-year college experience to ensure they register for the right classes to earn their degrees.
Dilan Nair, a second-year computer science student in Northwestern Engineering, aims to help students streamline the course planning process.
Nair developed Plan Northwestern, an open-source, online tool that allows students to search for and drag-and-drop courses into a four-year interface organized by academic quarter. The plan can then be saved and shared via a URL, which updates as the plan is modified.
Although he did not plot out a four-year course plan for himself, Nair noticed that many students maintain spreadsheets to organize their academic roadmap.
"As someone who really enjoys making people's lives easier through software development, I thought it would be fun to make a site that students could use as an alternative to the old-fashioned spreadsheet method," he said.
Nair initially built Plan Northwestern using publicly available data he mined from Northwestern's Academic Catalog. Shortly after the tool's launch, Dustin Levell, senior assistant registrar, and Paul Geigler, research analyst and reporting associate in Northwestern's Office of the Registrar, contacted Nair and offered to help expand the scope of courses using data from CAESAR, Northwestern's student record management system.
"It's a pleasure to partner with students like Dilan who have innovative ideas for using CAESAR data to help students get the most out of their time at Northwestern," Geigler said.
Plan Northwestern now includes all undergraduate courses as well as courses offered through The Graduate School. The tool also contains courses from the graduate and professional degree programs from the McCormick School of Engineering, Bienen School of Music, School of Communication, School of Education and Social Policy, and Medill School of Journalism, Media, Integrated Marketing Communications. In addition, the data set includes non-degree course information and undergraduate, graduate, and non-credit course offerings from the School of Professional Studies.
Course descriptions within Plan Northwestern also include prerequisite information, credit units, and distribution requirements.
"Students have all course data in one place, and they can easily create and share an organized plan without having to worry about getting anything set up beforehand," Nair said.
"Dilan's tool is an amazing piece of software, allowing students to easily navigate choices and requirements," said Samir Khuller, Peter and Adrienne Barris Chair of Computer Science at Northwestern Engineering. "Last year, we realized the need for such planning tools in our department and have been thinking of creating some useful software for students. Dilan went a step further and did it."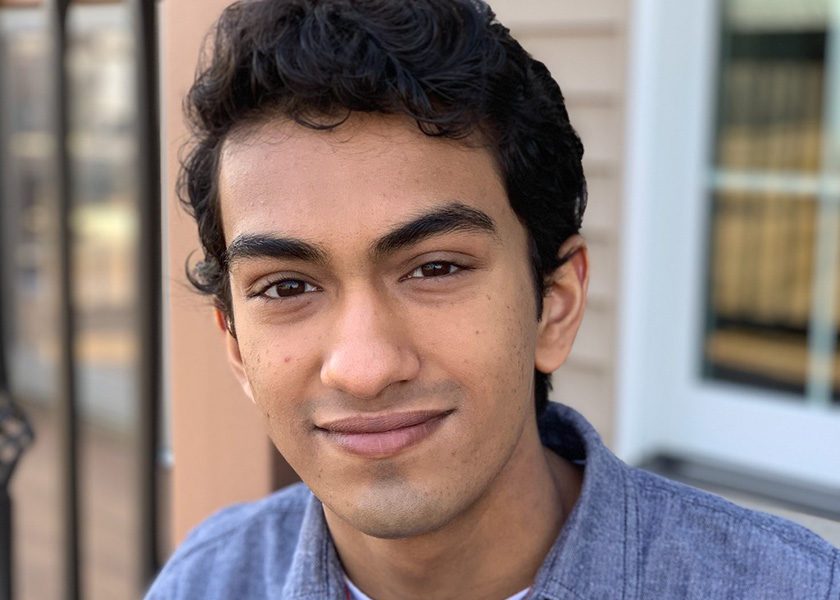 Nair designed and developed Plan Northwestern over the course of a few weeks, leveraging his own prior knowledge of web design while also researching online how similar tools were built. He shared early versions of the site with friends who helped test the application.
After launching the site at the end of December 2021, the web application has been used by thousands of Northwestern students to manage their course planning.
"Outlining my schedule ensures that I won't miss out on the many opportunities at Northwestern and helps me feel prepared to complete my undergraduate studies to the highest potential," said Courtney Sindelar, a first-year student in the Weinberg College of Arts and Sciences pursuing a bachelor's degree in cognitive science and linguistics. "I am a very visual person, so actually seeing what classes I can take, in which quarters, and manipulate different kinds of schedules is super helpful. Plan Northwestern helped me see that all of my credits can be filled by junior year, which leaves me so many options for senior year research, internships, early graduation, or study abroad."
Nair continues to refine the project — accessible on GitHub — by adding features requested by users.
He recently implemented bookmarking functionality, the ability to mark AP/IB course credit, and interface improvements allowing users to scroll through search results and the course plan more easily on mobile devices.
"Students have also requested the ability to create an account and save multiple plans to it so you don't have to keep track of so many URLs," Nair said. "I'm definitely excited to implement something like this."
Though Nair does not have definitive career plans, he has a strong interest in pursuing the software engineering field of computer science and working in the tech industry.
"Ultimately, I really enjoy working on this project and I hope people find it useful," Nair said. "I'd love to keep it going for as long as possible."