Honors and Awards
Josiah Hester Receives Daniel I. Linzer Award
The award celebrates work to build a more diverse, inclusive, and equitable climate on campus
Northwestern Engineering's Josiah Hester and the University Libraries' Charla Wilson have received the 2022 Daniel I. Linzer Award for Faculty Excellence in Diversity and Equity.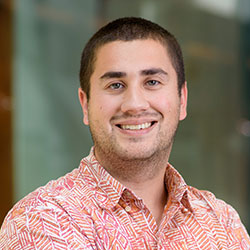 Given annually by Northwestern University's Office of the Provost, the award celebrates individuals or groups who work collectively to build a more diverse, inclusive, and equitable climate on campus and enhance diversity across the spectrum, including race, gender, religion, socioeconomic status, age, and political affiliation.
The recognition comes with a $5,000 award, and Hester and Wilson will be honored at a reception in the spring.
Hester is an assistant professor of electrical and computer engineering and computer science, and the Breed Junior Professor of Design at the McCormick School of Engineering. He is recognized for his "tireless work to build a more diverse, inclusive and equitable climate…especially in a field in which women and people of color are underrepresented."
To help advance diversity and inclusion across his department, school, and the University, Hester helped create Code-N-Color, a new support group for BIPOC PhD students who are in computing and coding-related disciplines. As a part of ongoing mentorship, Hester meets with Code-N-Color students on a regular basis. He also plans speakers and events that promote conversation around equity, diversity, and coding and conducts research addressing challenges that people in the Ojibwe Nations and his own Native Hawaiian community face today.
"He is a consistent positive force for change — always ready to brainstorm ideas, spearhead initiatives and help others achieve more," Hester's nomination said. "I have had a chance to witness first-hand the wonderful positive energy that he brings, the ideas he provides, and his tireless commitment to doing the actual work to effect positive change."
Wilson is the Archivist for the Black Experience at the University Libraries. She is recognized for her deep commitment to "promoting diversity, equity, and inclusion across campus, far beyond her role as archivist" and for her "tireless activity in support of a more inclusive campus."