Events
Navigating the Future of Advanced Air Mobility
A seminar hosted by the NUTC provided insight into air mobility vehicles, systems, and operating models
Everybody is familiar with cars, taxi cabs, public buses, and now ridesharing services like Uber and Lyft. At the same time, congestion in expanding urban areas is choking our roads and highways with automobiles that cause pollution due to harmful emissions.
A solution to help alleviate those issues, however, is in development.
Whereas helicopter travel exists but never scaled enough to transform cities, numerous companies are developing electric vertical take-off and landing (eVTOL) aircrafts. If they take hold in major urban centers, eVTOL aircrafts could provide timely, safe, energy-efficient, and perhaps affordable transportation within sprawling metropolises and make people willing to travel further for work. Of course, with any new technology, there will be other implications and consequences, along with concerns about accessibility for all income levels.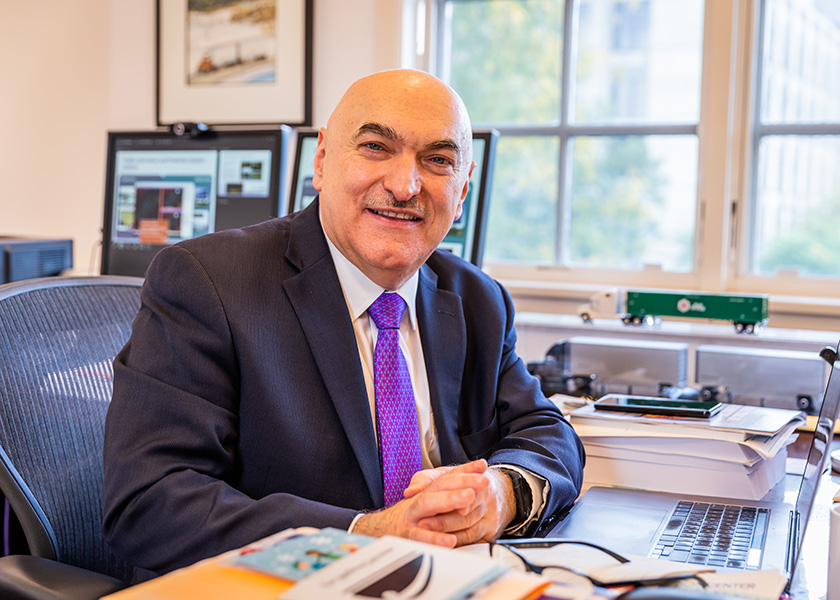 This intriguing new field was the subject of Advancing Urban Air Mobility - Fall 2021 Industry Technical Workshop. Hosted November 17 by the Northwestern University Transportation Center (NUTC) and its Center for the Commercialization of Innovative Transportation Technology, the seminar welcomed speakers from both industry and non-profit groups.
"It's an area that has captivated the imagination of many of us transportation analysts and geeks," said Hani Mahmassani, director of the NUTC, William A. Patterson Distinguished Chair in Transportation, and professor of civil and environmental engineering. "There's a lot of interest in flying taxis and that fancy stuff, but there's also a lot of practical developments that are happening. Our workshop is intended to highlight some of these more promising developments."
Here are three key takeaways from the event.
The technology is here and safe
The idea of electric flying machines buzzing around cities once seemed like science fiction. It's not make-believe anymore. Yes, helicopters are well-known, but they are loud, cannot integrate into normal life, and are slow and impractical to operate. The goal is for eVTOL aircrafts to be the opposite.
Around a decade ago, the idea came to use electric powertrain systems for flight. That's the genesis of Joby Aviation, which was founded in 2009. Its aircraft has six propellers that can rotate pointing up and pointing forward so it can take off and land like a helicopter but fly quietly like an airplane.
This is a vehicle that can make the promise of 3D travel not science fiction but a reality.Eric AllisonHead of product, Joby Aviation  
"This is a vehicle that can make the promise of 3D travel not science fiction but a reality," said Joby head of product Eric Allison.
Safety is the company's "north star," Allison said. He added that while helicopters have more than 50 points of failure, Joby aims for zero. The six-propeller system allows one to fail without affecting safety, though Allison said that's a remote possibility because the subsystems are redundant.
"It's the level of safety associated with large commercial planes, but brought through electrical propulsion to these smaller aircraft," Allison said.
If and when eVTOL aircrafts become commonplace, that will require new regulations and more air-traffic control to keep the air from growing clogged and unsafe. But with the Federal Aviation Administration in place, there are some guidelines the growing industry can use as examples.
"Integrating this new enterprise of air mobility into the national airspace system is supposed to be handled and done in such a way that it's a minimal impact on our air-traffic controllers," said Charles Clauser, senior director of architecture at PS&S Integrated Services. "I think there's certainly going to be some collaboration in that regard. I think there has to be, but the idea is that service providers will handle the operational characteristics of the complexity that we see coming with air mobility at low levels."
Much of the infrastructure already exists
Clauser discussed how eVTOL aircrafts used as air taxis could be blended into existing urban structures. Called "vertiports," these hubs can be placed atop skyscrapers and parking garages and also take advantage of underused airfields.
And in major cities, those buildings don't need to be constructed just for this purpose. They already exist and can have terminals added.
Speaking of collaboration, major airline players are forming partnerships with eVTOL aircrafts. Andrew Cummins, Archer's director of business development, discussed their partnership with launch partner United Airlines, which has ordered $1 billion worth of aircrafts with an option for $500 million more. 
These are some of the most heavily congested cities in the country, where trips to the airport can take an hour or longer, even though the distance from the city center to the airport is less than 20 to 30 miles. Edward Espiritu Venture and corporate development senior manager, United Airlines
"What we're looking to do is leverage their experience as an airline operator as we build our urban air mobility service," Cummins said.
United could also benefit by providing ways for customers to reach their flights more easily. Instead of navigating busy and congested cities, they can fly to the airport.
"These are some of the most heavily congested cities in the country, where trips to the airport can take an hour or longer, even though the distance from the city center to the airport is less than 20 to 30 miles," said Edward Espiritu, United's venture and corporate development senior manager. "This is the perfect mission profile for us."
Accessing air mobility
To date, the industry has been pushed by technology. The next step is to create a market demand, said Yolanka Wulff, executive director and co-founder of the Community Air Mobility Initiative (CAMI).
"This technology did not arise out of an expressed market need," Wulff said. "We don't have that market pull. What we have is a technology push."
To implement advanced air mobility, there needs to be a comprehension of the market demand for this technology. Doing that means understanding that this is the convergence of aviation with other forms of transportation, something that generally hasn't happened in the past.
For it to reach its potential, advanced air mobility must work within built communities that are all different. A one-size-fits-all approach won't work, Wulff stressed.
In general, Wulff said adverse effects must be limited and that decision-makers and citizens must be made to understand the benefits of advanced air mobility.
"We need to look at this in the larger context of a metropolitan transportation system, looking at all the resources, and all the needs," Wulff said.