Events
Tim Stojka Encourages Graduates to Strive for the Impossible During Commencement Remarks
Stojka spoke at the Saturday, December 11 PhD Hooding and Master's Recognition Ceremony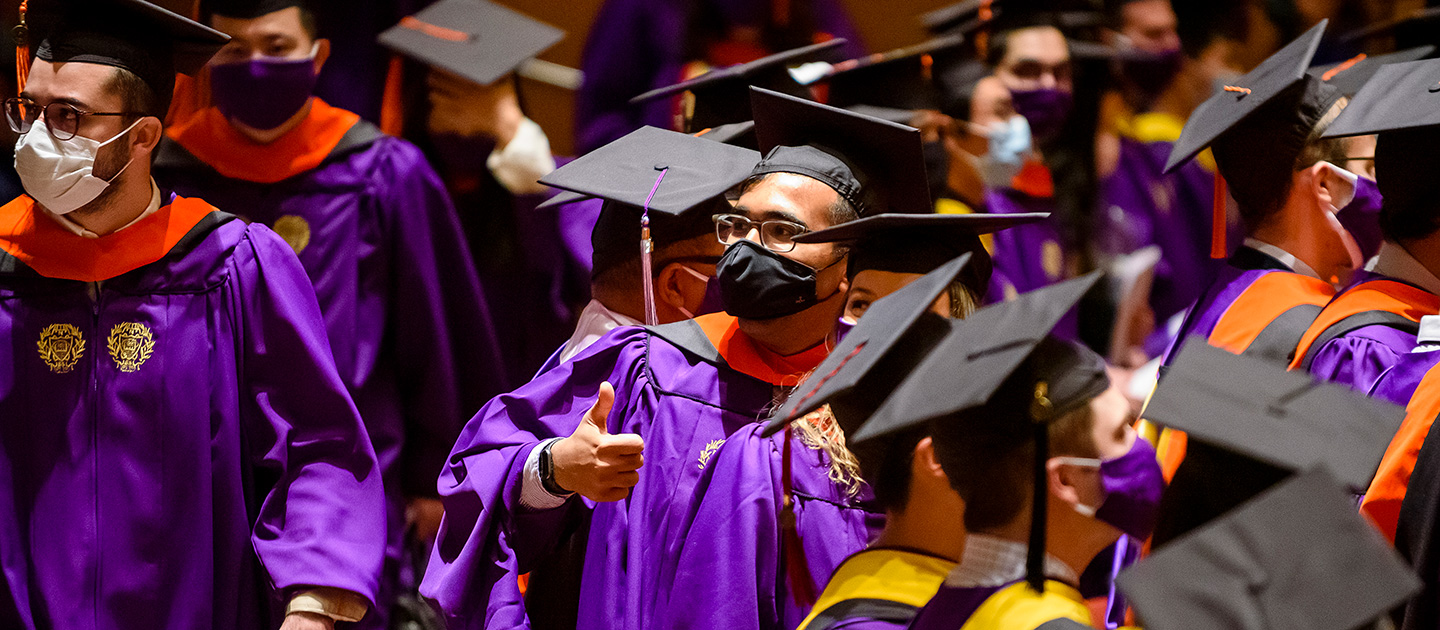 The message delivered by Tim Stojka ('89) during the graduation of Northwestern Engineering's accomplished master's and PhD students on Saturday, December 11, did have plenty of advice about business success.
But there was more to his remarks.
Stojka, who looked up to the balcony and acknowledged his mother in the audience, discussed the importance of values and personal relationships. During his speech, Stojka mentioned his father, who died of cancer and had 1,000 people attend his funeral. There, Stojka heard stories about how his dad impacted people's lives, reinforcing what heartfelt interaction can mean.
"Relationships and people in your life are what is most important," Stojka said. "Your success will be forgotten. Just remember, the impact you make on others will live on for generations. Humility is not thinking about yourself less but about thinking more about others."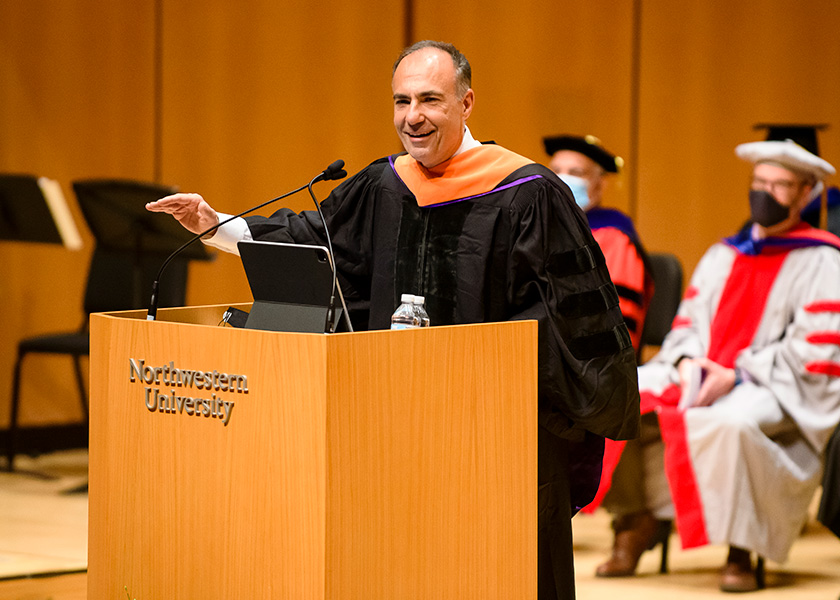 Held in the Pick-Staiger Concert Hall, the PhD Hooding and Master's Recognition Ceremony recognized 111 master's and 13 PhD candidates. In total, 243 master's students and 88 PhD candidates graduated during the summer or fall of 2021.
Stojka is CEO and co-founder of Agentis Energy, a company at the forefront of Smart Grid technology that provides energy data analytics to businesses and utilities with over 4 million businesses throughout North America on the platform.
Stojka, who graduated from Northwestern Engineering with a degree in industrial engineering, built on his Northwestern education and founded three technology companies, most recently Agentis.
That entrepreneurial spirit was created long before Stojka's business career began.
When Stojka was 14, his parents bought him an Apple 2 computer. Quickly, Stojka fell in love with coding and was inspired to attend Northwestern, where his classes taught him to think about processes and optimizing systems. He wanted to be Steve Jobs or Bill Gates, who were creating a computing revolution.
Subsequently, Stojka created modern companies that capitalized on the new landscape.
"I questioned the status quo and always looked for opportunities to make it better," Stojka said. "There must be a better way. Challenge the status quo, take a risk, and innovate. Be curious. People will tell you it can't be done. Believe in your vision and yourself, and don't underestimate the power of an idea."
Ideas fuel engineering, as does resilience and adapting to challenging circumstances. These graduates showcased those traits to earn their advanced degrees, thriving during a pandemic that altered their educational experiences.
You will take these skills with you wherever you go. It is clear that this group will drive the technology of the future. Julio M. Ottino Dean, Northwestern Engineering
That's why this commencement won't be a footnote in their lives.
"Many will tell you that they do not remember their graduation ceremonies. I suspect that this will be different," said Northwestern Engineering Dean Julio M. Ottino. "After all that we have been through together, the ability to gather in person and to celebrate your tremendous achievements – getting though this pandemic – is not something that we will take for granted again. And I can promise you that we will remember all of you for many years to come."
Ottino stressed that the graduates have learned deep technical skills that are timeless and resist obsolescence.
"Maybe it is to learn how to think in terms of systems and interrelations and how to make sense of data, or maybe it is design thinking skills that help you to frame problems," Ottino said. "Whether you're starting new careers or moving up in current ones, whether you will go on to positions in academia or industry, you now hold the advantage of knowing how to solve the right problem behind the perceived problem. That finding the right question is sometimes more important than jumping into finding the right answer.
"You will take these skills with you wherever you go. It is clear that this group will drive the technology of the future."
As the recent graduates do that, Stojka advised them to remember who they are and be guided by their morals.
"One of my greatest life takeaways is that there are many people with money," Stojka said. "And many people with talent and money. There are people with talent, money, and success. The shortage and scarce commodity is character and people who have the courage, strength, and discipline to stick to their values. Know who you are and don't be someone you're not. Do the right thing."
Watch the ceremony