Honors and Awards
Park Honored with Hanwha Non-Tenured Faculty Award
The honor is given annually to North America-based assistant professors with Korean heritage
Northwestern Engineering's Kyoo-Chul Kenneth Park has been selected as a winner of the sixth Hanwha Non-Tenure Faculty Award by the Hanwha Group.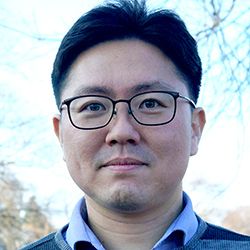 Park is an assistant professor of mechanical engineering in the McCormick School of Engineering. The research in Park's lab includes multi-length scale surface fabrication, thermal-fluids engineering, and bio-inspired surface engineering for a sustainable future.
In 2020, Park led a team of researchers who discovered a new way to significantly reduce frost formation on any surface. The finding could help decrease the amount of energy needed for de-frosting and could potentially result in fewer canceled flights, which can be grounded by even the slightest layer of frost.
A member of the Northwestern Engineering faculty since 2017, the honor is the latest for Park. He earned a 2018-19 fellowship from the Searle Center for Advanced Learning and Teaching, and has served as a Northwestern-Argonne Institute of Science and Engineering fellow in the applied materials division of Argonne National Lab since 2019.
A prolific author of academic papers, Park also has six patents to his name. 
Hanwha's Non-Tenured Faculty Awards program, which usually honors two North America-based professors with Korean heritage per year but was expanded to three this year after none were selected in 2020 due to the pandemic, is designed to expand a range of research and development. The company's award targets assistant professors with fewer than seven years of teaching experience in a field that's relevant to advanced materials in subjects such as chemical engineering, chemistry, materials, and polymers.