Events
McCormick Graduates Celebrate 163rd Commencement
Dean Julio M. Ottino and Bruce Mau delivered remarks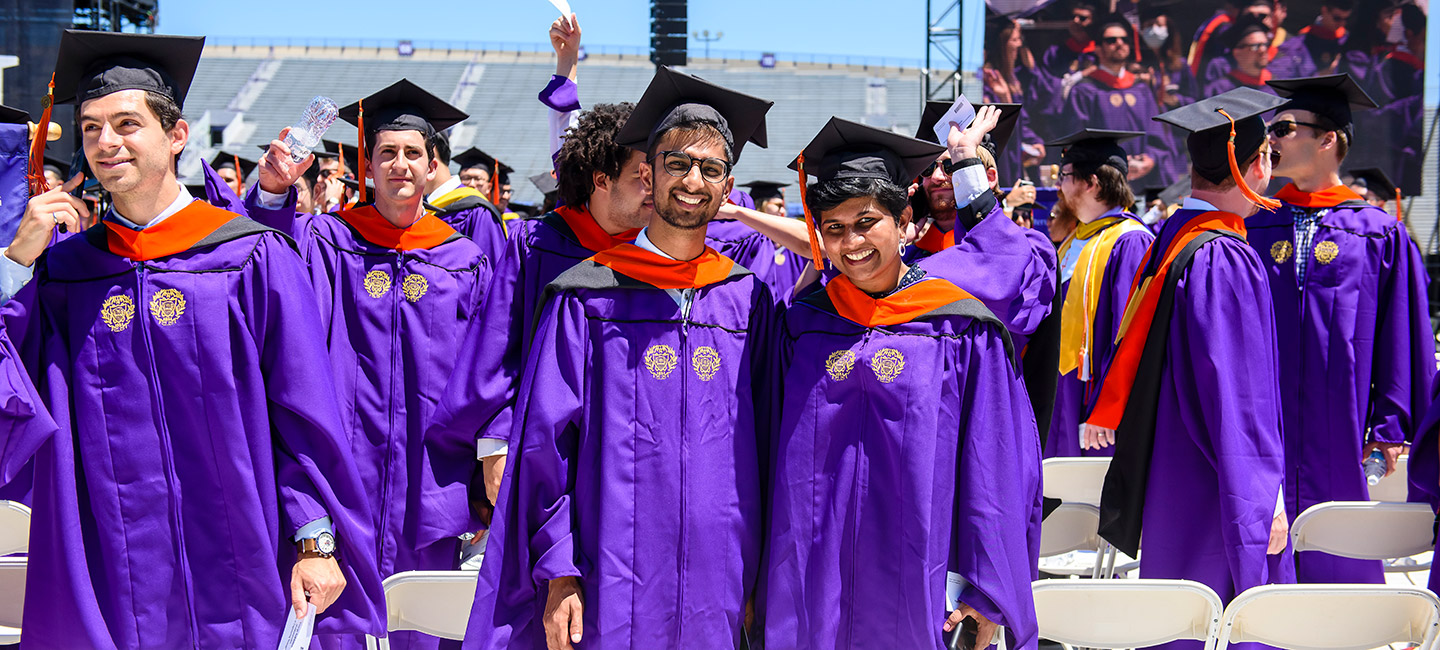 Northwestern University's McCormick School of Engineering celebrated the graduation of its Class of 2021 on June 13 as part of the University's 163rd Commencement. Undergraduates, master's students, and PhD graduates were honored during the ceremony at a sun-splashed Ryan Field.
Then, on Monday, June 14, the University-wide Commencement was held virtually. That event featured remarks from University president Morton Schapiro, and a keynote speech delivered by McCormick alum Gwynne Shotwell ('86, MS '88), president and COO of SpaceX.
"All graduations deserve a celebration, but you, this Class of 2021, have an even greater achievement. You not only survived but succeeded throughout the insanity of 2020 and into this year," Shotwell said. "You were able to focus and invest in your future during a period of immense suffering."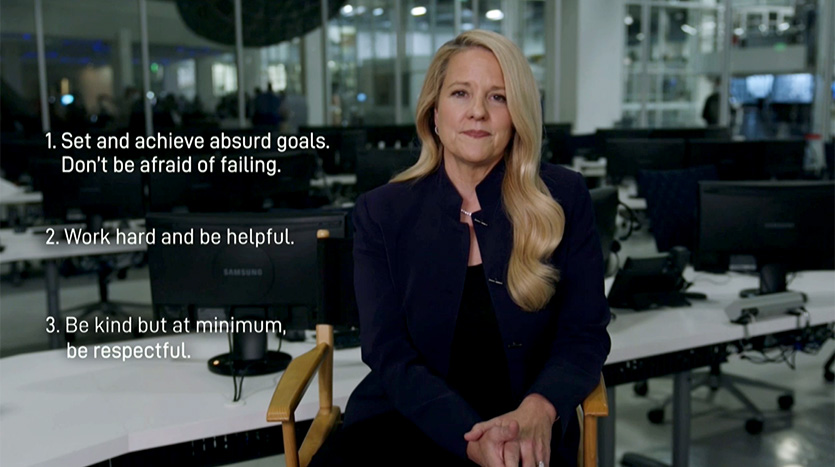 During Northwestern Engineering's Convocation, Dean Julio M. Ottino said graduation always has been his favorite day of the year. While acknowledging the difficulty of the 2020-21 academic year, Ottino wanted this Convocation to be about optimism. 
In fact, Ottino said he is more optimistic than ever. 
"Why? It is because of what I see in front of me: An amazing amount of talent, a collection of some of the best minds of our generation," he said. "I know that you will develop an array of ideas to be deployed throughout the vast landscape of the world. Look at how far you have made it. Despite all of the challenges thrown at you, you have achieved something great – you are emerging with a degree from Northwestern. You are all Northwestern Engineers.
"Indeed, it is hard to be anything but optimistic when thinking about your impact in the world."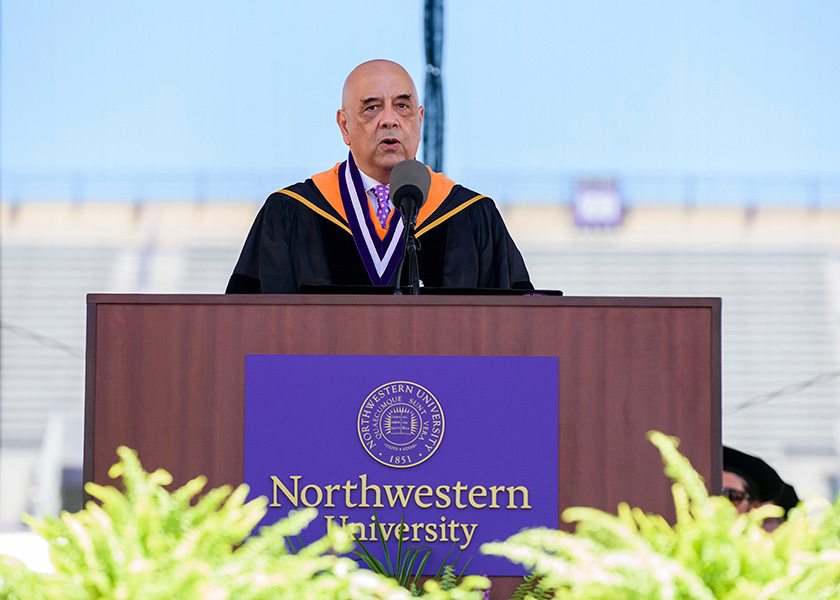 Bruce Mau, cofounder and CEO of Massive Change Network and a distinguished fellow at Northwestern Engineering's Segal Design Institute, served as the keynote speaker. As he commended the Class of 2021 as the first class to graduate in person since the COVID-19 pandemic began, he lauded their accomplishments during trying circumstances. Whether it was conducting research, collaborating with peers, seeking guidance from professors, or demonstrating what they learned, the class pivoted to function remotely.
As a result of facing and passing the tests of a rapidly changing world, Mau said, the 2021 graduates are better prepared than any class that came before it. 
"As enormous as our sense of joy and gratitude is today, we also want to acknowledge the disruption, uncertainty, and loss you overcame to achieve this brilliant moment," he said. "The world changed utterly, overnight, and you adapted just as quickly."  
Mau, who has collaborated with global brands and companies, leading organizations, heads of state, and renowned artists during his 30-year career, said his work has long been associated with optimism.
He believes optimism is the only way through now.
To get through the pandemic, society had to believe in the possibility of change. Those possibilities included developing new ways to treat people infected by COVID-19, adopting ways to protect the most vulnerable, working remotely so businesses could survive, and developing a vaccine.
The world is now a different place, but change was the silver lining of the pandemic. That's the world the Class of 2021 enters, where methods of the past are open to alteration. 
"In every area of human activity, in every discipline, in every business, and every country, people have been introduced to change, and that gives you, the Class of 2021, an incredible opportunity, a once-in-a-lifetime opportunity," Mau said. "You have the permission, and in fact the responsibility, to explore the possibilities of change."
Ottino praised the class for persevering through a uniquely challenging time.
"Most importantly, through your struggles you showed that you have grit – which is one of the most important qualities that you can have going forward," Ottino said. "I salute you. Those are lessons for life. There is no limit to what you can do."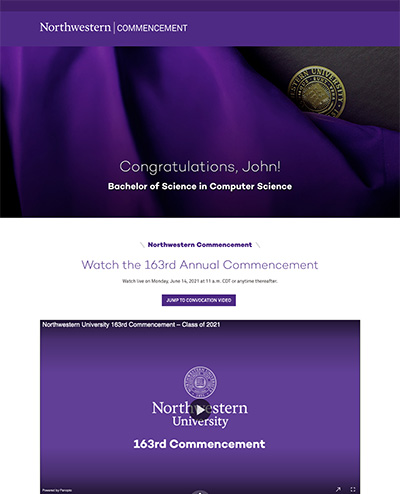 The event recognized a class of 342 undergrads, 820 master's, and 164 PhD candidates.
As part of the celebration, graduates were each given a personalized website, which presented them with an acknowledgement of their academic achievements and links to Commencement events. For Northwestern Engineering graduates, that page also included special materials to commemorate the students' achievements with family and friends on social media.
One McCormick graduate had people from 20 cities in six countries across four continents join the celebration via their personalized webpage, including the livestream of them crossing the stage.
Graduates also participated in events hosted by their home departments and programs.
---
Watch the McCormick Convocation