Undergraduate
Grad Set to Launch with SpaceX
Lauren Simitz will help rockets defy the forces of gravity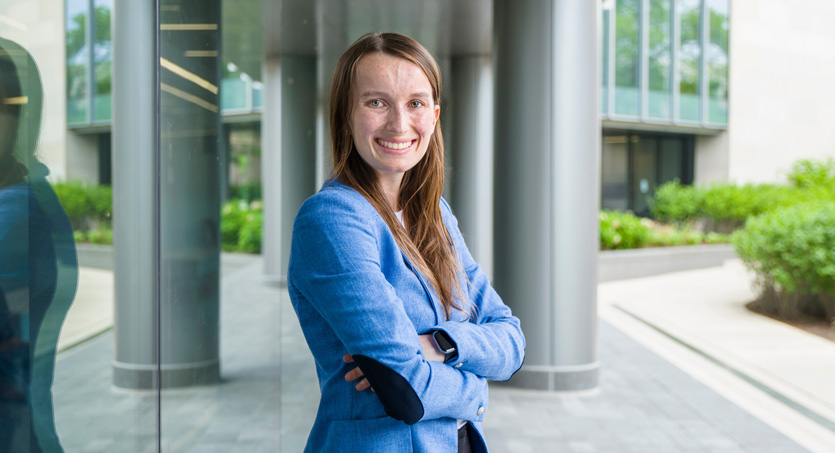 With Northwestern graduation just days away, senior Lauren Simitz's aerospace career is poised to take flight.
Later this month, Simitz will head to Cape Canaveral, Florida, where she will join SpaceX as an associate engineer. Simitz, who is a double major in chemical engineering from and Earth and planetary sciences, fell in love with jet propulsion after interning at SpaceX between her junior and senior years. Before that experience, she planned to pursue a career in the oil and gas industry — a more typical career path for a chemical engineer.
"A lot of people who end up in aerospace have a more traditional mechanical engineering background," Simitz said. "But a rocket's fluid system is key to getting it off the ground. A number of fuels, chemicals, and gases are involved in that process, so my chemical engineering major helped me follow this crazy dream of being a rocket scientist."
Just getting a SpaceX Falcon off the ground, for example, takes 5.1 million pounds of thrust, powered by a delicate concoction of high-grade kerosene and liquid oxygen fuels. As part of the propulsion team, Simitz will help ensure that the fluids properly, safely, and efficiently combust to launch the rocket into the air.
"The rocket needs to overcome the force of gravity to escape the atmosphere," she said. "Fuel combustion and the expansion of hot gases create the thrust that allows the rocket to move upward."
Watching SpaceX rockets successfully launch solidified Simitz's love for aerospace engineering. As an intern, she witnessed eight rocket launches, surrounded by her teammates on an empty road outside of the base. She remembers feeling brief anxiety as they listened to the countdown on the radio and then sheer relief, joy, and excitement when the rocket finally blasted off.
"We cheered as the rocket went into the sky and felt this special sense of camaraderie," she said. "Every launch felt like Christmas morning, where I was too excited to sleep the night before. Every time, I felt amazed and awestruck. It's a feeling that never goes away, and it made me realize I needed to work on rockets for the rest of my career."
As Simitz wraps up her time at Northwestern and packs her bags for Florida, she is eager to receive a send-off from SpaceX president Gwynne Shotwell, who will deliver this year's commencement address on June 14. Shotwell received her bachelor's degree (1986) and master's degree (1988) from the McCormick School of Engineering. Tracking Shotwell's journey has inspired Simitz to continue pushing forward toward her dreams.
"Aerospace is still a very new and very male-dominated field," Simitz said. "Seeing a woman rise to the top at SpaceX makes me feel like I can succeed in this field, too."