Events
How PATH is Helping Students Navigate Northwestern
Joseph Holtgreive discussed the Personal Academic Tactical Help (PATH) program
Northwestern Engineering is an elite, world-class institution that sets up its students for future success. That means the McCormick School of Engineering can be a demanding and competitive environment that challenges even the most prepared scholars. 
During his May 12 presentation as part of the One McCormick lecture series, Assistant Dean for Undergraduate Engineering Joseph Holtgreive told how the Personal Academic Tactical Help (PATH) program, which aims to ease both the academic and emotional struggles for students, has been even more valuable during the pandemic.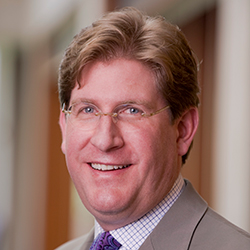 First created in 2016 by the Engineering Office of Personal Development, PATH students work through a sequential series of topics using an online portal and facilitated group discussions. The program aims to help students achieve intentional attention, healthy connection, self-compassion, and stress management, Holtgreive said.
These goals, he said, are meant to address issues like procrastination, feelings of isolation, self-criticism, and anxiety. The program's curriculum was designed to leverage what Holtgreive called "the gears of performance": psychology (how we think), biology (how we feel), and strategy (what we do).
"Our philosophy from the beginning was we need to find a way of addressing these three drivers as a system. If these gears aren't touching, there's no friction (and) we're quite literally spinning our wheels. We're not making progress," he said. 
"We want to recognize that friction is essential for creating traction, and traction is essential for building momentum, but if there is too much friction in any one of these gears it will add drag to the entire system."
Using six different modules (Values and Goals, Attention Training, How We Think, How Our Brain Works, Self-Compassion, and Wrap Up), the PATH program gets results. Students who finish PATH see their grade-point averages improve by nearly a full point from the previous quarter, while they also complete more courses.
Moved fully online due to the pandemic, PATH's value was highlighted during a time when COVID-19 has challenged students.
With his study methods derailed by the pandemic, materials science and engineering student Nicholas Marchese enrolled in PATH in fall 2020. Hoping to adjust to the times, he figured he had nothing to lose by taking PATH and learning new tactics to get through his intense courseload.
Marchese was glad he made that move. He compared PATH to spending five minutes with a professor or teaching assistant in office hours to solve a problem, instead of the five hours he'd need to do the same work independently.
"I didn't see why I needed to struggle and suffer with this when resources were available to me," said Marchese, who is graduating this quarter.
Maegan Hollins, a biomedical engineering student who took PATH in fall 2019 and plans to graduate this year, said the course taught her lessons about resilience that she applied during the pandemic.
"I think of it in a way that I do when I'm practicing for a sport. It's really easy for me to see an end goal to practicing, but when it comes to academics it wasn't as easy to see," said Hollins, a member of the Northwestern softball team. "One of the tactics that we learned was rewarding yourself for completing tasks. It seems kind of silly but it's actually helpful."
When these students graduate from Northwestern Engineering, PATH's value won't diminish.
"It's not about just improving your grades," Holtgreive said. "It's about improving your overall wellbeing."