Black Engineers Call for Representation in STEM Education
A panel featuring prominent Black engineers and educators discussed diversity, equity, and inclusion in tech
When George Floyd was murdered nearly one year ago, how society talked about race shifted. For many engineers and educators, it was the first time the terms "racial bias" and "racial inequities" were openly discussed on university campuses.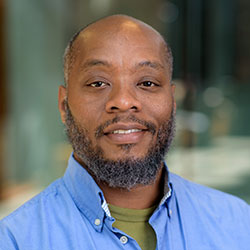 During the Electrical and Computer Engineering Faculty Diversity Committee event "Fostering Diversity: Lessons from Recent Events and Making Change Happen," a panel of some of the most prominent Black engineers and educators in the nation discussed how Floyd's murder sparked urgent societal conversations about racial inequity. The panelists, reflecting on stark demographic disparities that exist within engineering, said STEM educators must support and expand diversity, equity, and inclusion in the field. Russ Joseph, associate professor of electrical and computer engineering and of computer science, moderated the panel.
"Being a Black woman in tech, I remember last summer watching the events unfold and thinking 'We've been here before,'" said Ayanna Howard, dean of engineering at Ohio State University. "But this time it was different. I'm starting to see institutional changes that I think will stick this time, so I'm hopeful."
Though the STEM community took actions against racial injustice in the past, said Timothy Pinkston, vice dean of faculty affairs at the University of Southern California Viterbi School of Engineering, last year's tipping point caused engineers to reconsider and revisit the ways the community can improve. That begins with much-needed conversations about the lack of representation within the field, he said.
Over the past two decades, the percentage of underrepresented minorities in STEM has consistently hovered around six percent, said James West, professor at Johns Hopkins University, former Bell Labs scientist, and member of the National Academy of Engineering. To increase representation, educators must build a supportive pipeline for future engineers starting in middle school.
"Here we sit, the most diverse nation in the world. We should be leading in all areas of technology by putting this diverse workforce together," he said. "This is one of the sad stories about this country. We do not take advantage of the natural talent that we have."
Maisha Moses is working to change that. As executive director of The Young People's Project, she develops K-12 peer math literacy programs focused on supporting students from traditionally marginalized groups. Only a small number of young people arriving in college are prepared to study STEM disciplines, she said. To Moses, getting young people involved in fortifying a pipeline of underrepresented students in STEM is crucial.
However, barriers continue at the college level, OSU's Howard said. "We in academia mess it up. If you look at students who are potentially interested, we don't accept them. We close the door from the beginning. We are a strong part of this problem."    
Talking about racial inequity and bias in the education system may be difficult for those who have viewed engineering to be color blind, Howard added. Historically, engineers have not leaned into these societal causes either due to lack of training or because they view technology as inherently value neutral.
"We as an engineering community need to be a lot more vocal," Howard said. "We need to say there are racial and gender differences even in the way we choose the parameters to design our technology. I believe engineers change the world. When we take this on, it sets a standard to the rest of the world."
Over the past year, engineering faculty and departments have started having these conversations. Some have gone as far as creating departmental action plans to broaden participation in engineering. The departmental plans outline specific actions and milestones the department and faculty members can take, including doing outreach to high schools or providing support within their student community, USC's Pinkston said. 
"Each person, department, and school can and should go about addressing ways to increase the pipeline, fortify the pipeline, and make sure the throughput of the pipeline is equitable and cohorts are succeeding at similar rates across the various demographic populations," Pinkston said. "When everyone is taking on some aspect of the issue in their own sphere of influence, that's when we'll see real progress."
At the end of the event, each panelist took a moment to reflect on the ways they feel hopeful for the future. They recognized more windows of opportunity, conversations, and understanding than in the past. Though they recognized more work is needed, they said they are setting their sights on positive changes ahead.
"In the words of Martin Luther King, Jr., 'The arc of the moral universe is long, but it bends toward justice,'" Pinkston said. "Little by little, we can make progress."