Events
Women in Computing Members Attend 2020 Virtual Grace Hopper Celebration
Virtual event maintains goal of building community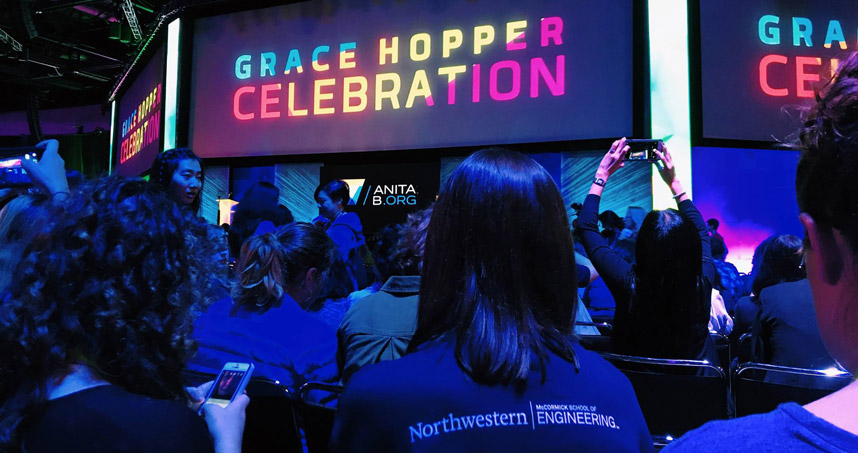 Grace Hopper Celebration, the world's largest annual gathering of women in technology and engineering, typically draws more than 20,000 attendees from around the world to one location. While this year's event — entirely streamed online — looked a bit different and drew more than 30,000 people, it maintained its goal of building community and making connections.
Virtual Grace Hopper Celebration (vGHC), a five-day event, drew 66 members of Northwestern's Women in Computing (WiC) — the largest group the University has sent to the annual event.
This year's theme, #TOGETHERWEBUILD, focused on achieving intersectional gender and pay parity in tech. Held September 29 – October 3, the event featured keynote speakers such as professional athletes Serena Williams and Megan Rapinoe, VP of Engineering at Google Marian Croak, CEO and Co-founder of Project Include Ellen Pao, and CEO and President of Advanced Micro Devices Lisa Su.
Prerecorded sessions and workshops offered information on topics ranging from accessibility and gender sensitive design strategy to the unwritten rules of leadership in tech for women of color. The event included networking opportunities with recruiters and company representatives from Amazon, Snapchat, Squarespace, and PwC, and a virtual after party. 
The sessions — talks and panels with tech industry speakers — transitioned seamlessly online. The virtual format allowed participants to watch the prerecorded talks and panels in their own time, said WiC external president and computer science student Stephanie Diao ('21).
"At last year's GHC, I had to schedule my interviews, sessions, and panels meticulously because the physical layout was so huge, and walking from the interviewing hall to the career fair could take up to 10 minutes," said Diao. "With the virtual environment, people were free to jump from session to session, which offered a lot more flexibility."
This year's GHC swapped the annual in-person career fair, a chance to for women network with major tech companies, for a virtual networking option.
Some WiC members saw it as a welcome change. "Scheduling virtual one-on-one chats was a great way to cut down on networking time to allow participants to experience the other activities vGHC offered," said computer science student and WiC internal president Caryl Henry ('21). "We've all probably experienced waiting in line at a career fair, and those lines get huge at Grace Hopper."
Both Diao and Henry left the event feeling inspired and supported.
"While vGHC can help you get you a job, what's more important is that it creates a winning mindset," said Henry. "With a positive and tenacious mindset, you can grow to learn strategies that will overcome your own negative thoughts, the conscious or unconscious opinions of others, and your technical weak points. You will not just be able to get a job, you'll be able to succeed in that job."
Diao agreed. "My overall takeaway from vGHC was that even in times of COVID-19 and an uncertain job market, companies still care about supporting women in tech, which is really comforting and inspiring," she said. 
Northwestern Engineering has sent students to the Grace Hopper Celebration since 2015 through the support of donors. The event is produced by the Anita Borg Institute.