Honors and Awards
Jian Cao Receives Milton C. Shaw Manufacturing Research Medal
Cao honored for significant fundamental contributions to the science and technology of manufacturing processes
Northwestern Engineering's Jian Cao has been named the 2020 recipient of the Milton C. Shaw Manufacturing Research Medal from the American Society of Mechanical Engineers (ASME).
The award honors Cao, associate vice president for research and Cardiss Collins Professor of Mechanical Engineering and (by courtesy) civil and environmental engineering and materials science and engineering, for significant fundamental contributions to the science and technology of manufacturing processes.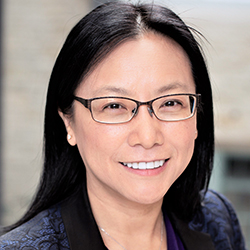 ASME promotes the art, science, and practice of multidisciplinary engineering and allied sciences around the globe.
This is the latest award for Cao, whose research interests include innovative manufacturing processes and systems, particularly in the areas of deformation-based processes and laser additive processes. Her work has made fundamental contributions to the characterization of the effects of material structure on forming behavior of metals and woven composites. She also serves as director of the Northwestern Initiative for Manufacturing Science and Innovation (NIMSI).
Last week, Cao was named one of the 20 most influential professors in smart manufacturing by SME. In 2019, the US Department of Defense named Cao a Vannevar Bush Faculty Fellow, the most prestigious and competitive single investigator research award from the defense department. She was also named a 2019 fellow by the American Association for the Advancement of Science. Cao has won past awards from ASME such as the Blackall Machine Tool and Gage Award in 2018 and the Charles Russ Richards Memorial Award from ASME and Pi Tau Sigma in 2017.
Cao has published over 300 technical articles, including more than 200 journal articles, 10 book chapters, 15 patents, and op-ed articles on manufacturing. She has given nearly 150 invited talks.