Undergraduate
Winter Graduate William Whittenbury Named Co-op Student of the Year
Whittenbury worked for General Electric, NASA, and Northrop Grumman
William Whittenbury ('20) took advantage of his Northwestern Engineering co-op experience, spending three quarters with General Electric, two quarters with NASA, and two with Northrop Grumman. Whittenbury, a Winter '20 graduate, worked on numerous important aerospace projects during his co-ops, such as the James Webb Telescope, successor to the Hubble, and collaborated with many different teams.
Chosen as Northwestern Engineering's 2020 Walter P. Murphy Cooperative Engineering Education Student of the Year, Whittenbury talked recently with Engineering Career Development to discuss networking, the value of a co-op, and his biggest takeaway from the program.
Why did you decide to do multiple co-ops lasting more than one quarter?
I wanted to get a more in-depth work experience while I was in school. You get a longer experience and have more time to settle into your function. You can complete a more intensive project. You can get more involved in the aspects of the business, and it really gives you a strong foundation in whatever industry you choose to work in. It also allows you to build a stronger relationship with your employer and build a larger network. It helps make academic plans clearer and more meaningful.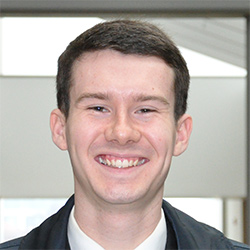 It has been the best experience of my college career, and I would absolutely recommend it to anybody. 
What did you gain from these co-ops?
I was able to get experience in a variety of different functions within one overall industry and several different subsets of that industry, and it really helped me focus on what I wanted to do. Overall, I would say it has been a huge benefit. It did make my undergraduate time at Northwestern longer, but it was worth it.
What was the most rewarding part?
There were rewarding aspects of every step. At GE, I did a lot work with teams trying to do process improvement, and I learned transferable skills that I applied to jobs I did later. But I really learned the value of getting input from every stakeholder in each process. It is essential to hear from everyone involved and not to just impose a plan and expect everybody to follow it. It's important to see what each person thought the existing process was. At Northrop Grumman, my most rewarding experience was my first summer there. I got to work on the James Webb space telescope, the successor to the Hubble.
How does working in a group and collaborating in industry compare to team projects at the McCormick School of Engineering?
When you are at school, you are working with other people at roughly the same experience level as you, and so you are all kind of learning together. When you are in a work environment, you get the opportunity to learn from people who have been doing this for sometimes decades. One thing I learned is it is really important to be able to investigate and dig down on questions until you find the right person who knows the answer. Usually the first person you ask won't necessarily know, but they'll point you to somebody who might know. A lot of these things are not necessarily things you can look up on Google. Be willing to ask questions.
How did you approach networking as a student in a professional environment?
Networking in a co-op environment often happens naturally because you end up working with many different types of people. The GE facility I worked at was small, but I ended up working with almost everyone. That made it a natural networking experience. At Northrop, I worked on two different projects in two different departments, and the first group I worked with helped me get placed in the second department. The biggest thing is demonstrating your willingness to learn and then networking naturally falls into place, instead of just trying to get yourself in front of people artificially. 
How did being a co-op help you with courses at Northwestern?
Participating in co-ops has helped me understand the meaning of my courses a lot better. It helped me see why what I was learning in school was important. It also helped me point my class direction a little bit better.
Also, most of the engineering majors have a capstone project at the end, which is a more in-depth design project. I had already worked on stuff like that in industry. I was better prepared to do something like that. I had the advantage of knowing how to manage a project like that and work on a team. 
I am basically coming out of Northwestern with almost two years of work experience and that is a huge advantage in the job market. 
What would you tell students thinking about doing a co-op? 
I would recommend starting as early as you can. Co-op confirmed for me that I could pursue an aerospace career and solidified that path. The first year of classes at Northwestern Engineering is not easy, and a lot of people get discouraged – and I was one of those people. But when I got into an industry environment, I was able to finish a project and get things designed and work effectively and I thought – wait I can do this.
What's next?
I will be returning to Northrop Grumman as a full-time engineer starting in October. I will be in the same department and on the same project that I did my last internship with. It is a fun job, and I am looking forward to going back to that. There are a lot of options within the company to pursue while you work, which is nice.
What are your biggest takeaways?
The biggest things I learned from co-op were: learning how to work with all sorts of people under many situations, being able to learn new skill sets, and not being afraid to ask questions. You can do it no matter what the situation is. As long as you are willing to put in the work, you can be successful.